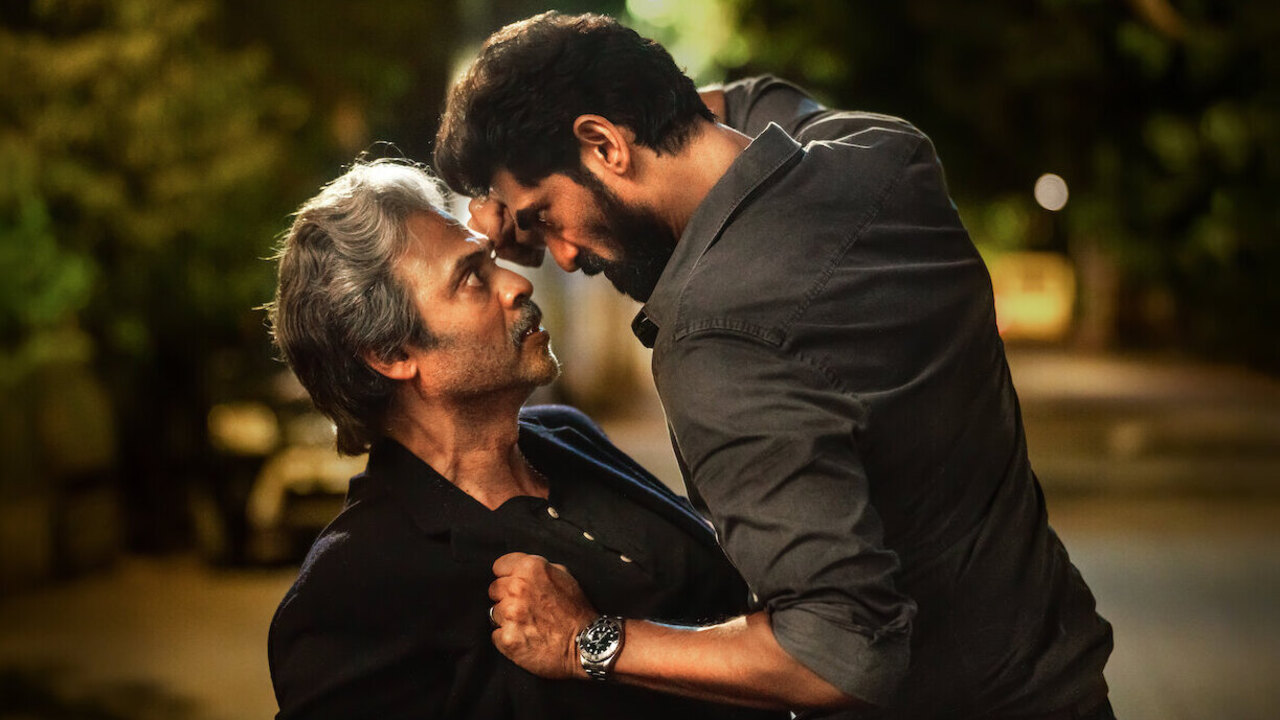 Rana Naidu is a Netflix drama series starring Rana Daggubati, Venkatesh, and Surveen Chawla in the leading roles. It has been created & directed by Karan Anshuman and Suparn Varma and is based on the 2013 series Ray Donovan. It has 10 episodes of around 50 minutes each.

The show revolves around Rana Naidu (Rana Daggubati). Rana Naidu is like John Wick but instead of being a top-notch assassin, he is a brooding problem solver for the rich and glamorous. He wears only Tuxedos, has a sense of calm yet angry persona, and doesn't let people get away when he is given a job. Things for Rana are going to change when he discovers that his father Naga (Venkatesh) is back from a 15-year jail sentence (5 years earlier than his actual 20-year sentence). Chaos ensues as the two clashes with their conflicting ideologies.

Firstly I'd say that I don't quite enjoy the premise of loud, gratuitous, and over-the-top crime dramas. They used to be vulgar because they wanted to depict a certain lifestyle that persists in certain places, but when shows like Rana Naidu do them, they often come off as unnecessary and crude. I tend to find most of the crime dramas that we get served as being very overly dramatic to the point that they don't feel like they can have any emotional gravity to them. Rana Naidu suffers from this over-the-top trope as well (not necessarily due to the main cast of characters though).

The very opening scene of the show comes off as extremely try-hard in setting up a cool cast of characters. Rana saves a cricketer from an impending pregnancy scam during a sexual romp. His partners include a buff Adithya Menon as Shrini and a lesbian cliche. Rana's family is surprisingly more entertaining and fun to watch, to be honest. Rana's brothers Jaffa (Abhishek Banerjee) and Tej (Sushant Singh) have suffered the brunt of a stubborn Naga as children suffering from personal traumas. He also has a wife and children that he can't seem to do well with.

When Naga returns after spending 15 years in jail for a crime he didn't commit, he decides to set things right for and with his kids. Rana on the other hand doesn't see eye to eye with Naga and would rather have him not interact with his brothers or family. How the show progresses as conspiracies get unwinded and the two are put in conflict is what the show is essentially about.

The show has good moments with the character interactions, action, and drama but then doesn't really connect as well as it could've. Rana and Naga are obviously the best parts of the show. These aren't roles that we've seen these two actors do before (at least Venkatesh) and they somehow feel very comfortable pulling them off. Naga is funny with his Hyderabadi Hindi and demands attention when on screen.

If you're a fan of shows like Family Man, where the show despite being a supposedly gritty drama deals with family and has a light-hearted tone at moments then this show is probably up your alley. I couldn't get myself to like it as much.

Final Score – [7/10]
Reviewed by - Aayush Chaurasia
Follow @AayushC44 on Twitter
Publisher at Midgard Times