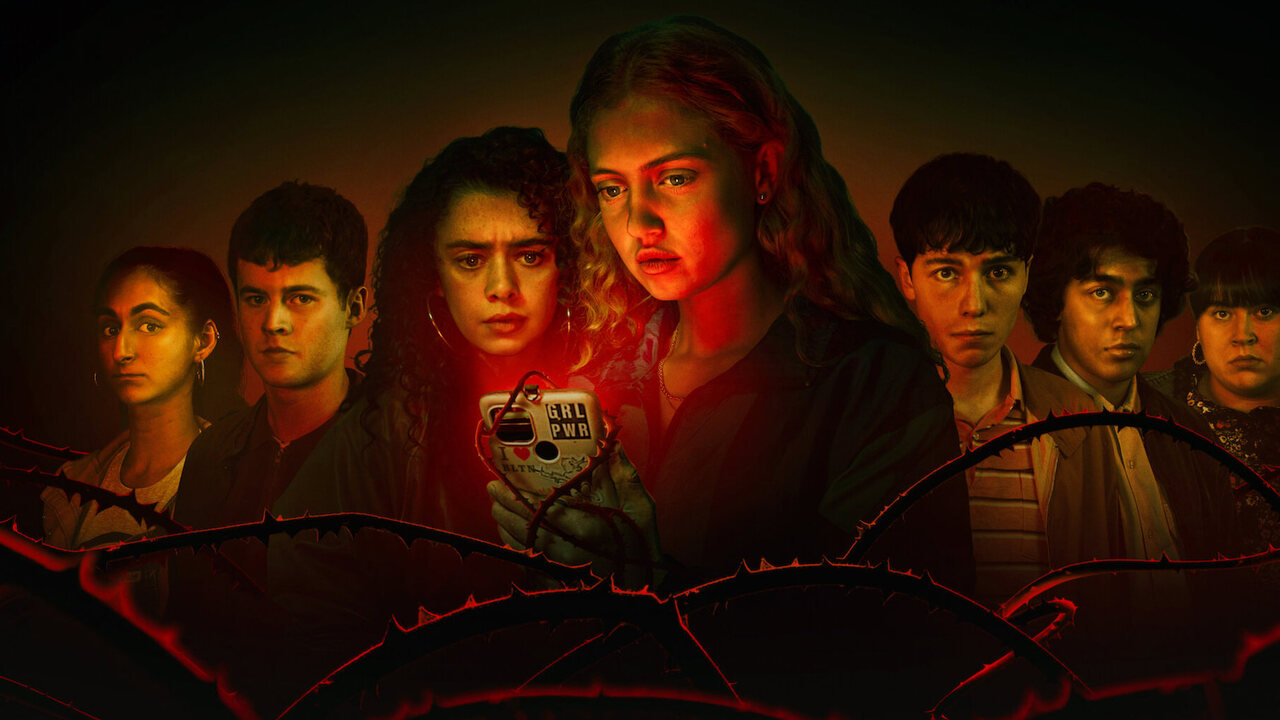 Red Rose is a Netflix and BBC horror series. It first aired on the BBC and is now available on Netflix. Made by the team that also brought us "Sex Education," it is about a group of high school students who discover this app called "Red Rose," which grants their wishes but also threatens them with extreme consequences if they don't do as instructed. It is like a twisted version of "Make-A-Wish: Jumanji." (only much worse).

The show stars Amelia Clarkson (of Knightfall fame), who plays Wren, and Isis Hainsworth, who plays Rochelle; they're the main highlights of the friend group that is explored in this horror drama. It all begins with the group's exams getting over. The Bolton (a place in the UK where the show is set) teens decide to get, as they put it, "inebriated" after. The entire high school is present at what looks like a hillside where people are getting drunk and dancing; this is where Rochelle gets to know that she isn't invited to Becky's party. This makes Rochelle sad, and she convinces Beck (who is also present there) to invite her by paying her 10 quid through Taz (an outsider she invited to her group). The point is that Rochelle feels dejected socially. As everyone in the group gets excited about the summer with jobs lined up until college, Rochelle feels even more left out as she has to stay home and look over her twin sisters. Rochelle is cheery, but deep down there is upset; she isn't happy and feels quite lonely.

That is when the Red Rose app strikes, coming to her through a link with the premise of helping her out with her problems. though what the app does is much more sinister.
Firstly, the show's premise makes me feel like there is a trend like this going on in horror films and shows where there are tasks and horrifying consequences associated with the tasks. Similar-premised films include Blumhouse's "Truth or Dare" from 2018 and Samara Weaving's "Ready or Not" from 2019. which makes one wonder if this is as fresh as it wants to be.

Regardless of how repetitive the premise might seem, the show is quite interesting. After the first episode and the conclusion of the second episode, the show holds you in your seat, waiting for what comes next. It is full of teenage drama, and the characters do act ridiculously in a few sequences, but it is still quite good. The cast does a good job of being interesting; they all have personalities and feel more like real people than archetypes. This makes it so that you care about the characters even though it hasn't been too long since we've been introduced to them. My personal favorites were Taz (played by Ali Khan) and Rochelle (played by Isis Hainsworth).

The show starts off strong, with the second episode really hitting you like a gut punch, but simmers down into a little bit of drag around the third and fourth episodes. The last couple of episodes, however, pick it up again and appear to hint at a possible sequel season.

It is an entertaining show and really gets you involved in this world created by the makers. It is, however, very derivative of other media I've seen and enjoyed more. Regardless of that, it is perfectly interesting and draws you in quite well. The characters have decent chemistry, and their accents make them even more entertaining to watch. The horror element is decently present, but again, it's not something that will stick with you for long.

Final Score – [7.5/10]
Reviewed by - Aayush Chaurasia
Follow @AayushChaur44 on Twitter
Publisher at Midgard Times