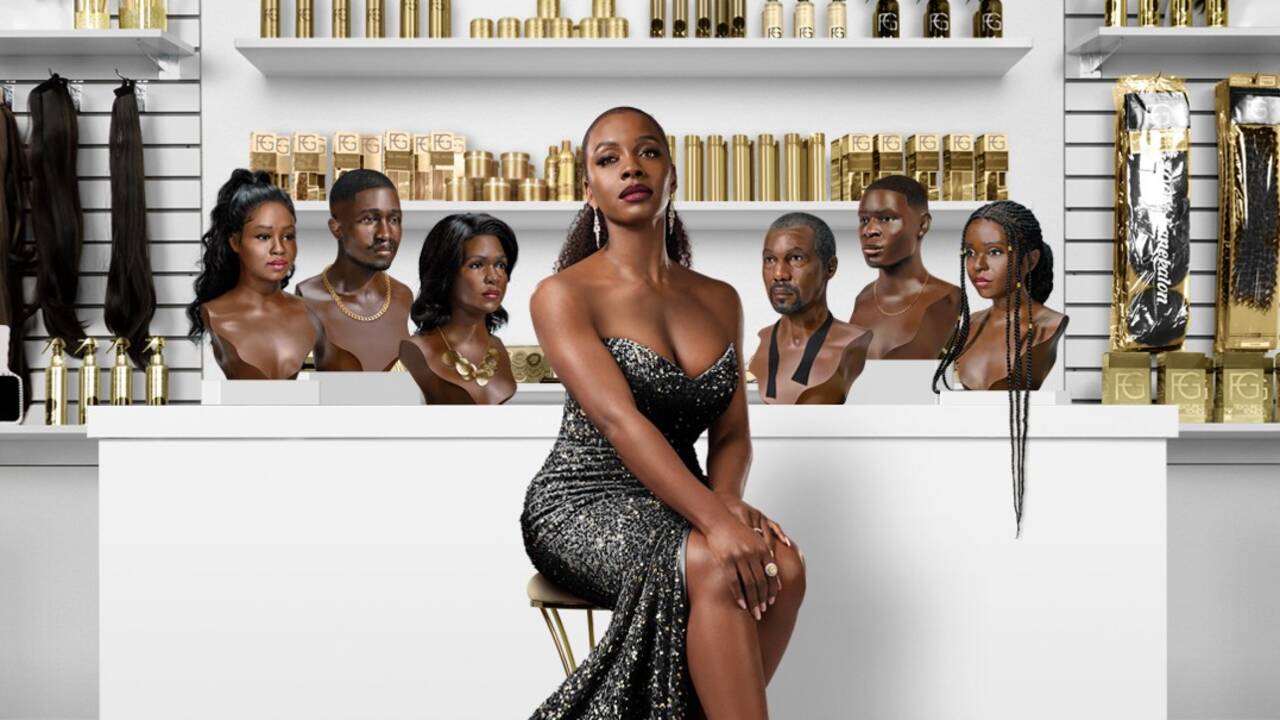 Abby Ajayi, the writer of shows like Inventing Anna and How to Get Away with Murder, is back with Riches - a drama set in the corporate world of beauty products. Only the products provide beauty, as the story is packed with ugliness, thanks to constant scheming and backstabbing done by the characters. RICHES is rich with twists and turns, so I will be cautious while reviewing the show. There will be no spoilers here.

The plot goes something like this: After the death of Stephen Richards (Hugh Quarshie), his estranged kids, Nina (Deborah Ayorinde) and Simon (Emmanuel Imani) become the owners of Flair and Glory. This throws the other members of the Richards family into rage and jealousy. Claudia (Sarah Niles), the second wife of Stephen and the mother of Alesha (Adeyinka Akinrinade), Gus (Ola Orebiyi), and Wanda (Nneka Okoye), wants Gus to be in charge of Flair and Glory. She cannot bear to see Nina and Simon as CEOs and does everything she can to throw them out of the company.

Actually, Claudia could have easily got what she wanted. Nina is not interested in running the company and agrees to step down from her role. But she changes her mind during the last moment because of a remark made by Claudia. The woman merely needed to shut her mouth up for a few minutes, and she could have gotten Flair and Glory.

Once Nina decides to run the company, she starts reading all the files and discovers terrible things. Apart from tackling company-related problems, she has to fight with Claudia and her schemes. Nina has brains and manages to defeat her opponents. We are always on her side, which is why the moments when she wins are rousing. The will-reading scene and the not signing of papers scene are all perfectly timed and bring out a sudden rush of excitement from within the audience. Riches hits all the right notes and impressively follows every beat. It has a swift, zappy pace that never gives rise to a dull moment.

What's interesting about Riches is that it slowly peels off its characters and reveals they are not simply black and white. Nina is good, but she is also...selfish. She defends her stay at Flair and Glory by saying she wants to provide justice to her mother, Oyin (Jumoke Fashola). On the other hand, Oyin doesn't want anything to do with the company. Nina continues to be the CEO because she likes winning. She does not stay for anyone except for herself. Gus, Alesha, and Wanda are not just bad kids. They are simply influenced by their mother, who drives them towards self-interest. There are moments when they display their smartness and goodness. Claudia herself is not pure evil. Even she is made vulnerable and makes a major decision to protect someone from desolation. Only Simon sticks out as a weakly written character, though Imani seems to be having a good time.

Say what you will about the Richards family, but the truth is that everyone wants Flair and Glory to succeed and flourish. Only Nina seems to have the required skills to achieve that objective, though Gus and Alesha also come up with bright ideas in a few scenes.

The other characters in Riches cannot be fully trusted. You never know who is loyal and who is a chameleon. The secretary looks as if she is hiding something. Maybe she is, maybe she isn't. As the series progresses, the characters change their loyalties, and the story has some exciting twists. I wish I had felt Nina's troubles more strongly. There is an easy-breezy quality to it that assures us that she will deal with every obstacle effortlessly. Still, Riches is an enjoyable show that keeps you invested in it. The creators know how to tell this story, and they do so with ease.

Final Score- [7/10]
Reviewed by - Vikas Yadav
Follow @vikasonorous on Twitter
Publisher at Midgard Times
Note: All six episodes of Season 1 are screened for this review.
Premiere Date: December 2, 2022, on Prime Video