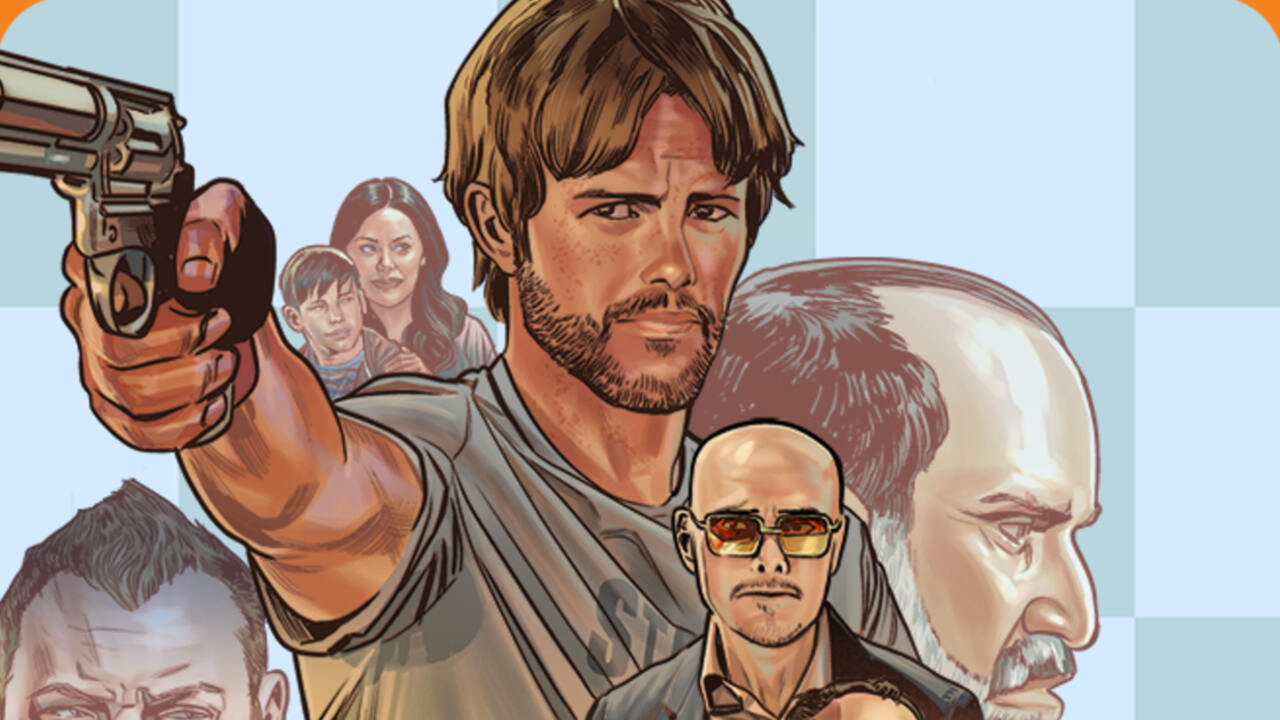 In one scene, Richard Kind as Grayson engages in a long monologue about the Mandela Effect and how time travelers or other beings are controlling us all. He further says that our world's main timeline split after some event and we are all in another timeline. This is why the majority of people are remembering little details wrong. For example, Monopoly man actually has no monocle, Darth Vader didn't actually say "Luke, I am your father," there was a "Shazaam" movie with Sinbad, etc. His little nonsensical rant is the most excited I have been while watching this movie.

At this point, I wondered if this small-budget action thriller was going to attempt something fantastical. But even though the main plot of the movie is directly related to this rant, nothing happens. When Grayson finally takes a look at the package he paid $440 thousand for, he finds copies of "Kazaam" starring Shaqieul O'Neil where the title has been photoshopped to say "Shazaam". It's an unimpressive gag that just left me feeling meh.

And this is pretty much how the entire movie made me feel, just meh. It sets up good scenes and mysteries but doesn't go through with them effectively. At best, it's a run-of-the-mill action thriller about a guy called Ray who gets involved with his life of crime one last time but then finds himself in trouble.

Written and directed by Christopher Borrelli, Netflix's "Run and Gun", previously titled "The Ray," is at best a decent action thriller. It doesn't reinvent the wheel regarding the genre, but it's a watchable film with a couple of gory and brutal scenes. I use the word 'watchable' because this could be a much better movie if it was written just slightly better.

Starring Ben Milliken as Ray, Brad William Henke as Billings, and Richard Kind as Grayson in titular roles, "Run and Gun" features a shabby plot. Sometimes I had to rewind back to see if I missed a scene or not, because it feels like there should be more scenes connecting one scene to another. For example, in a scene, Ray is trapped in a flimsy metal hut, but he finds a shovel and digs himself a hole large enough to hide in. I sat there wondering how did a shovel appear in his hand? And how did he dig that fast with a gun wound on his midriff?

There are no answers to such questions, so you just have to go with the flow. The characterization isn't much better. Brad William Henke as Billings and Richard Kind as Grayson are the only two standout performances that I actually enjoyed watching. It's borderline sad that the film fails to write its titular man as an interesting character. Yes, he seems like a cool guy, but neither the script nor the acting shows that adequately. Instead, it just feels like he's graced with palpable plot armor and injected with a super serum because no matter gunshots or wounds, this guy just stands up and gets going. No other character is notable enough to mention.

Overall, if you love getting more questions than answers from a film, watch "Run and Gun" on Netflix.

Final Score – [5/10]
Reviewed by - Ishita Chatterjee
Follow @dracone619 on Twitter
Publisher at Midgard Times