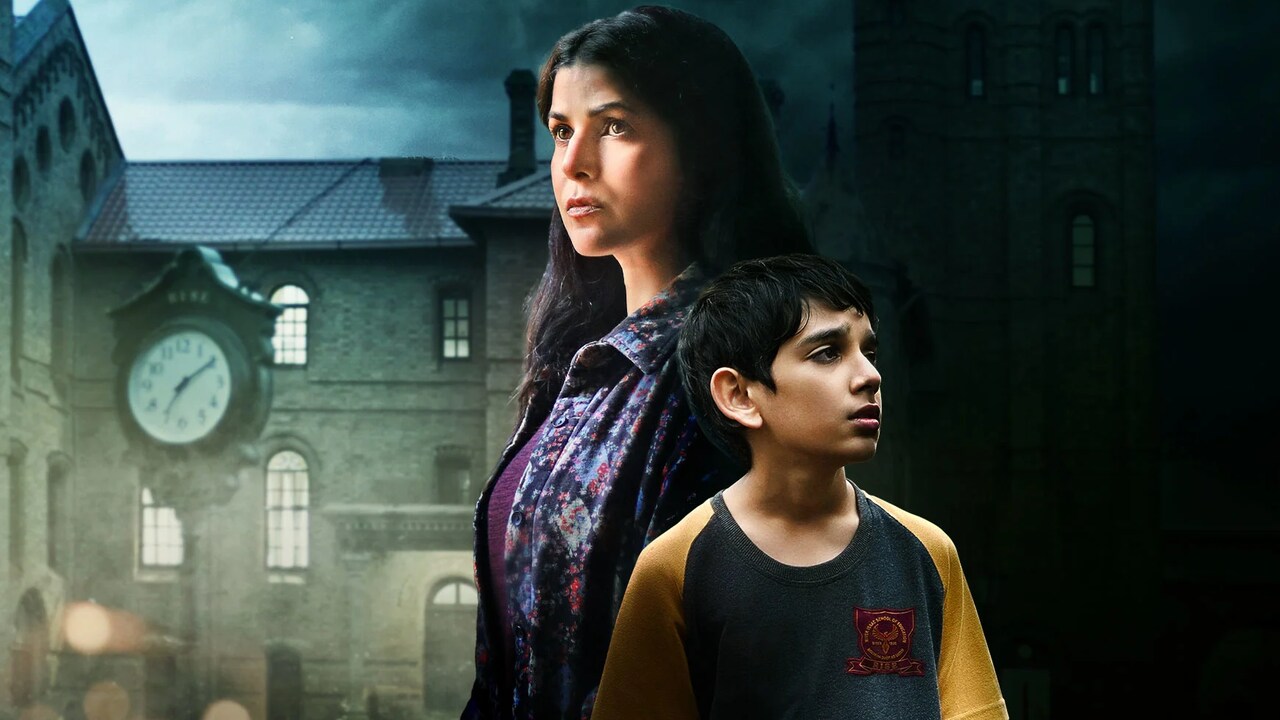 The first thing that attracts your attention while watching School of Lies is its aesthetic. The frames are incredibly beautiful, and you won't have to struggle or increase the screen's brightness to understand what's happening during the night scenes. Every now and then, you come across something like Me Vasantrao and School of Lies, and you realize how most of the shows and movies these days look unprepossessing. They give the impression of being a soulless corporate product launched merely to kill our time. The stories are banal, the frames look ugly, and the actors collect their paychecks and chill in the Maldives. Amidst this clutter of mediocrity, when you discover something like Me Vasantrao or School of Lies, you can't help but rave about it. And these productions genuinely deserve to be cherished.

School of Lies is directed by Avinash Arun Dhaware (he is also the cinematographer here, and everyone should watch his 2014 Marathi film Killa). As mentioned earlier, the series looks lovely, but this beauty is superficial. Look below the surface, and you will find agony. In fact, you don't need to look under anything. The hell comes to the foreground almost immediately. The show, after all, opens with a big toe injury. A few seconds later, the words "Get out!" are uttered sharply. Furthermore, the series is about a missing child and how this event reveals other skeletons in the cupboard. In such circumstances, the pretty images do not really intend to be "eye pleasing." They prevent us from feeling more disgusted by the situations on the screen. Or you can also say that they try to alleviate the horrifying incidents the same way a character alleviates that toe injury through medicine.

Almost every character in School of Lies feels guilt. A mother feels guilty for sending her kid to a boarding school. A father feels guilty about not raising his voice against an abusive brother. Two students feel guilty after committing a crime. A teacher feels guilty when two boys are tortured in his presence. One of the best things about School of Lies is that every character here is fully developed, which is why all they do is react to the incidents. They are not empty vessels waiting to be filled by the plot. We sense that they have lived in this world for a long time, and they continue to exist away from the gaze of the camera. Dhaware films his characters in such a way that we feel as if he is personally familiar with them. In Killa and School of Lies, the dramatis personae don't appear and disappear along with the story. They live their lives both within and outside the screenplay's boundary. In School of Lies, even the camera is unobtrusive, lending a fly-on-the-wall quality to this series.

Dhaware is an excellent director who believes that the story is superb and can do its job well (Nishant Agarwala, Ishani Banerjee, and Shoaib Nazeer serve as writers). One shocking detail is dispensed casually through a shot of two men lying on a bed, bare-chested. In one of the episodes, we find out that the story had been following a non-linear structure till now. These facts are not delivered through fanfare. School of Lies doesn't scream, "Look at me. I am so intelligent!" Rather, everything is normally laid down in front of us. The actors, too, blend in with their environment. No one attempts to steal the spotlight and call attention to themselves. We feel like we are watching someone's life unfold before us and not following a plot for surface-level pleasures.

School of Lies cleverly manipulates (or misdirects) the audience. When Chanchal (Divyansh Dwivedi) remarks that he will sell Shakti (Vir Pachisia) to traffickers, you look at him suspiciously and wonder if he is really making a joke here. After all, the cops arrest some child traffickers. And when Sam sir (Aamir Bashir) says he doesn't want the police to be involved in Shakti's disappearance, you think he is a bad guy just saving himself. However, the show doesn't operate in black-and-white terms. A dealer (Nitin Goel), involved with criminals, desperately cries for his missing son. A counselor (Nimrat Kaur) accuses her father of not speaking up at the right moment, and then later, she himself remains quiet after discovering crucial information.

The scenes involving Chanchal and Shakti are wonderful. Dhaware allows the child characters to act like real children. They are naive and imbibe certain behaviors, like telling lies, from each other. When they mention ghosts and adventures, you remember how innocent you were as a minor. When you notice Chanchal and Shakti roaming in the forest, the child within you identifies with the characters and drowns in nostalgia. Meanwhile, the adult side of you worries about their safety and considers them foolish and irresponsible.
School of Lies, ultimately, is more than just a series about a missing person. It also offers a vision of a contemporary political system where one can choose to fight against an individual or organization, but that doesn't mean justice will be delivered. Only three options are available: Lie, run, or remain mum.

Final Score- [10/10]
Reviewed by - Vikas Yadav
Follow @vikasonorous on Twitter
Publisher at Midgard Times