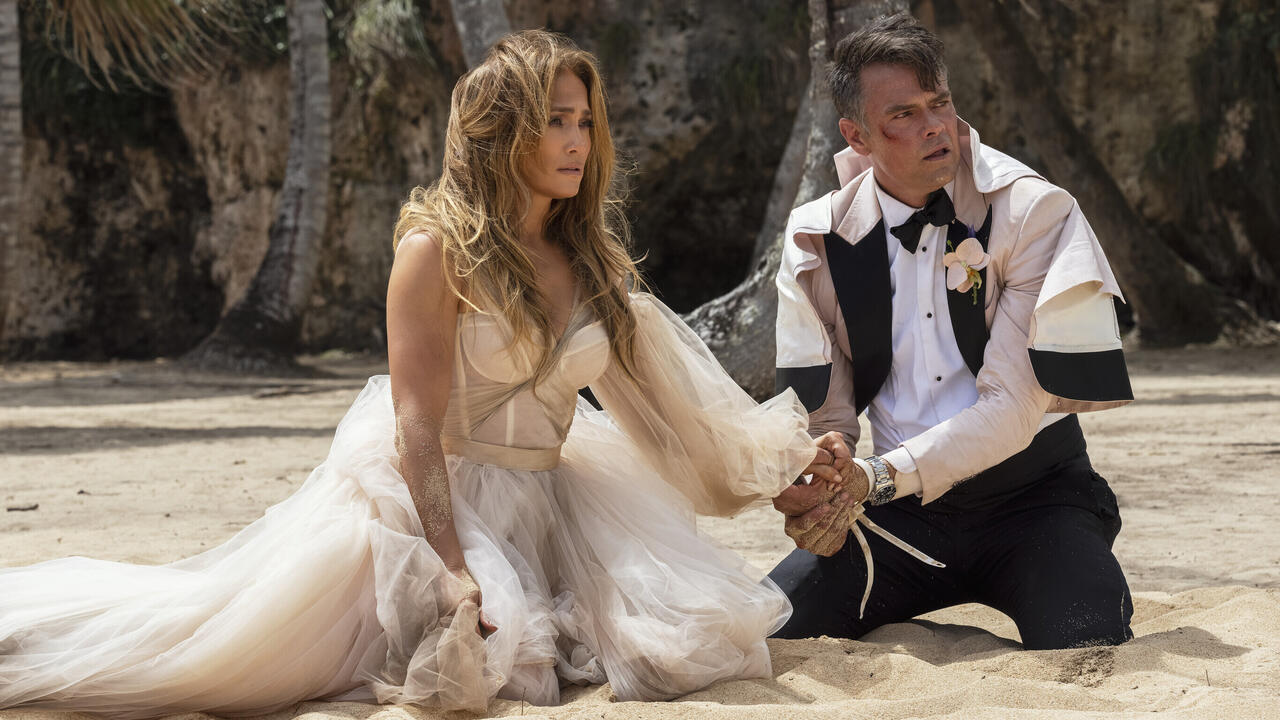 Jennifer Lopez is pretty much the queen of action comedy nowadays. So when I sat down to watch "Shotgun Wedding," I was hoping to see her bring out her comic skills and give viewers a fun watch. However, the comedy is seriously lacking and while the director has tried to make this movie lean towards the action rather than the comedy part, even that doesn't work because even the fights are generic.

Darcy (Jennifer Lopez) and Tom (Josh Duhamel) are all set to get married on a gorgeous island in the beautiful Philippines. But just like every movie wedding, this one isn't going smoothly as well even though Selena Tan's manager Marge tries her best. Darcy has her own hangups because she doesn't want her dad to fund the wedding while Tom wants to show Darcy (and his in-laws) that he is capable of taking care of his to-be wife.

Dubbed as the 'groomzilla,' Tom is a perfectionist and that isn't going over well with everyone at the wedding rehearsal. To make matters worse, Sean (Lenny Kravitz), Darcy's ex, makes an extravagant entry in a chopper and steals the spotlight from Tom with not just his splashy entrance but also his speech commemorating all the hilarious and sensitive times he spent with Darcy in Bali. His speech moves every wedding guest, and this includes Tom's father as well.

But that's not all. The couple has more troubles to navigate, as the two descend into a shouting match with each other just as they are about to get married. Then the action begins as the pirates make their entry. We see Jennifer Lopez show off her fighting skills and wield grenades, as well as fire a machine gun all the while she's basically in her wedding gown. Josh Duhamel joins her in the fight and executes his fair share of action as the two save their wedding party.

The action moves are gorey and the fights are choreographed well enough to make them enjoyable, but it isn't taken to the next level. We have seen such scenes before and after a point, it just stops being impressive. However, the biggest problem that this film faces is that its jokes just do not land. They feel forced and also outdated in some instances. The movie also flounders Jennifer Coolidge's comic skills, who plays Tom's mother Carol.

She is there for basically a glorified cameo role and nothing much. In fact, the cast of the film is stacked, but no one is given much to do. Even Darcy's questions and problems aren't adequately explored. So we don't understand why she's getting cold feet over the wedding. Basically, the entire setup, execution, and conclusion feel utterly generic.

Overall, romcoms or even action comedy films are an almost extinct breed of cinema now since studios and even streamers are focusing more on big tentpole action movies. This one feels like it's trying to cash in on the action rather than delivering a feel-good rom-com. Check it out if you are a fan of Lopez and kicking asses.

Final Score – [5/10]
Reviewed by - Ishita Chatterjee
Follow @dracone619 on Twitter
Publisher at Midgard Times