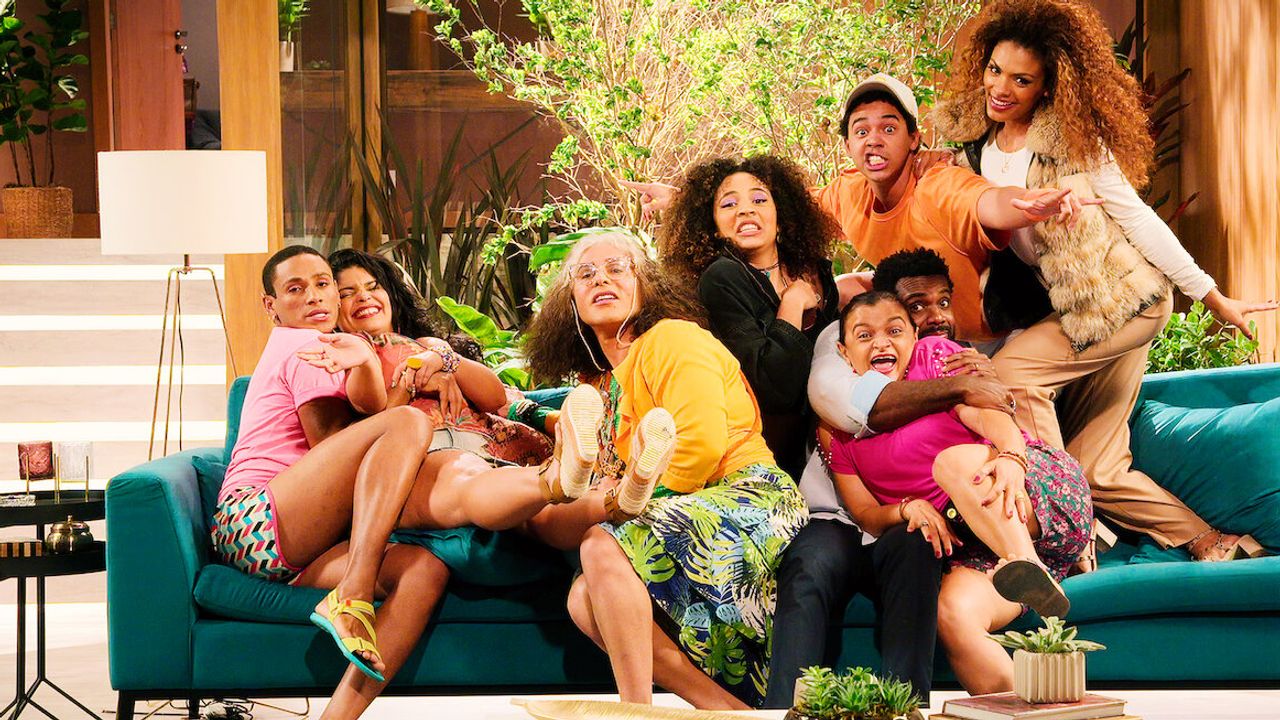 This Brazilian Sitcom is led by Rodrigo Sant'Anna and it delivers on-point humor to its audiences. The series meets all the requirements a perfect sitcom should have (I am not saying that it doesn't have any misses). The humor in this series is based on day-to-day life that the viewers can relate to.

The setting of this show is just like a stage, different sets have been used. The entry of various actors is sudden, and mostly it is the laughter sound played in the background that sometimes determines whether one has to laugh or not. The clothes put on by Dona Isadir (played by Rodrigo Sant'anna) are quite flashy and include things like leopard print boots, mismatching outfits, and her obsession to look like she's still young. Isadir is a very unique lady, she is not your regular old lady.

Isadir is a very relaxed woman who doesn't want to age. She is getting old physiologically, but her mind is still like a young lady. This old lady wants to party hard, hook up with random strangers, wear a bikini, and likes to fight with Alice (her daughter-in-law whom she hates and challenges at every step). Isadir is the character that will change your perception of old women and introduce you to a new world where there are no limits. She loves herself and is free-spirited. It will be hard for one to convince her of something about which, she has already made up her mind. A lot of things can be learned from her.

Each episode has its own story and Isadir is seen sharing the stage with other actors. Isadir goes to live with his son and daughter-in-law because of the pandemic but, ends up staying for a much larger duration. She put up her apartment for rent to earn some money in the meantime. Her daughter-in-law Alice surely doesn't want her to stay because of obvious reasons like - she is not getting enough time with her husband.

Sometimes, you might feel that the time duration of the show is being wasted because of some characters who are just repeating the same jokes. These characters include Marinez, Carlos, and Isadir's grandchildren. Marinez, the helper also seems to be forced into the plot despite Daniela Fontan giving a great performance in it. Relationships Isadir shares with others are really fun to watch as she freely speaks her mind out. The way she walks up and down the stairs is so funny. You can hardly resist your laugh after seeing that.

The episodes of Smother-In-Law are very short and have an average duration of 20 minutes. At the end of each episode, we get to see some bloopers, which are fun to watch as they show us what the cast went to shoot those scenes. We can see that tension is present among the in-laws, and this topic has been tackled beautifully with the use of humor in this sitcom series.

This first Brazilian sitcom series is quite entertaining, and you won't find yourself getting bored. The series truly deserves all the credits for its character development and plot. The sense of humor, relationships shared by the in-laws, and Isadir's way of living life make it a worthy watch.

Final Score – [7/10]
Reviewed by - Riya Singh
Follow @_riyasinghhh_ on Twitter