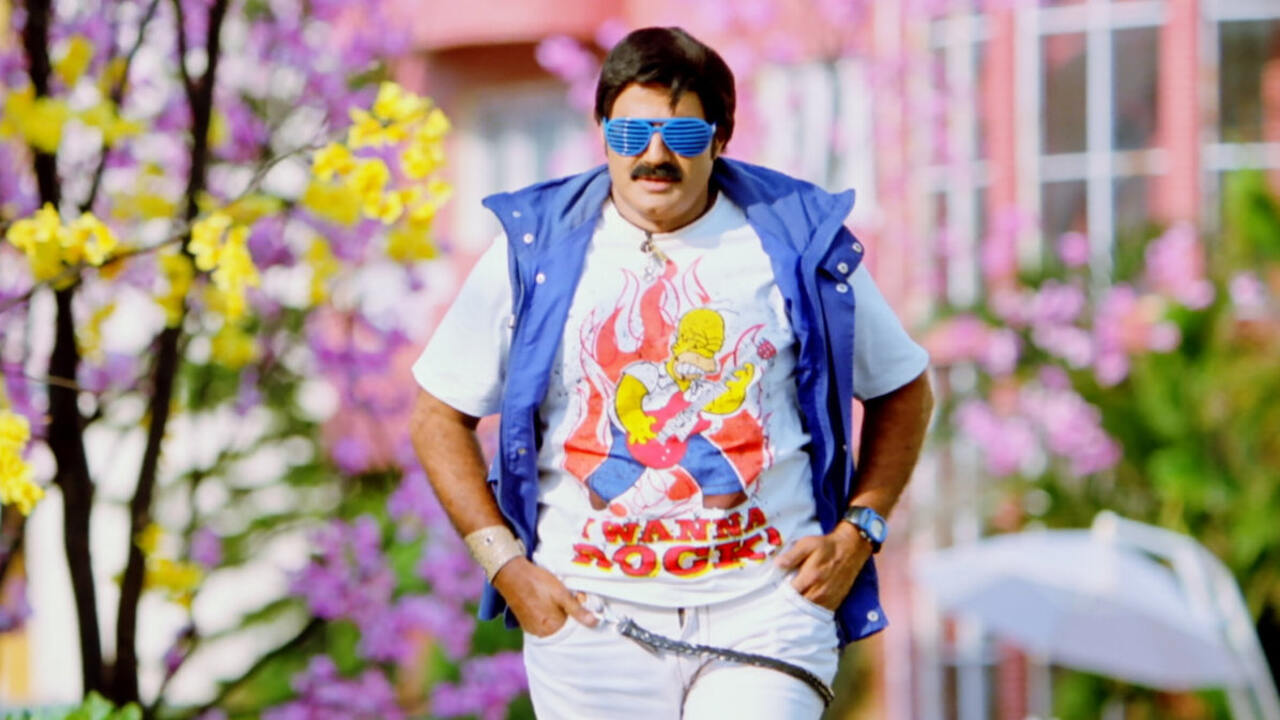 Nandamuri Balakrishna, known for his powerful screen presence and larger-than-life characters, returns with "Srimannarayana," directed by Ravi Kumar Chavali. With a unique theme and the potential for a strong message, the film aims to blend commercial elements with social consciousness. However, despite Balakrishna's committed performance, "Srimannarayana" falls short due to weak storytelling, powerless scenes, and abrupt editing.

The story revolves around Srimannarayana (Balakrishna), a journalist working for a TV channel. Inspired by his father's (Vijay Kumar) ideals of fighting against injustice and serving farmers, Srimannarayana initiates an ambitious project called Jai Kisan, aimed at collecting funds to support farmers. However, his relentless pursuit of truth and justice becomes a thorn in the side of the local minister (Jayaprakash Reddy), his brother (Supreeth), and the Hawala operator Harshad (Suresh). The plot takes a turn when Srimannarayana's father passes away and the funds from Jai Kisan mysteriously disappear, leading to Srimannarayana being blamed. The rest of the story focuses on how Srimannarayana unravels the truth and seeks justice.

Balakrishna, known for his dedication and commitment to his roles, delivers a commendable performance. Despite his age, he invests himself fully in portraying the youthful character of Srimannarayana, excelling in dance sequences, dialogue delivery, and body language. His presence on screen is undeniably captivating, and he does justice to the role.

Parvathi Melton, in her first proper masala role, adds glamour to the film with her natural beauty and sex appeal. However, it is suggested that she puts on a few pounds to further enhance her appeal. Esha Chawla, on the other hand, exudes wild sex appeal and possesses an innocently sexy smile, making her a promising glamour heroine if she chooses her roles wisely.

The supporting cast, including Jayaprakash Reddy, Supreeth, Ravu Ramesh, Nagineedu, Kota, Suresh, and others, deliver satisfactory performances, although their characters are not utilized to their full potential. The comedy, provided by Duvvasi Mohan and a few funny dialogues, offers some light moments. However, actors like Krishna Bhagawan and M S Narayana fail to leave a lasting impact. Vinod Kumar's performance could have been better, and the remaining cast members have limited roles that don't offer much. One of the highlights of the film is Balayya's presence, which commands attention and draws audiences to the screen. However, the movie's weaknesses overshadow this factor. The storyline is weak, and the scenes lack power and impact. The editing feels abrupt, affecting the flow of the narrative. Additionally, the film lacks punch dialogues, which are a trademark of Balakrishna's films, leaving the audience wanting more.

Director Ravi Kumar Chavali, known for his message-oriented films, had a great opportunity to showcase his thoughts with a powerful actor like Balakrishna. However, the attempt to blend social messages with commercial elements falls short. The director fails to fully harness Balakrishna's screen power and range of dialogues, opting for common man roles like a journalist or lecturer. Unfortunately, such roles don't complement the star's larger-than-life persona. Balakrishna's dialogues and characterization require high ammunition and heavy artillery to meet the minimum standards of his stardom. Without these elements, the film fails to make an impact.

Furthermore, the antagonists in the film lack the strength and stamina to effectively challenge Balakrishna's character. With six weak villains, the hero's positioning suffers. The film lacks peaks and fails to provide sufficient entertainment, fundamental elements that were overlooked.

Although "Srimannarayana" starts with a glimmer of promise, the energy dissipates after the first fifteen minutes. The interval sequence receives mixed reactions, and the second half lacks tempo. The predictability of the plot and the lack of a strong narrative foundation make the film feel flimsy overall.

Despite his efforts, the film's weak storytelling, powerless scenes, and abrupt editing prevent it from leaving a lasting impression. "Srimannarayana" serves as a reminder for directors to better understand Balakrishna's screen power and create compelling roles that match his larger-than-life persona.

Final Score- [5/10]
Reviewed by – Neha Krishna
Follow @Neha25Krishna on Twitter
Publisher at Midgard Times