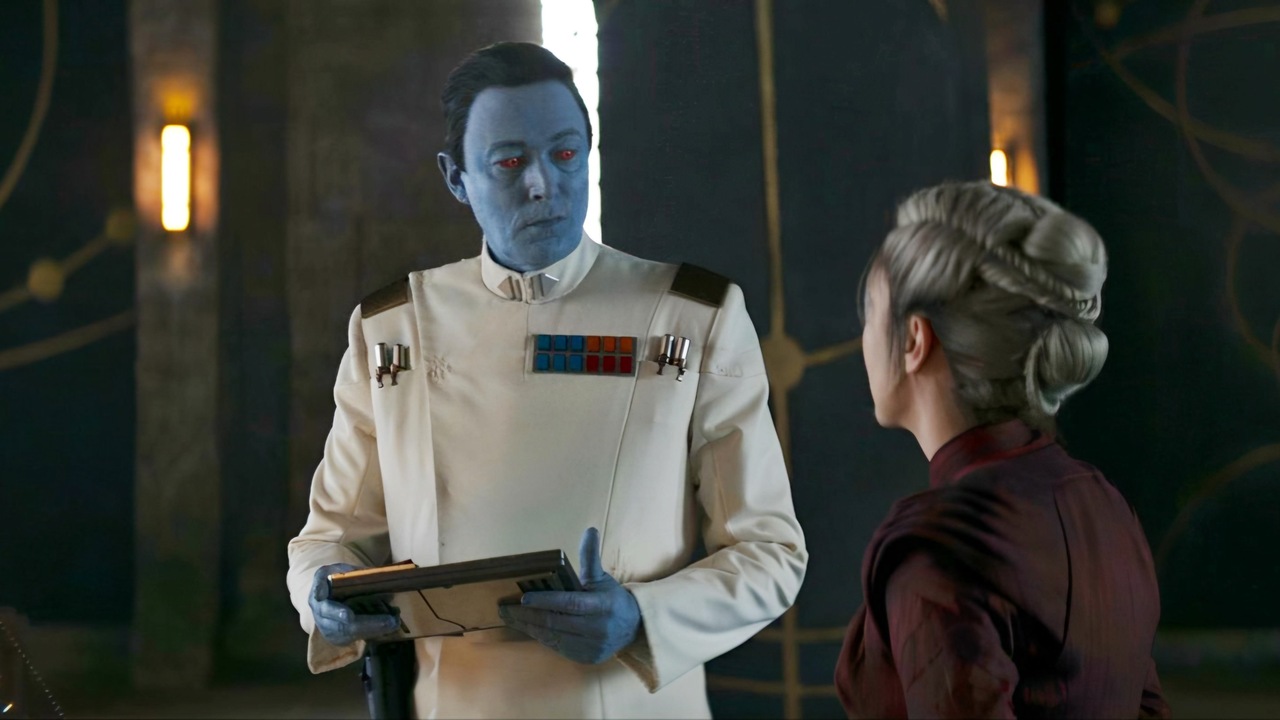 The seventh episode of Ahsoka has some fine action and lightsaber duels. Ahsoka once again took on Baylan while Sabine also got a second chance against Shin, and it happened right after her reunion with Ezra. The episode hinted where the series could end and what could be next in this universe.

Episode 7 began with Hera Syndulla facing the New Republic for not following the orders. She explains that by acting she was protecting the New Republic not rebelling against it. After this face-off or trial, Chancellor Mon Mothma personally came to have a word with her and asked how real is the threat of Thrawn's return. Hera tells her to prepare for the worst and hope for the best.

Meanwhile, on Peridea, Ahsoka is followed by the fighters of Thrawn as she decides to jump from her ship as soon as she sees Baylan, giving full control to Huyang who kept the fighters busy in the sky. On the ground, Ahsoka fights Baylan and then escapes on his wolf to join Sabine and Ezra. Shin comes alone to the location where Sabine and Ezra have successfully defended themselves against a small group of Stormtroopers but soon gets joined by 100s of Stormtroopers. Sabine soon goes one-on-one against Shin, while Ezra fights the troopers with the force and decides not to wield any weapon. However, the circumstances soon change as the Stormtroopers begin to get better over them, but Ahsoka joins the party while Ezra also finally wields a weapon.

On the other side of the planet, Thrawn gets to know more about Ahsoka and discovers that Anakin is her master. Morgan asks him to send more troops to get Ahsoka, Ezra, and Sabine, but Thrawn refuses revealing that this was all a distraction to load his ship and get away from this planet and galaxy. He soon calls all the Stormtroopers from the fight leaving Shin alone against the three. Sabine wanted to take her on, but Ahsoka asked her to let Shin go. The three of them get reunited as they plan how to escape this place.

The eighth and final episode has many rumors going around including some wild ones. As per the leaks and rumors, a large fight will take place in a location called "The Nodian Highlands." The rumor doesn't say between whom, but it could be General Thrawn's army and the New Republic, but nothing can be confirmed as of now. Ahsoka, Sabine, and Ezra are rumored to fight Baylan, Shin, and Morgan while the three witches are on their side. This fight is one of the rumors that could have been confused with another one, as per a few different sources.

Anakin Skywalker is again rumored to show up in the finale to Ahsoka as a Ghost force where he applauds her and tells her that he is really proud of her, even though Ahsoka is not able to stop Thrawn from escaping. Coming to the wild rumor that states that only two of the three will be able to leave Peridea while one of them will get stuck. There isn't concrete info on who it will be, but it could be Ezra and Sabine, who get to escape and Ahsoka Tano gets caught on the planet at the end of this season.

Although there is no official confirmation yet, multiple sources have indicated that Ahsoka Season 2 is already in the works, and an announcement may come sooner than later. If it gets the official nod, Season 2 will pick up on Peridea where Ahsoka is stranded alone.

The eighth and final episode is directed by Rick Famuyiwa and is rumored to be 49 minutes including the credits, 6 minutes more than the seventh episode, which was 43 mins. Ahsoka Episode 8 will be released on Tuesday, October 3 at 9 PM EST on Disney+, worldwide. In India, it premieres at 6:30 AM IST on October 4 on Disney+ Hotstar.