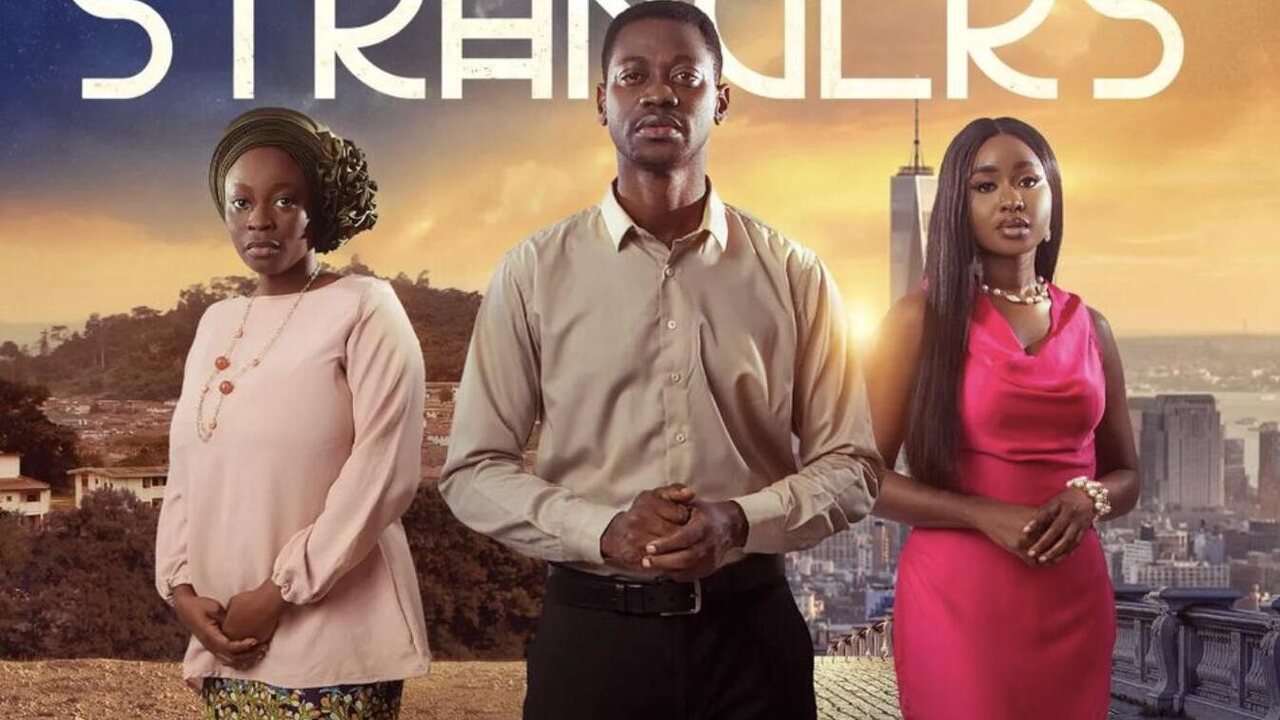 Strangers start with a narration from the main character of the story, Ade. He tells how he used to play in the river with his friends after the flood. One day, he noticed a small boil on his right leg. He couldn't bear the irritation and started scratching it. Slowly the lesion got filled with pus, and then it was converted into an ulcer. His grandfather was a local herb expert and so, he made him drink all kinds of potions (one also had a lizard head in it). Ade's condition still wasn't getting any better. His mother and sister cried seeing him suffer.

One day, the Pastor comes to visit their home and notices Ade's condition. There was a camp organized in which the doctors came to visit this boy personally. They suggested to the mother that Ade needed to be taken to the hospital for his treatment and that there was no other choice. Since the family lacked the financial means, a kind woman, Mrs. Kylie stepped forward to help the boy. He was taken to a hospital in Lagos where he was diagnosed with a Buruli ulcer. Thanks to Mrs. Kylie the boy got the appropriate treatment.

Ade was further offered the opportunity of studying in a school by the same woman. All his expenses were being funded. After some arguments with his mother, he accepted the offer and went to the city to study. Things didn't stop there for him as he soon entered Medical College to become a Medical Doctor. The boy is seen never giving up and working hard to achieve everything he had dreamt of. Obstacles did come in his path, but thanks to the people around him, he overcame them all.

In my opinion, Strangers is a film that tells us that there are still good people in the world who are ready to help those with limited resources. Because of people like Mrs. Kylie, there's hope in those who need our best help. The movie teaches us a lesson never to give up and always be helpful. If you have the resources, always come forward to help those who don't so that they can also have a shot at better things in life. Many children like Ade need it to shape a brighter future for themselves. Ade's story is worth watching and I encourage our readers to watch it.

Ade never gave up even when he wasn't being treated by medical professionals. He was fighting every day but, he knew that he has to make it out alive. The boy had a fighting spirit which made him reach new heights, ones that not even his village people could have imagined. There are certain emotional scenes in the film as well which will touch the hearts of the audience.

The film also teaches that age is never a barrier to learning new things. If you have the willpower to change the world then, things like these do not matter. Those who want to achieve great things, they'll find themselves surrounded by people who're ready to give their all. Ade just believed in God and performed everything that he ever wished for.

Lateef Adedimeji, Bimbo Oshin, Bolaji Ogunmola, Debbie Felix, Femi Adebayo, and other talented actors came together to make such a beautiful film. All the actors have done a great job in this project and have brought something valuable to watch on screen. The movie is about humanity, and parents should watch this with their children so that they can also learn the valuable lessons of life. This two-hour-long movie is inspired by true events. I would especially like to mention Anthony Eloka Ogbu, the writer of the film.

Final Score – [8/10]
Reviewed by - Riya Singh
Follow @_riyasinghhh_ on Twitter
Publisher at Midgard Times