In the 12-episode third season of Ted Lasso, the recently promoted AFC Richmond faces derision as media projections peg them as last in the Premier League. Nate, now hailed as the 'wonder kid,' has gone to work for Rupert (Anthony Head) at West Ham United. In the wake of Nate's contentious departure from Richmond, Roy Kent (Brett Goldstein) steps up as assistant coach, alongside Beard (Brendan Hunt). Meanwhile, while Ted (Jason Sudeikis) negotiates with pressures at work, he continues to grapple with his own personal problems back home. Rebecca (Hannah Waddingham) remains focused on defeating Rupert. Keeley (Juno Temple) navigates being the boss of her own PR agency. Things seem to be falling apart both on and off the pitch, but Team Lasso is set to give it their best shot anyway.

The last season saw Nate turn against Ted, betraying him in such a humiliating way, and unfortunately, Nate's deplorable character is here to stay. While Ted has this natural charm and likeability, Nate tries too hard to be the complete opposite. Now in his new position as West Ham's head coach, Nate does not even look at those he considers beneath him. His training methods are cruel and belittling, and while he may have great tactics, his character is hard to watch. Ted is a loving and loyal character, and Nate's justification for hating Ted with such a passion is still as bizarre as it was last season.

When the season focuses on Team Lasso, it is a much better show to watch. This season, we get a little bit of a closer look into the other players of AFC Richmond, as well as the journalist Trent Crimm (James Lance). It showcases Team Lasso as a true team, united in all things from the footballers on the pitch, to those running the club like Rebecca and Leslie Higgins (Jeremy Swift). While each character on Team Lasso goes through a lot this season, on and off the pitch, tackling issues that come up a lot in football news that will be interesting to see how it plays out, especially with winger Colin Hughes (Billy Harris).

Season three introduces a new star player, Zava (Maximillian Osinski). He is a very focused player with a big personality and ego to match. It would have been easy to make Zava the villain of the season instead, Osinski adds a new, eccentric, personality into the show that you didn't know was missing until this season. It leads to more amusing scenes between Roy Kent and Jamie Tartt, which is great as these two characters have grown past their insecure rivalry to make one of the best team-ups on the show.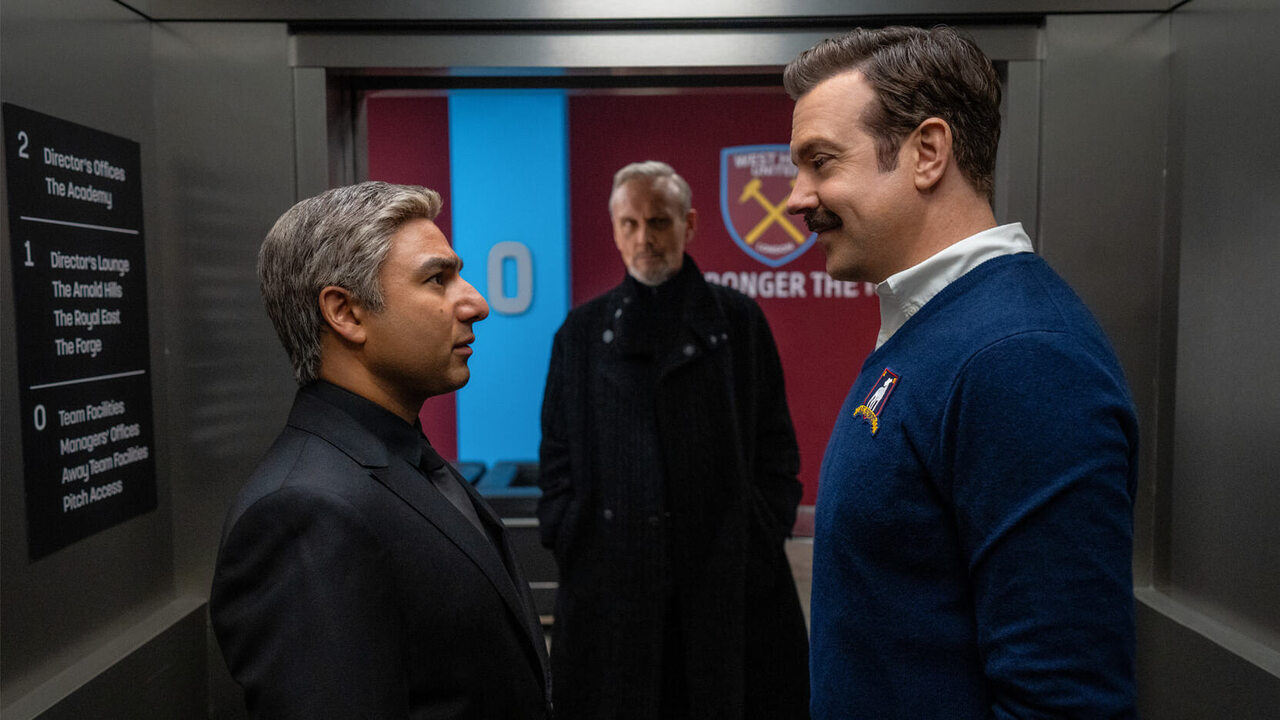 Jason Sudeikis returns as the encouraging Ted Lasso and his scenes and interactions are a true joy to watch. From the classic one-liners and positive attitude, Sudeikis shows how a character can be fun-loving but also have deeper issues that don't prevent him from being one of the most likable characters on TV. Even as Nate goes out of his way to try and humiliate Ted even more, Ted shows nothing but class and compassion for his former assistant coach. Nate's scenes were some of the hardest to watch, and not for the lack of acting. Speaking solely about the character, Nate's bitter distaste for Ted and those he deems beneath him takes away from the fun, lighthearted part of the show which is why everyone originally loved Ted Lasso.

People have questioned if this season will be the last, and while that question remains unanswered, the theme of this series is leaving. Leaving is a broad subject and could be leaving relationships, and dreams, but also the way in which a character leaves, and the latter relates to the bitter Nate. The third season of Ted Lasso explores that theme, shining a light on previously overlooked characters that are a pleasure to watch in this third season. As Nate left AFC Richmond, brought Roy Kent into the new role of assistant manager. As Roy brings to life the realities of retiring from the beloved game, leaving that part of his life behind, fans are given a rare insight into Roy's character that adds more depth to him.

Keeley Jones (Juno Temple) left the life of a WAG behind, and while it was interesting to see at first, her scenes are some of the weaker parts. It's not a reflection on Temple's skills, it's more to do with the odd writing for her character growth. Keeley always wants to help her friend and former WHAG Shandy Fine (Ambreen Razia), it feels as if this arc has already been done with Keeley last season. The only difference is Keeley is now running her own company.

As the seasons' progress, Ted Lasso starts to shift a little away from football, instead focusing on the pressures that surround it. The writers of Ted Lasso combine the hard-hitting emotional issues that the characters face, with uplifting pieces of comedy that will have audiences laughing, especially certain metaphors involving the London sewer system! While Ted Lasso doesn't get English football right all the time, it's still a fun series to watch, and with complex characters like Ted, it's almost impossible to have any hatred for this show!

Final Score- [8/10]
Reviewed by - Leigh Doyle
Publisher at Midgard Times
Premiere Date: March 15, 2023, on Apple TV+
Note: The first four episodes of Ted Lasso, season 3 were screened for this review.