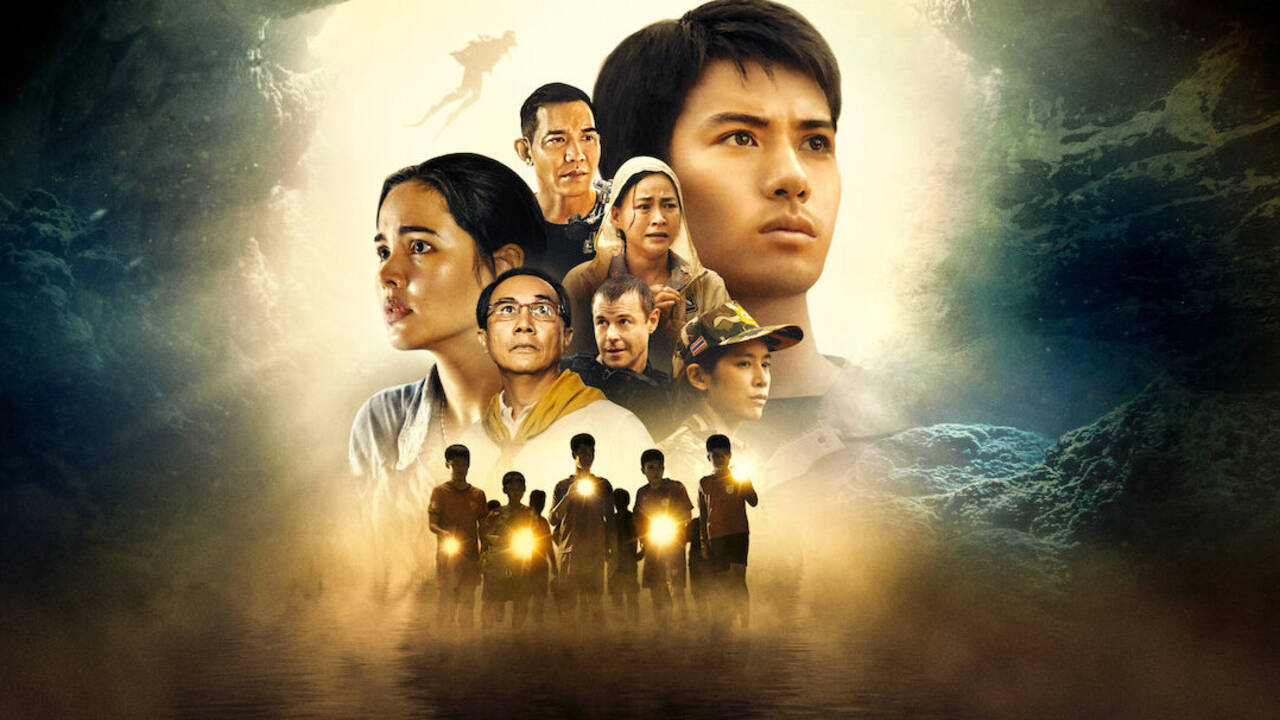 In July 2018, an incredible rescue operation was held at the Tham Luang cave in Chiang Rai Province in northern Thailand. 12 kids (11-16 years old) and a coach were rescued from the cave after being trapped for 18-19 days. Thai Cave Rescue tells this remarkable story with sensitivity and fervor. It took the faith and manpower of thousands of people for the success of this operation. This incident (based on actual events) blows your mind and reignites your trust in mankind.

Thai Cave Rescue adopts a familiar pattern. We are introduced to the kids and the coach and get a glimpse of their condition. Somewhere in TMD (Thailand Meteorological Department), an intern catches a whiff of an incoming storm and tries to warn her superior. He ignores her observations, and she keeps on investigating the matter. Undoubtedly, she turns out to be correct, but it's too late by the time an appropriate action is taken. The kids and the coach enter the cave and get trapped for days. They try to survive on water dripping from the stones, the coach helps them meditate, and one of the kids reconsiders his stance on a SpongeBob cake.

Thai Cave Rescue has no qualms about emotional manipulations. The coach gives a moving speech before taking the kids into the cave. The scenes between Sam and his partner carry a big signboard with the words "Unhappy ending ahead." The show employs a simple technique for solving major problems. When permission is required from some farmers to redirect the flow of water to their fields, the task is quickly achieved by having one of them agree to the idea. Others immediately follow her lead. The same approach is applied in the scene where parents are asked to sign a consent form.

However, I won't deny that I was affected by the material. There were moments when I knew I was being manipulated, but I didn't mind because the show never trivializes its inspiration. My eyes were misted over with joy when the parents saw their children alive on a screen, thanks to a video camera. I leaned forward in anticipation when the rescue mission was carried out and cheered for everyone when the operation was completed. Hell, even that scene with Sam works its way into your hearts.

As soon as one problem is solved, a new problem arises. After dealing with water levels, the team is hit with the issue of oxygen. When it's decided that the rescue would happen through scuba diving, they realize they lack sufficient oxygen tanks for the operation. When the oxygen tank issue is solved, there comes a problem with the mask (one of the kids requires a small mask). This piling of problems upon problems would make anyone exhausted. The characters ably display this exhaustion, desperation, and determination. Their gestures and voices reveal the stress they are going through and how much physical and mental energy they are draining on the mission.

Thai Cave Rescue tells a solid Humans vs. Nature story. Watching so many characters brainstorm and plan everything, step by step, you feel how difficult a situation like this can be and how carefully they need to be handled. The battle between fact and faith is won by the latter. Even the gods bend their knees when humans unite to attain an unselfish task. It's truly a magical phenomenon, and Thai Cave Rescue captures this magic with flying colors.

Final Score – [8/10]
Reviewed by - Vikas Yadav
Follow @vikasonorous on Twitter