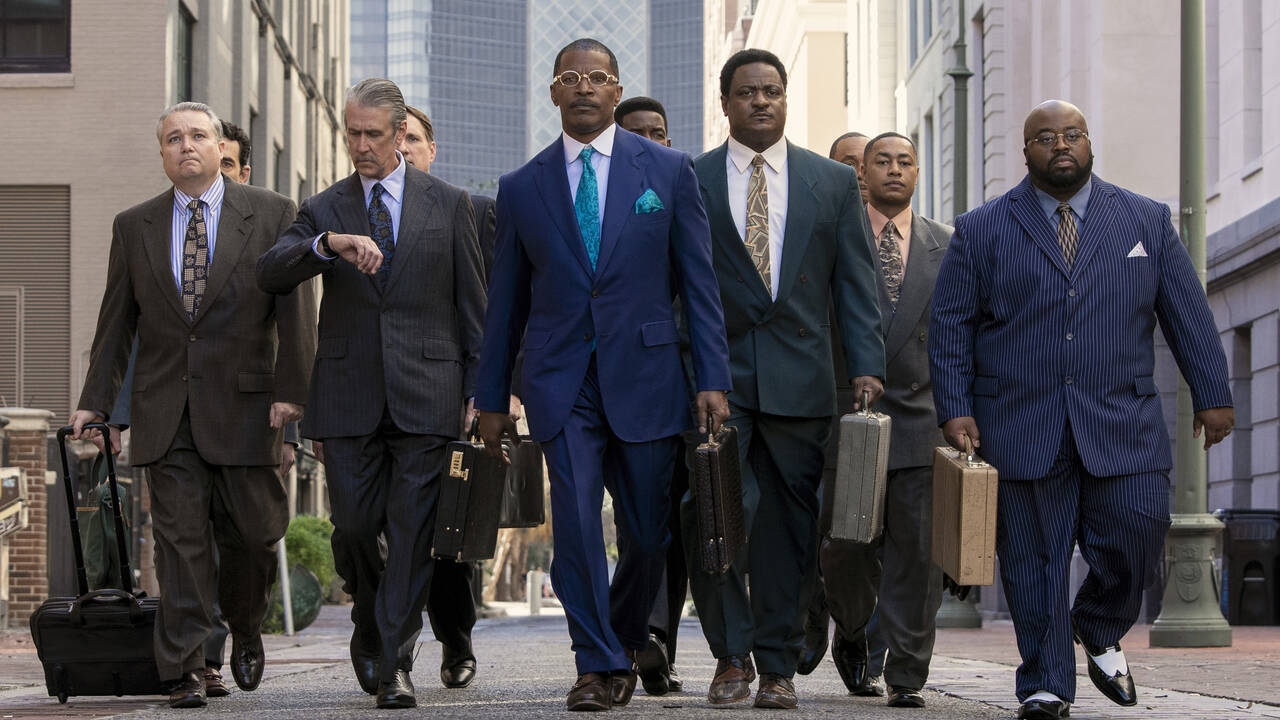 Jamie Foxx unleashes every bit of himself in Maggie Betts' The Burial. What this means is that the actor employs theatrics to capture our attention. Foxx raises both his hands, where he could have done his job by lifting a finger. He embellishes a rousing speech by vigorously moving his body and straining his facial muscles. When he talks in the courtroom or at a church, he puts in so much effort that you think he or the audience in the film would burst into laughter. But they start clapping and cheering for him, and you wonder how these people can take his words seriously and be inspired by him when his body language exudes comic intentions.

Foxx's acting, combined with the ostentatiously energetic movement of the camera, takes you out of the film and creates a distance between the screen and the viewer. Yet, you cannot stop looking at the actor. His mannerisms slowly grow on you, and you accept his rhythms. I chuckled when Willie (Foxx) sat like an annoyed kid in the court after being replaced by another lawyer. This childishness makes the story light as melodrama is not allowed to enter any scene, even during the most shocking revelations.

The Burial is quite obvious and simple-minded. This is how it depicts the issue of racism: By putting black lawyers on one side of the table and the white ones on the other. They are literally separated from one another. The actors, too, are far from subtle. Tommy Lee Jones puts his most innocent face forward, and Bill Camp reeks of ruthlessness. Mamoudou Athie's character is intelligent and wants to prove himself, so he either acts like a smart observer or talks with a mature (i.e., controlled) enthusiasm. Mame Downes (Jurnee Smollett) is introduced as a talented lawyer and is turned into a shark during the courtroom sequences. Even Mike (Alan Ruck), whose history should ideally make him look like a complex character, changes as per the story's requirements. He is as simple as other people.

Betts uses the actors in the most basic manner because she also tells the story without imagination. She adopts conventional beats, relying on rousing speeches to do their jobs. The conflict is neatly split into two parts - good vs. evil. From the opening scene itself, we figure out who should win and who deserves our contempt. But the movie is so predictable and unoriginal that we neither love nor hate any character. We merely watch them from a distance. And while the speeches are efficiently delivered, one soon realizes that Betts has nothing else to offer to the audience. She provides a convivial atmosphere through the scene where Willie and Mame initially talk to each other, which also indirectly hints that the professional rivalry doesn't exist outside the court. But what should we do with this information? It doesn't add any layers to these characters.

In The Burial, what at first feels like a joke is later turned into serious business. Look at Willie's commercial. It's so absurd that most of the details appear false. But when he tells Jeremiah (Jones) that story about how he became a lawyer, we understand that the facts in the advertisement are real. What's more, by the time Willie questions Ray Loewen (Camp), his exaggerated movements stop being funny and seem to mean business. Willie takes Jeremiah's case because he wants fame and wealth, and obviously, he ends up respecting the case and the client. But when he mentions this to his wife, we receive a mild shock because the respect and the attachment feel very sudden. The movie takes a leap instead of arriving at this change step by step. The Burial is certainly watchable, though when the end credits begin to roll, you feel as if you watched something pointless.

Final Score- [5.5/10]
Reviewed by - Vikas Yadav
Follow @vikasonorous on Twitter
Publisher at Midgard Times