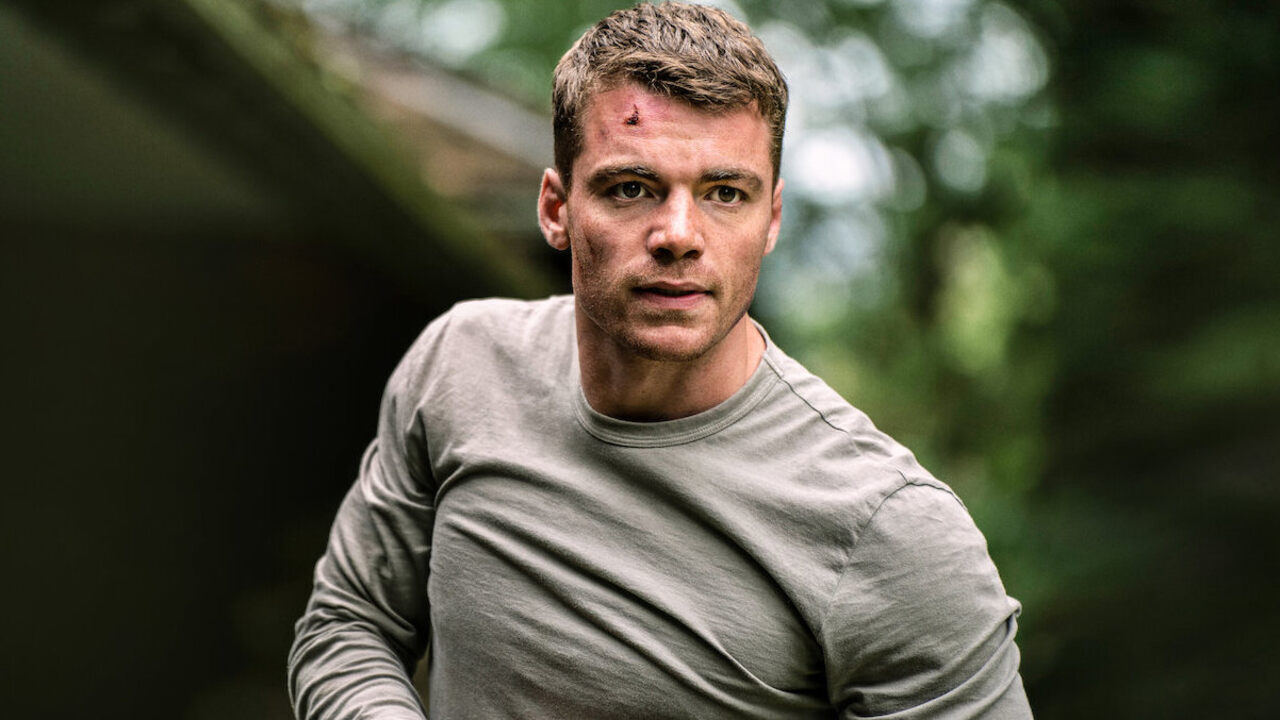 After watching shows like Treason, Jack Ryan Season 3, The Recruit, and Liaison, you might think you have seen too many spy shenanigans. The Night Agent is also about secret agents, though that shouldn't stop you from watching this show. In fact, The Night Agent is much better than all the shows I just mentioned. Created by Shawn Ryan, this series, based on Matthew Quirk's novel of the same name, does not seek to reinvent the wheel. What it does is that it superbly follows the genre conventions by dedicating itself to every cliché, every requirement.

The Night Agent opens with an FBI agent, Peter (Gabriel Basso), on a metro train doing one good deed a day for good health. Well, he ends up doing two good deeds - giving a woman his seat and saving passengers from an explosion - but his health doesn't get any better (he gets physically wounded due to the bomb blast and car accident). When we see him again, he has a different profession. Peter sits behind a desk in a windowless office and has to just answer the phone when it rings. That phone, we are told, rarely rings. But one night, when the phone rings, Peter hears Rose (Luciane Buchanan) asking for help on the other side. The call literally changes Peter's life.

Rose is a cybersecurity expert. She helps Peter here and there, and they soon find out that their paths are intertwined. Rose wants to know who murdered her aunt and uncle, Peter wants to know the truth about his father, and then there is Maddie (Sarah Desjardins), the vice-president's daughter, who gets tangled up in some mess. Perhaps, the key to all these threads lies in the hands of a single mastermind or a group of high-level agents. Because in a story like this, you cannot even trust government officials. Anyone can be a criminal.

Some of the twists are easy to guess, but that's not the point. The Night Agent works because it respects its material. The cast and crew have not done a hack job. Everyone involved in this show has worked hard, and it shows. For starters, the series does not have that cheap yellow-colored plastic filter commonly found in many mediocre Netflix programs. The frames are clean and polished, and cinematic. The Night Agent does not have dirt under its nails, but then you don't watch a show like this for realism. You want to be hooked and excited during tense sequences, and the series delivers on that front. Be it the phone call between Rose and Peter, where the latter guides the former, or the scene set at the D.C. Container Depot, all of these sequences are taut and well-choreographed.

The characters don't exist merely for the sake of the plot. They are not used as puppets to move the story forward. The series progresses on the basis of the decisions taken up by the characters. They drive the narrative to its destination. Hence, no one appears generic here. The dramatis personae dream of a better life and have their own goals. Rose wants to make a successful career in the field of cybersecurity, Maddie wishes she had an amicable relationship with her father, Chelsea (Fola Evans-Akingbola) wants to prove she is excellent at her job, Erik (D.B. Woodside) wants to be a hero in the eyes of his son, and two contract killers consider the possibility of starting a family together. The Night Agent doesn't treat its characters as stock figures, which is why when some of them die, you feel a sense of loss.

The Night Agent has many characters with their own story to tell. Nothing here feels unnecessary. There is no flab. The series can be addictive (I couldn't stop watching it). I generally find myself exhausted after watching a show as long as this one. But not this time. In fact, I am feeling more energetic and elated. This is what happens when you watch a good movie or show. The Night Agent perfectly illustrates how a story like this should be adapted and executed. It's slick, stylish, satisfying, and a lot of fun.

Final Score- [9/10]
Reviewed by - Vikas Yadav
Follow @vikasonorous on Twitter
Publisher at Midgard Times