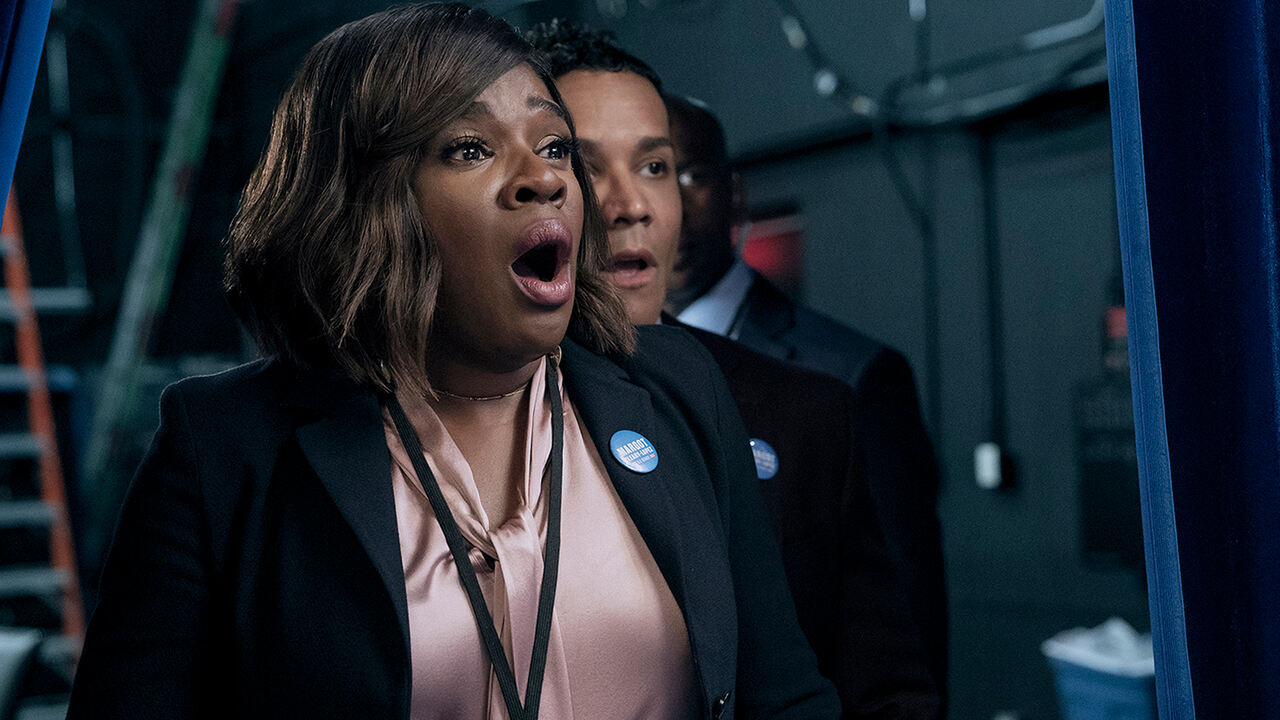 The season finale of "The Power," titled 'The Shape of Power,' kicks off with Eve feeling guilty for hurting Veronica, her former enemy. But let's face it, who hasn't had a few squabbles with their enemies, right? Eve decides to move on and shift her focus to Maria. She tries to woo her into joining her own army, preaching the message of God the Mother. To everyone's surprise, the older nuns, including Maria, agree to transfer their powers to Eve's followers. However, Susannah tries to intervene, only to be quickly shut down for her doubts.

Elsewhere, Roxy's world gets turned upside down when she confronts her mom's ex-fiancé, Derek Rena. The guy spills the tea that her mom was murdered as a warning to stop digging into Bernie Monke's criminal syndicate. Roxy then tracks down Bernie himself and he doesn't even try to deny it – he fesses up to killing her mom. But instead of going all vengeful, Roxy decides to do something unexpected. She passes on her EOD powers to Bernie's sister, Barbara Monke, and high-tails it out of there to the good ol' U.S. of A.

As Margot gears up for her campaign, her team is pulling out all the stops to present her as squeaky clean. But, alas, Jos's love life throws a wrench in their plans when she starts dating a guy with EOD powers. Cue the panic! To make matters worse, Helen swoops in and convinces Ryan's parents to enroll him in a program that suppresses his powers and hides him away from the world. Poor Jos is left in the dark, but it looks like Governor Daniel Dandon has insider knowledge.

Margot is getting ready for her biggest challenge yet - a debate against Daniel. Meanwhile, Rob is caught up in a flirtatious encounter with a journalist, and Matty is asked by UrbanDox to spy on Margot's campaign policies.

As the debate begins, tensions rise when Daniel proposes to outlaw the transfer of EOD powers, while Margot advocates for women's right to choose. However, things take a dramatic turn when Daniel accuses Margot of sending her son Ryan to a camp where children are forcibly medicated to suppress their powers. Margot reacts angrily, shocking Daniel and causing him to collapse on stage.

Later in this episode, we see Tatiana on a mission to hunt down her sister Zoia, who's been rumored to have offed Moskalev. Tatiana doesn't mess around and soon has an army on Zoia's tail up in the North. Tunde is there to capture the carnage on film, because why not, right? In the end, Zoia and her crew celebrate their hard-fought win for freedom, while Eve adds a new member to her squad, Roxy.

"The Power" had all the ingredients for a captivating series, but unfortunately, it never fully lived up to its potential. Despite its interesting themes of power, gender, and politics, the execution falls short at times, leading to a predictable and rushed storyline. However, there are some intriguing subplots that could set the stage for a potential second season.

While the series may not be perfect, it's still an entertaining watch that manages to explore some important issues. It's just a shame that the show didn't quite hit the mark it aimed for. Nevertheless, "The Power" is a decent addition to the TV landscape and worth checking out.

Final Score - [6.5/10]