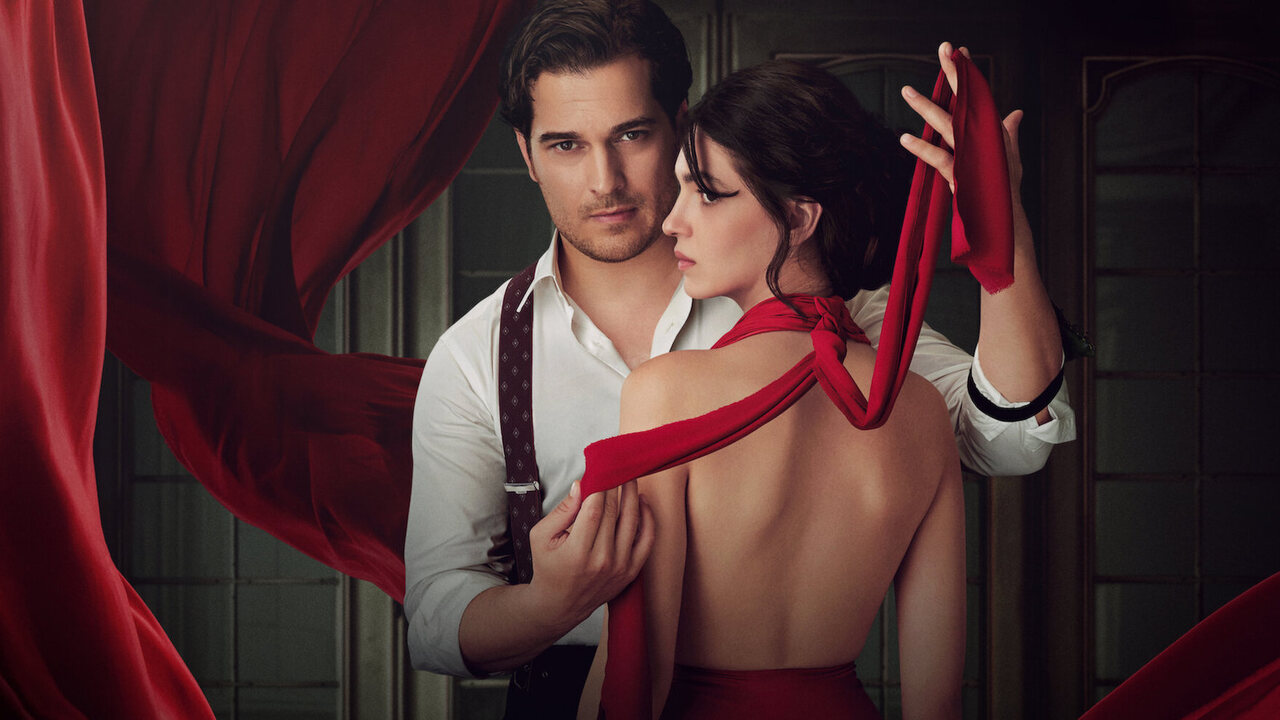 Dimitri (Salih Bademci) is like an animal in a man's body. What animal might he be? A barking dog who can also bite. No wonder he looks as if he is salivating at a bone when he casts a lecherous, obsessive gaze at his fiancée, Esvet (Sifanur Gül). And like a dog who hides his bone in the ground, he locks Esvet inside a box. Hence, I wasn't surprised when Dimitri gently petted and talked to a stray dog. It seemed as if one animal was being polite to another (he also pees on a chair at an office). Dimitri can only be controlled by two people: His father and his best friend, Peyami (Çagatay Ulusoy). The man looks like a tamed dog when the former scolds him at the breakfast table. When the latter insists on taking fresh air, he follows the orders like an obedient puppy.

Can you blame Esvet if she doesn't want to marry an animal like this? Dimitri physically abuses her, making her shudder in front of his sight. She coughs in her wedding dress because she is suffocated by this arrangement (in a later scene, this wedding dress looms over her like a monster). Esvet's cry for help falls on deaf ears, as her mother is uninterested in her plight. She just wants her husband to get a job because the family has financial troubles. You see, this is not a love or blissful arranged marriage. It's a financial deal. Since no one is interested in helping Esvet, she runs away and hides in Peyami's house under the guise of a caretaker, Firuze.

Well, Esvet/Firuze is the worst caretaker. She is told to be with Mustafa, Peyami's father when some guests arrive at the house. What does she do? She leaves him alone, and he comes in front of one of the guests. Firuze is told that Mustafa must not be allowed to enter Peyami's office upstairs. But Mustafa enters the office upstairs, and that too twice! I won't give a letter of recommendation to this character. Anyway, observe the scene where Esvet meets Mustafa and notices chains on his legs. Here is someone who was trapped in a box by her fiancé. Naturally, she understands the pain of the person who is trapped in shackles. From being tortured by a man-child, Esvet's job now includes taking care of a child in a man's body. It's definitely a better position.

There is something sensual in the way the characters touch each other in The Tailor. Look how gently a blindfolded Peyami measures Esvet's body with his fingers. When he shakes hands with Firuze, you sense that romantic currents are passing from one body to another. Of course, these two fall in love. We feel all these things because the camera is attuned to every moment and every emotion. Notice it gliding excitedly when Peyami takes Esvet's measurements or the eagerness with which it closely looks at the handshake between them. The screen shakes vigorously when Peyami clashes with his father. I loved how freely the camera moved in this series. It created a sense of dynamism and filled the scenes with tremendous energy.

In The Tailor, history sort of repeats itself. A young girl is tasked with caring for her disabled brother, and that same girl grows up and tends to the needs of another disabled character. During Mustafa's wedding, we get glimpses of his previous wedding. A young Peyami is told to listen to his heart, and the adult Peyami follows that advice when faced with a dilemma. A father teaches his son how to cycle, and the son teaches his father how to steer a ship.

The Tailor is made with care and a lot of attention to detail. The filmmaking tools are effectively used to bring the story to life. Just notice the final confrontation. The hateful character is dressed in black. Some minutes later, two people point guns at each other, and the good character stands in the middle. The moment serves as a visual reminder that the good character, through his actions, threw himself into his own grave. It's surprising to see how much creative muscle is flexed in a show like this, which is usually treated with an abundance of melodrama and a lack of imagination. Sure, there is melodrama here (the music swells during a kissing scene), and the characters come across vital information by eavesdropping on other characters, which some people would say is a lazy way of moving the plot forward. But The Tailor is unapologetic about taking these shortcuts. The pleasure comes from the direction it takes through these choices. I smiled, I chuckled, and I was consistently hooked. The series is an addictive mixture of style and soap. I didn't know I needed it, and I am glad it exists for my entertainment.

Final Score- [8.5/10]
Reviewed by - Vikas Yadav
Follow @vikasonorous on Twitter
Publisher at Midgard Times