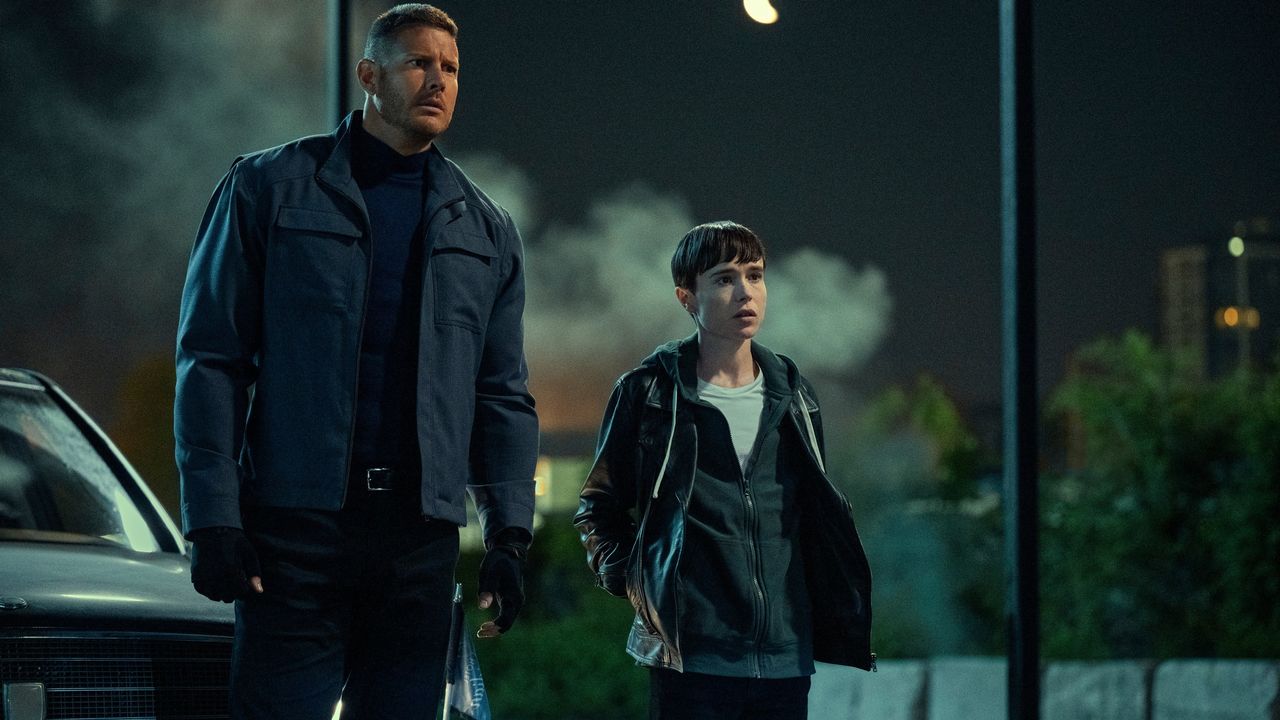 Netflix has revealed the first look images of 'The Umbrella Academy' Season 3, which will release on June 22 with all the ten episodes on Netflix.

The images give us a first look at the members of Sparrow Academy, who are wearing red color costumes, which seem very formal as compared to the original Umbrella Academy members. Elliot Page is also sporting a new look. They will appear as Viktor in the series but not right from the first episode as one of the images still show them as Vanya.

"We got a couple of images of the Sparrows, including a nice one of Jamie and Sloan, and we can tell that these Sparrows have a completely different look than our Umbrellas. They're dressed in uniforms and look quite professional. You can see Luther and Victor, and they're very different in terms of how their families dress and how they're put together, with one looking better than the other. I believe the fans will appreciate how unique the Sparrows are. Without giving too much away, all I can say is that they're both dysfunctional families in their way," tells showrunner Steve Blackman to the IGN.

Below are the images:

Blackman also hinted that creators are currently working on the fourth volume, and he has ten volumes in his head, but that will be a long stretch for Netflix. Netflix is yet to renew the show for a fourth season, but I am hearing that it will be confirmed during the Geeked week two weeks before the premiere of the third season.

In Season 3, After averting the apocalypse of 1963, the Umbrella Academy returns to the present, certain that they avoided the original apocalypse and repaired this godforsaken timeline once and for all. However, after a brief celebration, they find that things aren't quite (okay, not at all) as they left them. Then there's the Sparrow Academy. The Sparrows, who are smart, stylish, and about as warm as a sea of icebergs, instantly clash with the Umbrellas in a violent confrontation that turns out to be the least of everyone's concerns. Having navigated their obstacles, losses, and surprises – as well as dealing with an unexplained destructive force wreaking havoc in the Universe (something they may have caused) - all they need to do now is persuade Dad's new and maybe better family to assist them in repairing the damage caused by their arrival. Will they be able to return to their pre-apocalyptic lives? Is this new world about to unveil more than simply a glitch in time?

Returning characters of season 3 are Vanya/Viktor (Elliot Page), Luther (Tom Hopper), Diego (David Castaeda), Allison (Emmy Raver-Lampman), Klaus (Robert Sheehan), and Five (Aidan Gallagher), Lila (Ritu Arya), Pogo (Adam Godley), and Hargreeves himself will all be back in the mix.

New joiners are Justin Cornwell as Marcus, Sparrow No. 1, Justin H. Min as Ben, Sparrow No. 2 (Ben was No. 6 in Umbrella Academy), Britne Oldford is playing Fei, Sparrow No. 3, Jake Epstein is playing Alphonso, Sparrow No. 4, Genesis Rodriguez as Sloane, Sparrow No. 5, Cazzie David as Jayme, Sparrow No. 6, floating telekinetic cube is Christopher, Sparrow No. 7, and Javon Walton.

Steve Blackman is the creator and showrunner while also serving as executive producer alongside Jeff F. King, Mike Richardson, Keith Goldberg, and Jesse McKeown. Co-executive producers are Gerard Way and Gabriel Bá, the creators of the graphic novels that inspired this series. The show is produced for Netflix by UCP, a part of Universal Studio Group.