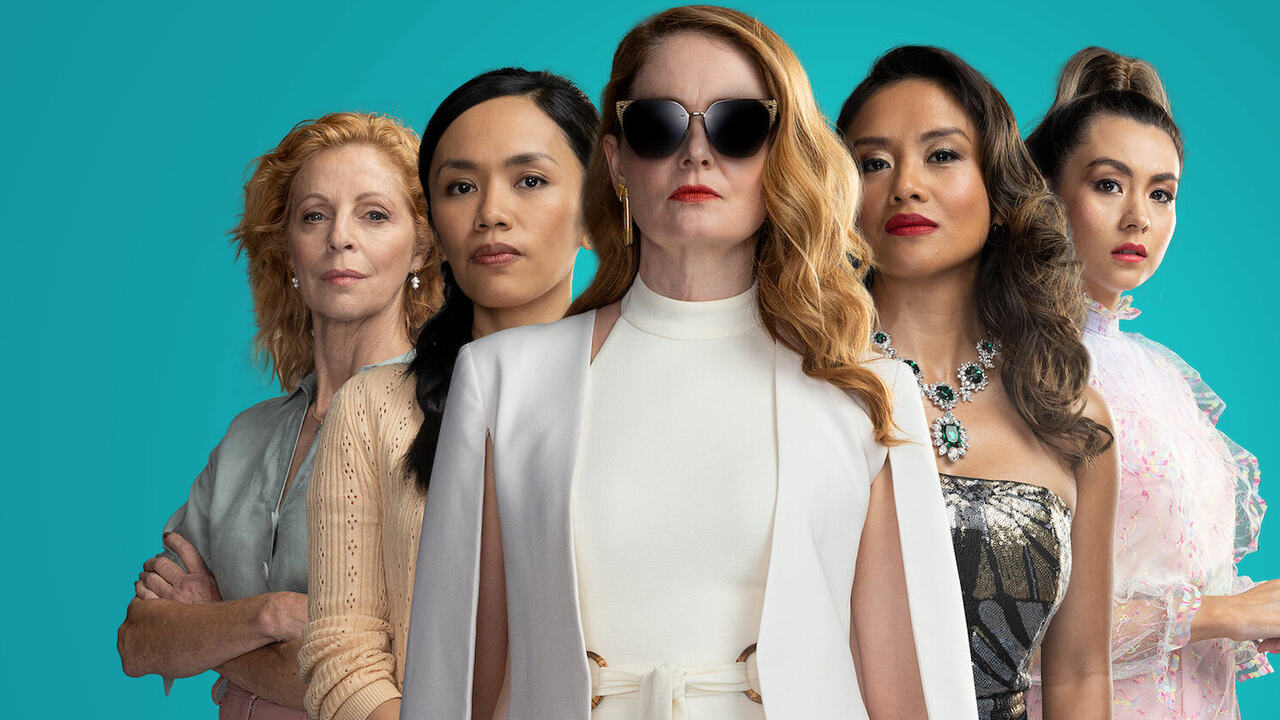 There is a lot of chaos during the opening scenes of The Unusual Suspects. A fire interrupts a party, and people scream and sprint in bewilderment. The confusion is recorded with such madness that it almost threatens to destabilize the core of The Unusual Suspects. But you soon find out that the very essence of this show is tinged with great disorder. Notice how it swiftly flashes forward in time to a police station and then returns to the ongoing narrative. The series thrives on chaos, deriving joy from the clumsy actions of its characters. They are self-obsessed and money-minded and create a mess for themselves. However, they are also good at cleaning up their mess. They can be stupid one moment and smart, the next.

The Unusual Suspects uses Sara (Miranda Otto), an influencer, to tear down the glittery appearance of the online world. Her Instagram profile is filled with superficial captions and images designed to present a happy illusion. She makes her nanny, Evie (Aina Dumlao), sit with her family at the breakfast table to click a picture for her online followers. Evie's husband sees that image and thinks her wife is having a ball with Sara and her family. And that's why he finds it difficult to digest Evie's words when she says she has not received payment yet. Even Gigi (Susana Downes) becomes a suspect after police find a post of her wearing the bling of a rich woman.

The Unusual Suspects is about the rich depending on the poor to maintain their personal lives. Sara's kids create a ruckus when they find out that Evie might return to the Philippines. Garth (Matt Day), Sara's husband, mentions how Evie is the glue holding their family together when Sara suggests firing Evie. Evie has gotten closer to her employer's ménage than her own family. When the nanny instructs Sara's child to say goodnight to his siblings, he only ends up wishing goodnight to Evie. This closeness to someone else's family as opposed to her own comes out in the scene where Evie talks to her daughter on the phone while Sara's kids fuss in the background. Evie has not only left her family behind but also her mother tongue. In Australia, among the English-speaking citizens, she mostly talks in English with everyone. When a mother talks in Filipino in front of her children, they tell her to speak English.

But there also exists a thread of exploitation in this dependent relationship. There are scenes where we see the women drinking and laughing with their maids and nannies, but that doesn't mean the two classes have become equals. Sara might be using a lovable hashtag and posting pics of Evie. However, she also threatens to replace her when she requests her salary. The Unusual Suspects expertly inserts uncomfortable moods in between amusing moments. Its comedy comes with uneasy stings. My favorite scene here is the one where the characters celebrate a criminal conspiracy, and then suddenly, Evie realizes her place and starts pouring a drink for everybody. All the illusion of "equality" and "sisterhood" is dissolved in a second. Even during the heist, it's the maids who cover up others' mistakes (Evie starts breaking the safe, packs up the mannequin, and another servant uses her visa problem as a distraction).

The Unusual Suspects is made with an abundance of verve. It moves with high-octane energy, which the actors, too, dispense through their acting. We are electrified by the pace and the performances as they are truly in sync as if deriving strength from each other. From the word go, The Unusual Suspects grabs your attention and refuses to let you go before reaching the finish line. And while it doesn't ever really get too complicated for the sake of keeping things "fun," "digestible," and "lighthearted" (how awesome it would have been if the maids were allowed to become deliciously shady instead of giving us one scene where someone is asked to open a door by somebody), it manages to keep you entertained with its surface-level thrills. #LoveYourNanny becomes more than just a hashtag. It's turned into the motto of this series.

Final Score- [7.5/10]
Reviewed by - Vikas Yadav
Follow @vikasonorous on Twitter
Publisher at Midgard Times