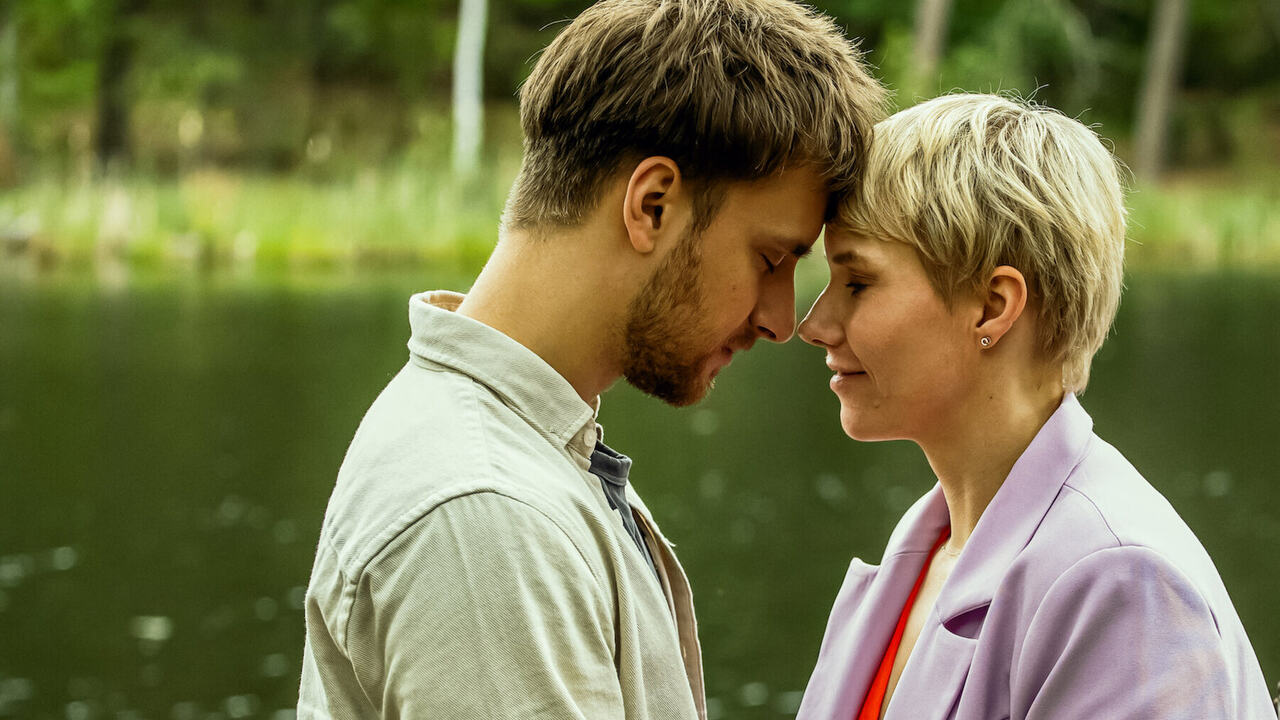 'Tonight You're Sleeping With Me' (Dzisiaj śpisz ze mną) is a Polish Netflix film directed by Robert Wichrowski and is based on the book of the same title by Anna Szczypczynska. It is a weird coincidence that this is the second film about infidelity and cheating that Netflix is releasing today and that I have the pleasure of reviewing. This film specifically is about Nina and her morose life as she feels trapped with a distant husband. When she meets her ex Janek, she faces a dilemma about choosing between her family and desire. The film has a runtime of 1 hour and 35 minutes.

Firstly, the film doesn't waste time at all in introducing the premise. There is absolutely no amount of buildup. The film opens with Nina playing with her children. The play session is interrupted by her husband who seems very loving towards the kids but doesn't exude the same energy in greeting Nina. Then the film instantly transitions to her rushing to work where she meets the temp/trial period worker she will be working with and he turns out to be Janek. Her much younger ex has returned from Amsterdam and by coincidence finds himself working for her. It then transitions to a vague flashback about them. That is only the first 10 minutes of the film.

It is paced badly, it is a little too abrupt and quick, and doesn't feel like it is edited well either. The characters are genuinely irritating to watch. Nina, played rather one-dimensionally by Roma Gasiorowska is who the director wants us to sympathize with. There are scenes where it is obvious that she is in a marriage where she is doing more than her husband all while there is pressure from her mother to be in a perfect marriage. That makes you feel sympathy for her but then it doesn't really account for much as she doesn't seem to try, and make changes either. In a lot of scenes, it does seem like the husband is an idiot. For example, the husband decides to go on a trip to Iceland (alone pretty much), it is unexplained, or rather not well explained, what he is doing there, but it seems like a self-vacation. He calls in randomly to check on her and causes more harm than good each time. In those sequences, it seems like he doesn't care about his family at all. While in other sequences he is shown as a loving and caring man. The way he acts is super contradictory and feels bizarre more than anything else.

On the other hand, we have Nina and Janek. Nina, instead of communicating her problems to her husband decides to very nonchalantly have an affair with Janek who doesn't feel guilty or responsible for breaking a family at all. Nina doesn't like to take help from her mom for some reason. Mostly because she is just as annoying. It is understandable to some extent, but then it leads to very questionable decisions. Literally, every problem in the film could've been solved if the characters just spoke to each other. Even these two characters who are apparently 'in love' seem to have no chemistry, and their interactions have the depth of a bottle cap.

Janek is another bizarre character. He meets her once after his affair with her during his high school days and instantly proclaims to his sister that he is in fact in love and that he "can't run from it again". In another scene, we have Janek dancing half-naked while ironing his shirt. This takes place as blaring "In love" plays in the background. Forget about leaving room for subtlety, there is not a nook or cranny left.

The other aspects of the film are just average to sub-par. I do not like this film or the premise. It isn't very pleasing to watch in the first place and then as things play out it gets more and more unbearable. There is no takeaway from the film or any value in it. It is bereft of any real emotion other than gloom. The ending is absolutely disgusting and made me want to question the point of this film. It doesn't give you any conclusion, it leaves you wondering where you went wrong while choosing a film to watch. I don't recommend this film. Do not watch it because it isn't a poignant drama about lovers who can't be together. It is about adults acting like dumb teenagers with a melodramatic ending and an emphasis on idealistic love. The only thing this film can be rated for is its production value.

Final Score – [2/10]
Reviewed by - Aayush Chaurasia
Follow @AayushC44 on Twitter
Publisher at Midgard Times