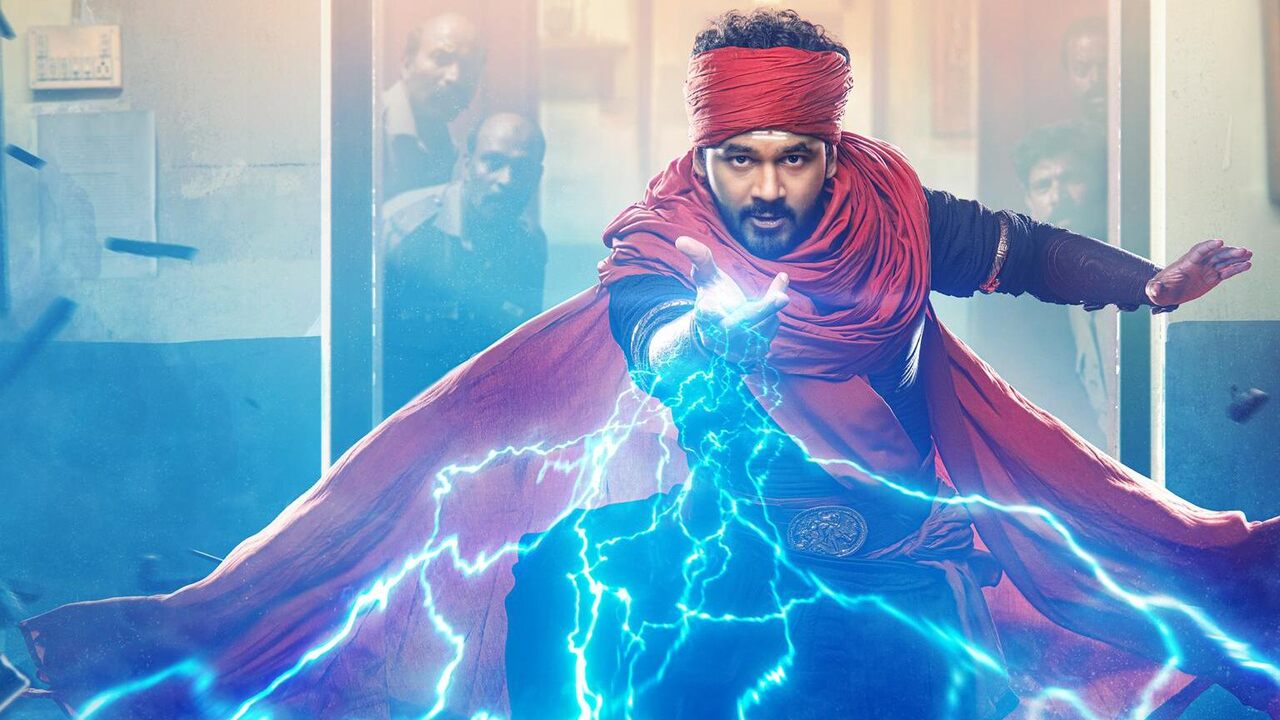 Veeran is a Tamil film that starts with three children returning from school on a bicycle. Selvi tells her friend Kumaran about Veeran who is a demigod and protector of the village. The boy is an atheist and doesn't believe her. Suddenly, lightning strikes him, and he falls to the ground. All the villagers gather in front of the hospital and worry about him. The doctor says that Kumaran is unconscious and they can't say when he'll be back.

Kumaran's sister insists on taking the boy to Singapore for better care. After moving there, strange things happened to Kumaran. He developed the ability to create electric arcs. Initially using his powers drained his energy, and he fell subconsciously. Over time, he learned how to utilize it, and now he can also do brain manipulation.

The villagers were being manipulated by a company that was doing notorious work under the pretext of laying cables for free electricity. The result of these laser cables was a blast that blows up the whole village. After learning about the company's true intentions, Kumran, Selvi, and Sakkarai do everything to save their beloved village.

The concept behind discussing a demigod and making him the savior of the village was outstanding in Veeran. What the film lacked was the execution of the plot. Intending to also entertain the viewers, the film became too lengthy. Humor seemed good initially, but excess of everything is terrible. The movie hovered around the issue and lacked clarity.

Talking about the effects used in Veeran to depict Kumaran's supernatural power, they were adequate to justify the story. A very high level of VFX or edits wasn't required hence what was shown was sufficient. If you want to watch this film then keep in mind that it might not be the right usage of your time. The start and the ending of Veeran are good and in between it is completely blabbering. If you want to understand what is in this film then 20 minutes of starting and beginning are sufficient. In the first 20 minutes you'll be told what this film is about and to know about the results even the last 10 minutes are sufficient. You don't need to spend 155 minutes to know what is going around.

Various physics terms and concepts have been used which raise the expectation from the film. The bonding between the villagers was a good thing to add, but they went overboard to show everything that has been happening there. The makers of Veeran had a unique thing to show, but through excessive humor, chats, and unnecessary things, they spoiled the fun. There are no romantic scenes in the film and thus you can watch it with your family. Kids might like this film. It is not a superhero film rather, it is about having faith in one's belief. The villains in Veeran could have done a better job to make it more appealing.

Final Score – [6.5/10]
Reviewed by - Riya Singh
Follow @_riyasinghhh_ on Twitter
Publisher at Midgard Times