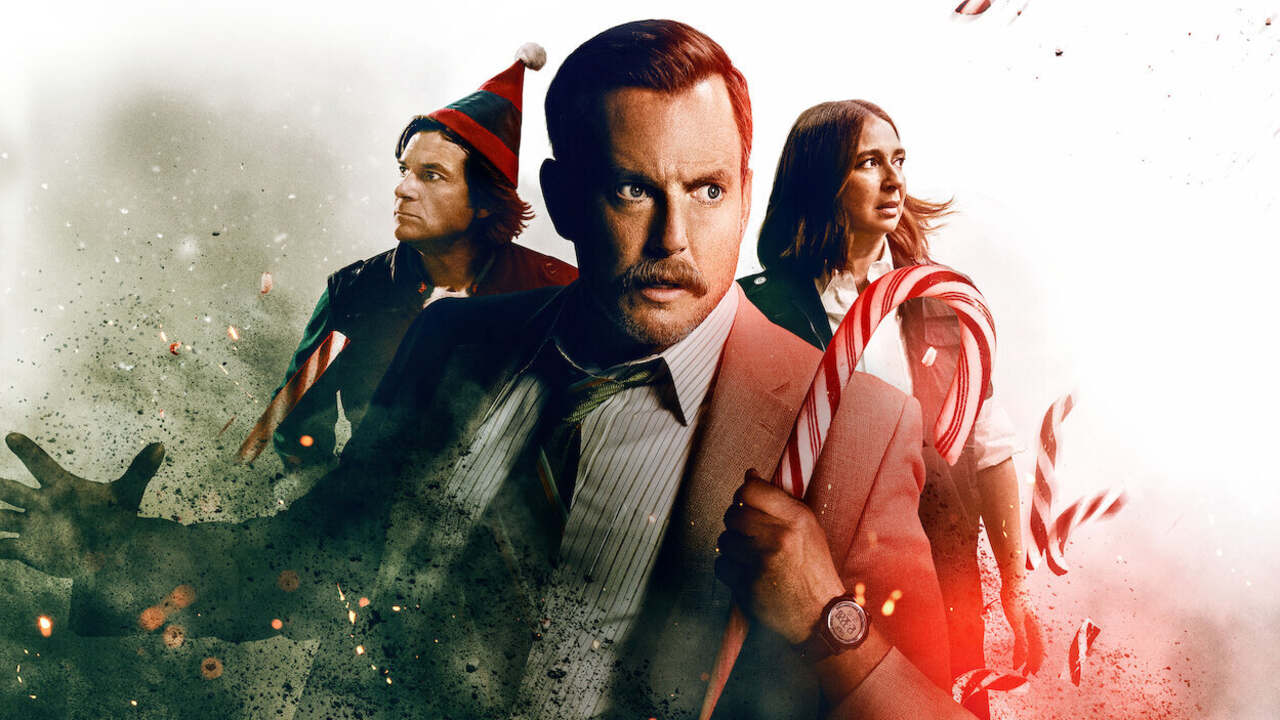 I have never watched any episode of the Murderville series. So when I clicked Play on "Who Killed Santa", I didn't expect to witness an off-screen clip of Jason Bateman and Maya Rudolph saying that they don't have the script for this show. So they will be winging it as they go.

This immediately grabbed my attention, and I was game for whatever they had planned. Over the next 50 minutes, I saw a decently laid out murder mystery unravel as the two stars tried to make head-and-tails of what was happening.

First up was Jason Bateman. He was a trainee security guard accompanying Detective Terry Seattle (Will Arnett). They both attended the City Hall Christmas party, complete with lights, a Santa, and gifts. But when the lights get turned off, our poor bearded Santa gets murdered. So now our duo has a case to solve before sunrise.

Thankfully, our freshly bonded pair have some clues at hand. One is that the murder weapon is a candy cane licked to a point. And that the light switch is farther away from the murder spot. So it couldn't have been one person who did this heinous deed.

Over the course of this sadly-short special, we see Maya Rudolph join Bateman and Arnett on this crazy journey. But she isn't the only special appearance. Pete Davidson joins the tail-end of this investigation, and together our three guest stars try to pinpoint the killer.

Who is the murderer? Your choices are a naked sports newscaster, a businesswoman, and Santa's assistant. I won't give out the answer because the way they conclude is hilarious.
What's also way more fun than it has any right to be is Bateman and Rudolph breaking their thinner-than-paper characters repeatedly. They can't believe what they have signed up for but are enjoying the ride.

The one scene that made me laugh a lot was the two of them playing different kinds of cops to extract information from the assistant of our Santa guy. What started as a good cop-bad cop dynamic soon became a comedic British cop-Italian cop skit.

But the even better scene is when our duo poses as a basketball player and her assistant (yes, Rudolph is the player, and Bateman's her assistant) to investigate the businesswoman. They say the things Arnett's Terry Seattle whispers to them through their earpiece, and the scene is a laugh riot.

The two perform a skit of a Canadian and a Bulgarian basketball player trying to open a pizza shop. So they need our suspect's help. But this isn't all that's comedic. There's a Die Hard reference that will impress you for sure.

Overall, directed by Laura Murphy and written by Owen Burke, Kristee Johnson, Marina Cockenberg, and Kerry O'Neill, this special should be on your list if you need a laugh.

Final Score – [7/10]
Reviewed by - Ishita Chatterjee
Follow @dracone619 on Twitter
Publisher at Midgard Times