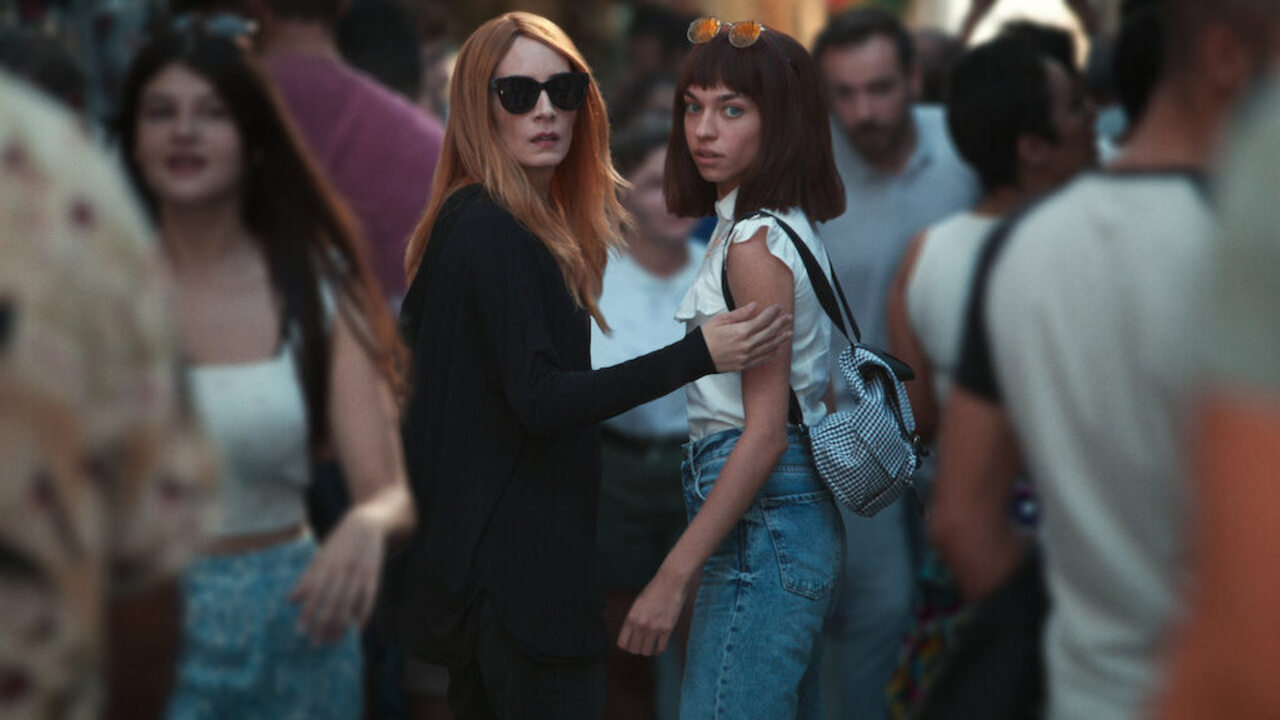 Based on Perihan Magden's novel, Who Were We Running From? is about a mother (a superb Melisa Sözen) and her daughter, Bambi (Eylül Tumbar, very good), who constantly change hotels and travel from one location to another. Instead of "travel," let's just say they run from one place to another. Well, who are they running from? That's something you have to find out for yourself. "We are a moon unit," the mother often says to her daughter. According to wordsense.eu, moon unit means "A stupid person; an idiot." I am sure the mother does not intend to call her daughter an idiot, but most of the people this mother-daughter duo comes across consider them weird, rude, and possibly stupid. That's because they want to lie low and don't mingle much. Hell, they don't even allow the hotel staff to enter their room. The people become curious and suspicious, so much so that one of the staff members in the first episode decides to sneak into their room.

The mother is always dressed in black and looks like a Grim Reaper (Bambi, on the other hand, is seen in white or white-ish clothes because she is innocent). The analogy is not out of context as dead bodies soon start to pile up. Bambi and her mother check in at hotels with optimism and a plan to live there for a few months. However, their trip is often cut short, and when they vacate the premises, they do so by leaving behind a corpse. The mother never wanted to be a serial killer. It's the circumstances - an impertinent manager, a debauchee doctor - that force her to turn into a murderer. That manager and that doctor meet their maker because they attack the daughter. So, in other words, the mother's killer instincts are nothing but her love for her daughter expressed through violence. She is so protective of Bambi that she destroys any evil who tries to touch her - physically or verbally.

The series does a good job of reeling you into the narrative by making you ask questions. The mother says, "They are after us." Define "they." And where is the mother getting the money from? The final shot of the first episode hits us with a chilling realization, but we later realize it was just foreshadowing a future event. The mother tells Bambi that the world is dangerous and no one can be fully trusted. "Evil crowd" is what they call other people. For Bambi and her mother, the world is a jungle, which is why they live less and survive more, relax less, and run more. The predators are always around the corner, so they try to be vigilant.

We also learn about the mother's past as they move from hotel to hotel. Apparently, Bambi's grandmother was a monster. She never showed compassion towards her daughter and even wanted her to get an abortion. Bambi's mother used to bear her mother's insults until, one day, she finally exploded and took lethal action. The fact that Bambi's mother got the courage to stand up to her mother only after becoming a mother herself informs us that motherhood makes one strong and willful. The series never tells us the name of Bambi's mother. Perhaps, it wants to make a general statement on motherhood. Something along the lines of "every mother can become as dangerous as this mother if their child is threatened."

Much of the mother's confidence stems from having more than enough money in her bank account, giving her the option to run anywhere. She is practical and doesn't nurture superficial thoughts like, "Love is enough for survival." The mother hits rock bottom as soon as cash becomes insufficient. She begins to hallucinate and shows signs of weakness. Her vulnerability also comes through during the scene where she clicks photos of her daughter in an attempt to stop her from growing up. Moments like these are emotionally charged and make you root for Bambi and her mother. Consider the scene where Bambi sees a shooting star while her mother beholds her with affection. It's so moving that it makes you realize you want this mother-daughter to win. You support them the same way you support Vijay and his family while watching Drishyam.

I wish the series had put some faith in the audience. There are moments when it can't resist spilling out its text and subtext. A police officer gives a summary of events while briefing other officers. A hotel staff spells out the mother's intentions of making the room into a house for her and her daughter. This spoon-feeding is not frustrating but disappointing. You want Who Were We Running From? to be smart and respect its audience - a quality the show, unfortunately, doesn't fully embrace. The ending initially looks abrupt. But the more you think about it, the more it makes sense. You feel as if someone has snatched away your emotional support, leaving you alone and stranded. This uncertainty marks the arrival of true independence as you move ahead without familial backbone and come of age by adapting to (or, in the case of Bambi, disappearing into) the crowd.

Final Score- [8.5/10]
Reviewed by - Vikas Yadav
Follow @vikasonorous on Twitter
Publisher at Midgard Times