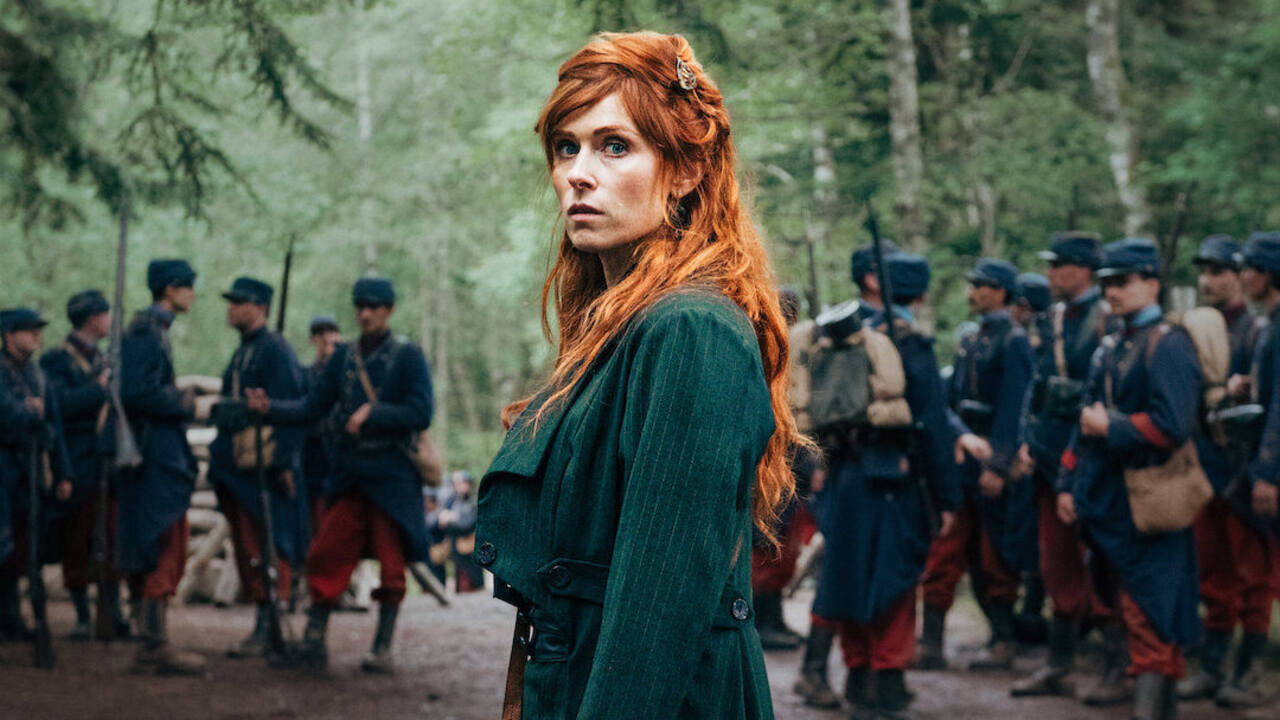 Sofia Essaïdi's face exudes warmth and defiance. You look at her and see a woman who can love with all her heart and single-handedly fight against the whole world. That's why Essaïdi is perfect as Caroline Dewitt, a woman who suddenly finds herself in charge of the Dewitt factory when her husband decides to participate in the war (it's 1914, and German troops are advancing towards France). Caroline will need all her strength to manage the workers and undermine the plans of one uncle Charles (Grégoire Colin).

The Dewitt Factory manufactures trucks, and Charles wants to make changes. He wants to produce weapons. To fulfill his desires, he first deports some of the employees. Then, with the help of someone, forces a company to back out of a contract. But Caroline comes up with a plan. She converts the trucks into an ambulance and strikes a deal with General Duvernet (Tchéky Karyo). So on one side, we have Charles, whose ammunition plan will only add fuel to the fire, and on the other side, there is Caroline, whose proposal is all about saving the wounded soldiers.

The characters in Women at War can be categorized into "Caroline" and "Charles." Meaning: There are people who are exhausted by all the bloodshed, and there are people who support the war from behind their desks (Charles himself is scared of fighting with German soldiers but wants to produce bullets to "help others"). Some aim to save as many lives as possible, while others treat soldiers as shells for mindless destruction. The servicemen put themselves at risk for their country's honor, and the country merely exploits them for senseless violence, like that father in a convent who misuses his powers to abuse dedicated sisters.

This stress between "kings" and "pawns" or "authority figures" and their "subordinates" can be found in the relationships between parents and children. General Duvernet sends one of his sons to the battlefield when he could have easily appointed him to a safe position, say, communications department (both France and Germany, instead of coming to a peaceful decision, send their soldiers to fight in the war). General Duvernet is fond of his sons but is unable to openly express his feelings to them. There is a sort of barrier - or a distance if you will - between parents and children in Women at War. A spy is separated from his daughter because she is kidnapped by German soldiers. Marguerite (Audrey Fleurot) has to hide her relationship with her son, and Caroline gets busy with factory work, leaving her with insufficient time to spend with her daughter.

But let's go back to Marguerite. She is not the only character in Women at War holding on to a secret. Suzanne (Camille Lou) hides her identity from a doctor, and Mother Agnès (Julie De Bona) provides shelter to a German soldier named Till (Pascal Houdus). The series derives a lot of drama from these threads and keeps us invested. Romance sparks between Till and Agnès, which you can see as the show's way of saying that the people of France and Germany are/were not innately rivals. They are just normal human beings, perfectly capable of loving one another.

Women at War can be exquisitely painful. It's also filled with ordinary characters who handle strenuous tasks with determination. They slowly make their way into your heart and, before you know it, possess your thoughts. That's why you continue to think about them even after completing the show.

But I also have some gripes. One of them has to do with Marcel (Yannick Choirat), the brothel owner. He is introduced with an air of menace, someone who is manipulative and twisted. But he is subdued and falls in love with Marguerite. Something like this must occur step by step. But the series takes a leap, which is why you don't buy into it. Then there is a woman who adores Marcel, but why? What makes her admire him so much that she goes back to him even after being insulted (he throws her out of the brothel)? There is no clear explanation. The woman is merely used as an idiot, hateful villain to generate an obstacle for Marguerite. Another issue with Women at War is that a sense of fatigue arises when you binge-watch the entire season, diluting the emotional intensity of many moments. When that happens, you wonder if the series would have been better as a 2 or 3-hour-long feature film instead.

Final Score- [7.5/10]
Reviewed by - Vikas Yadav
Follow @vikasonorous on Twitter
Publisher at Midgard Times