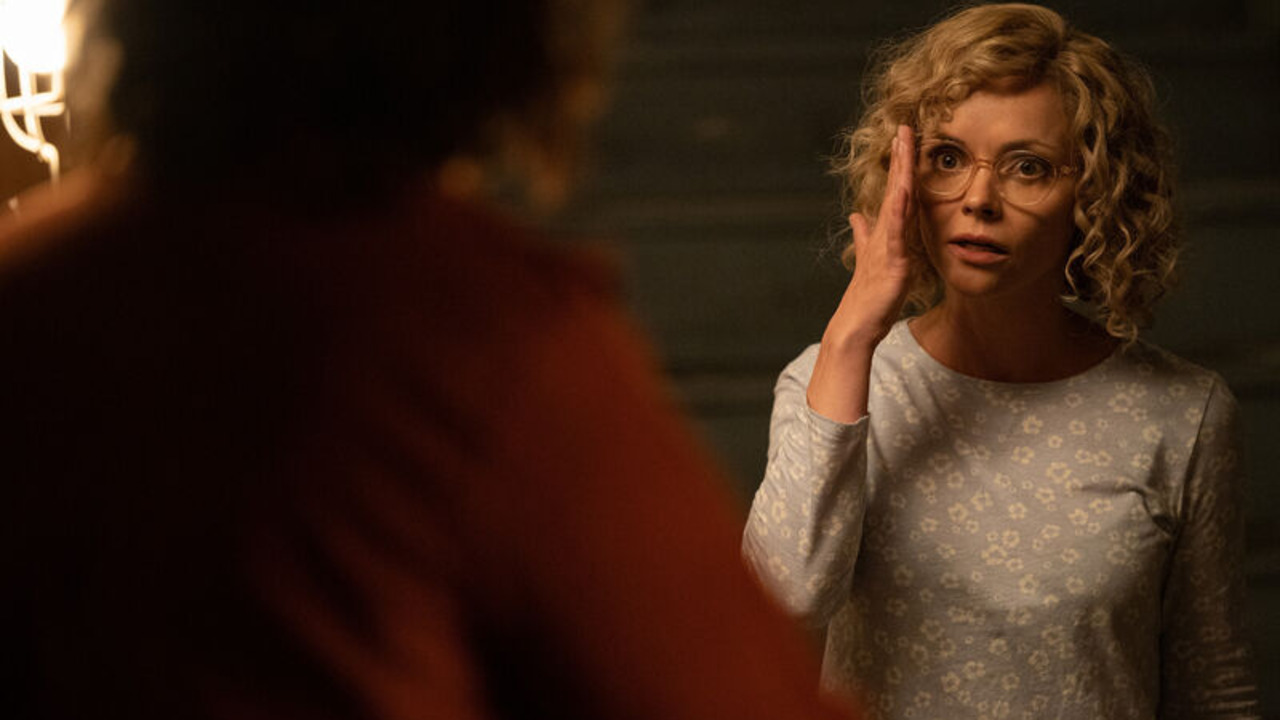 Warning: Heavy spoilers for the episode.

The highly anticipated second season of the hit Showtime series, Yellowjackets, has finally landed, and it's brought with it a slew of thrilling surprises.

After a nerve-wracking cliffhanger in season 1, we have been dying to know what happens next to the high school soccer team from New Jersey, who survived a plane crash in the Canadian wilderness. The season 2 premiere does not disappoint, as it picks up right where the season 1 finale left off.

As the premiere kicks off, we're transported back to the eerie cabin in the woods where our girls, their late coach's son Travis (Kevin Alves), and handicapped assistant coach Ben (Steven Krueger) have settled in. It's a familiar sight, but this time around, things are even more intense. Teen Natalie (Sophie Thatcher) and Travis, who have become quite the skilled hunters, gear up to venture into the snowy wilderness once again. But before they do, Teen Lottie (Courtney Eaton) performs a ritual involving a drop of her blood. Yes, you read that right.

As the girls look on in both amazement and horror, Lottie hands the cup of blood to a reluctant Natalie. They both take a sip and head out into the vast unknown. Meanwhile, Lottie takes a moment to draw a mysterious symbol that we've seen before - in present-day scenes shrouded in fog. The episode flashes forward to media chaos, as we witness the aftermath of the girls' rescue. We quickly realize that not all of the survivors have been able to readjust to life outside the woods.

Enter Lottie, who appears to be the most affected by their traumatic experience. Her parents ship her off to a mental hospital after noticing her lack of engagement and inability to speak. After being lobotomized, Lottie seems to have a spiritual awakening when her roommate has a breakdown. It's at this moment that Lottie discovers her "gifts" and begins to use them to help others.

Fast-forward to the present day, and we get our first glimpse of an adult Lottie (Simone Kessell). Dressed like a new-age cult leader, Lottie preaches to a devoted crowd about self-help and spirituality. While we're left to wonder how she's managed to build this empire while flying under the radar of her former teammates, it's clear that her followers will do anything for her, even if that means kidnapping Adult Natalie (Juliette Lewis) and chaining her to a bed.

However, Adult Natalie proves to be a force to be reckoned with. She convinces one of Lottie's loyal followers to unchain her hand, allowing her to make a daring escape. But the drama doesn't stop there, as Natalie confronts Lottie and is met with hostility from the cult members, who surround her with animal masks reminiscent of the rituals from their time in the woods.

Despite Lottie's attempts to further torment Natalie by revealing a message from the now-deceased Travis, it's clear that there's more to this cult than meets the eye.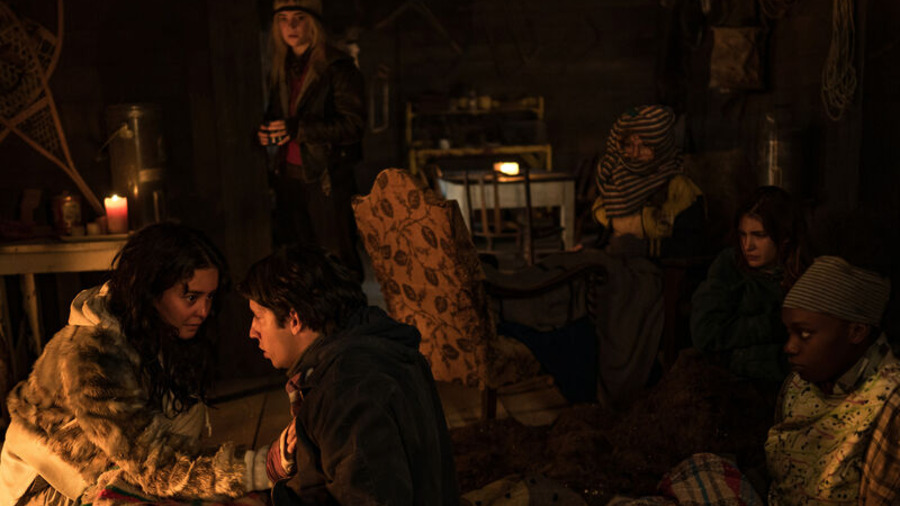 We are then immediately thrust into a series of compelling flashbacks. In particular, Natalie's concerns surrounding Travis's unwavering conviction that his missing little brother, Javi, is still alive, are both poignant and chilling. Adding to the complexity of the situation are Lottie's own claims of feeling Javi's presence amongst them. With this unlikely trio at the center of the story, the upcoming episodes promise to be a wild ride of suspense and intrigue.

As the episode progresses, it becomes increasingly clear that Lottie is a key player in unraveling the central mysteries of the show. Moreover, the tension between Natalie and Travis in the present day adds yet another layer to the already complex storyline. With their relationship in tatters before Travis's untimely demise, the possibility of Javi's return only adds fuel to the fire.

But wait, there's more! As we dive deeper into the episode, we're treated to separate storylines featuring our favorite Yellowjackets as they attempt to pick up the pieces of their shattered lives. Tai replaces her beloved dog Biscuit with a new furry friend. Meanwhile, Misty investigates Nat's disappearance while closely monitoring the Citizen Detective boards for updates on the missing Adam Martin.

As expected, Misty's dedication to the case is as unwavering as ever, and she aggressively dismisses any theories that don't align with her own. We're left on the edge of our seats as we eagerly anticipate the identity of the mysterious poster who suggests that a "mystery lady friend" could be responsible for Adam's disappearance. And yes, you heard it right - the voice behind the post is none other than the talented Elijah Wood.

Back in time, the wilderness brings Taissa (Jasmin Savoy Brown) and Van (Liv Hewson) closer together, as they open up to each other and confess their love. We're left wondering what Adult Van, played by Lauren Ambrose, will have to say about this in the 2021 timeline.

In the present, Shauna goes on to investigate Adam's art studio with her husband Jeff. But things take a steamy turn when they discover a disturbing number of paintings featuring Shauna. The sex that follows is something for sure, but we're left wondering what Shauna is really thinking. To add to the suspense, they nearly burn their yard down while trying to dispose of evidence from the studio. Later, a suspicious Callie finds the remains of Adam's ID and pockets it.

Back in the past, a young, guilt-ridden Shauna (Sophie Nélisse) cradles Jackie's cold body and pours out her heart, confessing everything she wished she had said before it was too late. But things take a gruesome turn when Jackie's ear falls off, traumatizing the other girl. She pockets the severed ear and holds onto it for the rest of the episode, unsure of what to do with this macabre reminder of her best friend.

After much deliberation, the episode ends with Shauna fulfilling the show's dark and twisted thesis by eating Jackie's ear.

As the credits roll, we are left with more questions than answers. What exactly is Lottie's cult, and how did she manage to gain so many followers? What message did Travis leave for Natalie, and will Javi ever make a return? What is Misty going to uncover about Adam's disappearance? And most importantly, are the supernatural elements in the show actually supernatural? Or are the girls just experiencing a communal psychotic break?

One thing is for sure, Yellowjackets season 2 is off to a gripping start. The show continues to be a masterclass in weaving together past and present timelines, exploring the psychological impact of trauma, and building tension through suspenseful storytelling. The characters are complex and flawed, and their actions are both relatable and horrifying. The premiere episode sets the stage for what promises to be an even darker and more twisted season, and we can't wait to see how it all unfolds.

Final Score - [9/10]