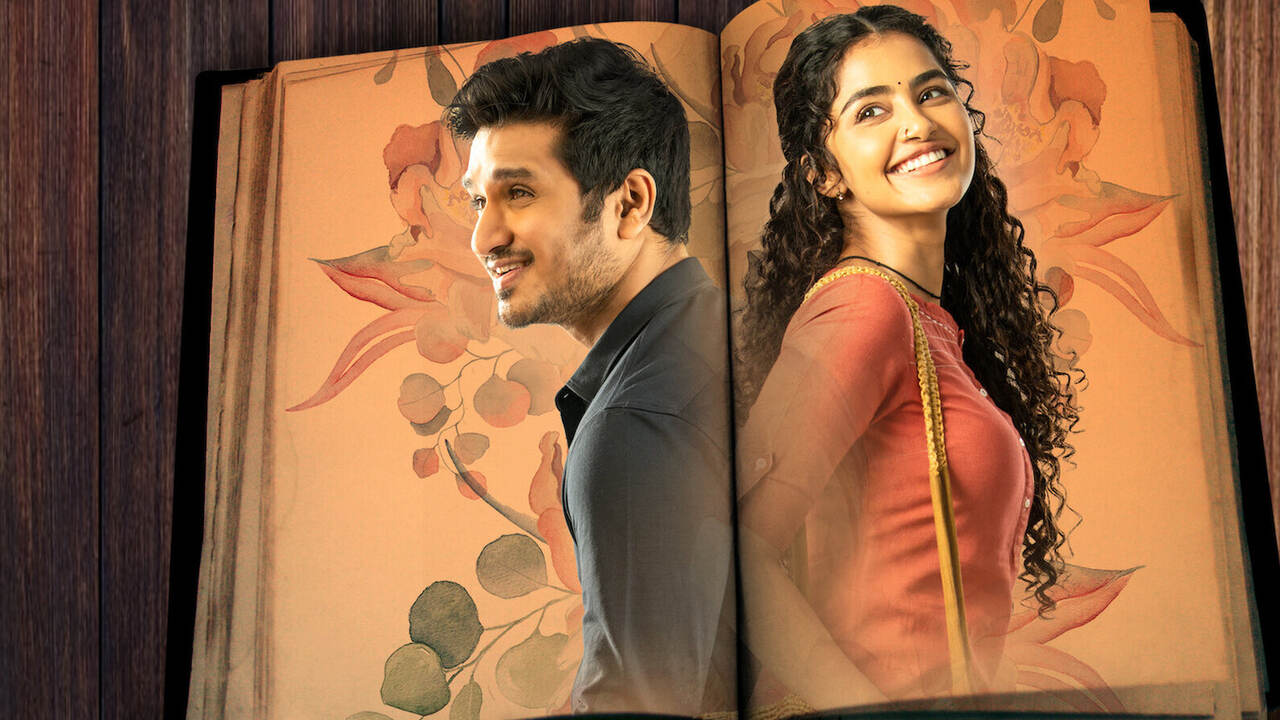 A lot of movies and shows have explored the dichotomy of getting caught up in technology vs. living life without a phone. A lot of such shows or films fail to convince their viewers why they should interact more in real life rather than relying on phones and another tech to stimulate human interaction. One of the few exceptions is the series "Black Mirror," which accurately makes the viewers feel the horrors of futuristic technology.

"18 Pages" isn't "Black Mirror." In fact, it's not even an enjoyable love story, let alone one that explores the earlier stated clash between tech vs. in-body human interactions properly. Siddhu (Nikhil Siddharth) is a tech wiz. It's shown that he's an app developer and is wholly reliant on tech in his everyday life. But after he breaks up with his girlfriend, he goes on a bender and finds the diary of Nandini (Anupama Parameswaran).

He reads her diary, which has only 18 pages (thus, the title), and falls in love with her. In fact, he falls in love after only reading a couple of pages. Her words have such an impact on him that he disconnects from his online life and changes his entire worldview on tech after reading a few pages only. It's such a sudden and implausible change that it doesn't feel organically executed, let alone realistic in any manner.

Now, romantic movies based on the couple falling for the other without even meeting them are dreamy and require a level of suspension of disbelief from audiences. But here, no amount of that will help you convince yourself that this is anyway good writing. The actors do their best, and we know that Nikhil and Anupama have chemistry because the duo starred together in "Karthikeya 2." But there's only so much natural chemistry can save when tasked with the uphill battle of navigating a subpar script.

With a 2hr and 15 min runtime, the film really tests your patience. Also, it suddenly becomes a thriller midway as Siddhu tries to complete the tasks Nandini couldn't and in the process finds that she has been wronged. However, the presence of the mystery of the cover and the question of what happened to Nandini does help keep the viewers glued to the screen. But the final reveal is so generic that it makes an already hard-to-believe movie even more so.

Regarding the technical aspects, the cinematography and editing are well done. Also, the music mostly works well with the scenes. The one positive message of the movie is that it tells us to spend more time with aged parents. This is one film that could have offered something new but failed because the writer didn't want to delve deeper into the topic of people relying on tech and why they shouldn't.

Overall, "18 Pages" is a mishmash of romance, social commentary, thriller, and mystery that doesn't work as well as one would have hoped. The use of outdated tropes weighs this film down severely.

Final Score – [4/10]
Reviewed by - Ishita Chatterjee
Follow @dracone619 on Twitter
Publisher at Midgard Times