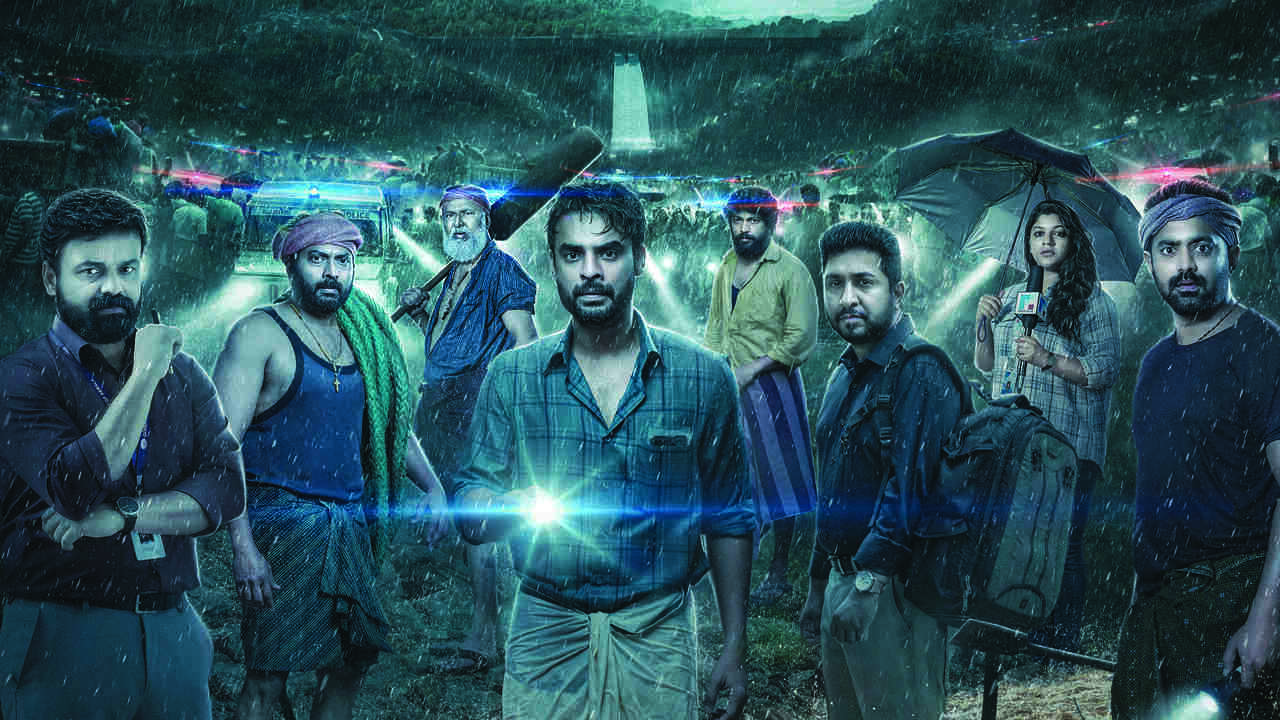 "2018: Everyone is a Hero" is a Malayalam survival thriller movie that is directed by Jude Anthany Joseph and written by Jude Anthany Joseph and Akhil P. Dharmajan. It starts with a scene at the Police Station where a female police officer can be seen asking for favors from her senior. Anoop is her known and she wants the senior to help with his verification. The boy is trying for his visa after he left the military and then started working at the shop of a blind man. There's a scene in which he narrated what is happening in the neighborhood to this old blind man which displays that Anoop has a heart of gold. To justify my statement, who would go to such an extent these days, understanding the suffering of those who surround him? One day Manju, a new maths school teacher in the local school came to their shop and it was love at first sight.

Just like his story, other stories of a truck driver, Ramesh (who works in Anu Dhabi), and Nixon (a budding model) is also narrated. The four stories of four families take up 30 minutes of the total 135 minutes. Along with it, we see heavy rainfall in the ocean and the opening of the Mullaperiyar dam. In 2018, Kerala received heavy rainfall that disturbed the lives of several people. This film is a depiction of the same and shows you the emotional side of the people.

I am not a big follower of this genre, however, this film makes us live many lives through the various characters. It made me understand how people facing a crisis must do their best to save themselves and those around them. 2018 is about The Kerala Flood that hit the region in 2018 and took hundreds of lives. Those who like watching these types of films will like 2018 as well. Initially, I feared that the film would end up like Kedarnath, but after seeing the ending, I was happy. In a scene, a young girl who was saved by the brave soldiers is seen putting the sheets in the shape of Thank You to show her gratitude. If I have to pick up one scene which will win your hearts, it will be this one.

Films like 2018 should be made to bring suffering forward into the public domain. The suffering, homelessness, and other things break your heart still, the people didn't lose faith. The cast has done a wonderful job in displaying the real-life scenarios, and congratulations to the makers who have brought a real-life incident to our screens.

At the start of the film, I think a substantial amount of screen time has been wasted on showing unnecessary things. Multiple scenarios are displayed simultaneously which at some point created confusion and raised questions about why the makers were not hitting the core of the movie. If instead of wasting approximately 30 minutes, they had begun with the main issue then that would have served in the favor of 2018. You need to have a good start to grab the attention, as I have emphasized repeatedly.

When the flood scenes were shown, I was blown away because the editing, VFX, and cinematography were top-notch. Jude Anthany Joseph has done brilliant work in this Malayalam film 2018. Although they ran multiple subplots at the same time that created confusion, but also ensured that each actor gets its due screen time. Tovino Thomas as Anoop has won the hearts of the audience with his portrayal of Anoop. The Malayalam movie industry in the future will be competing with Hollywood if such stories and editing continue to come.

Final Score – [7/10]
Reviewed by - Riya Singh
Follow @_riyasinghhh_ on Twitter
Publisher at Midgard Times