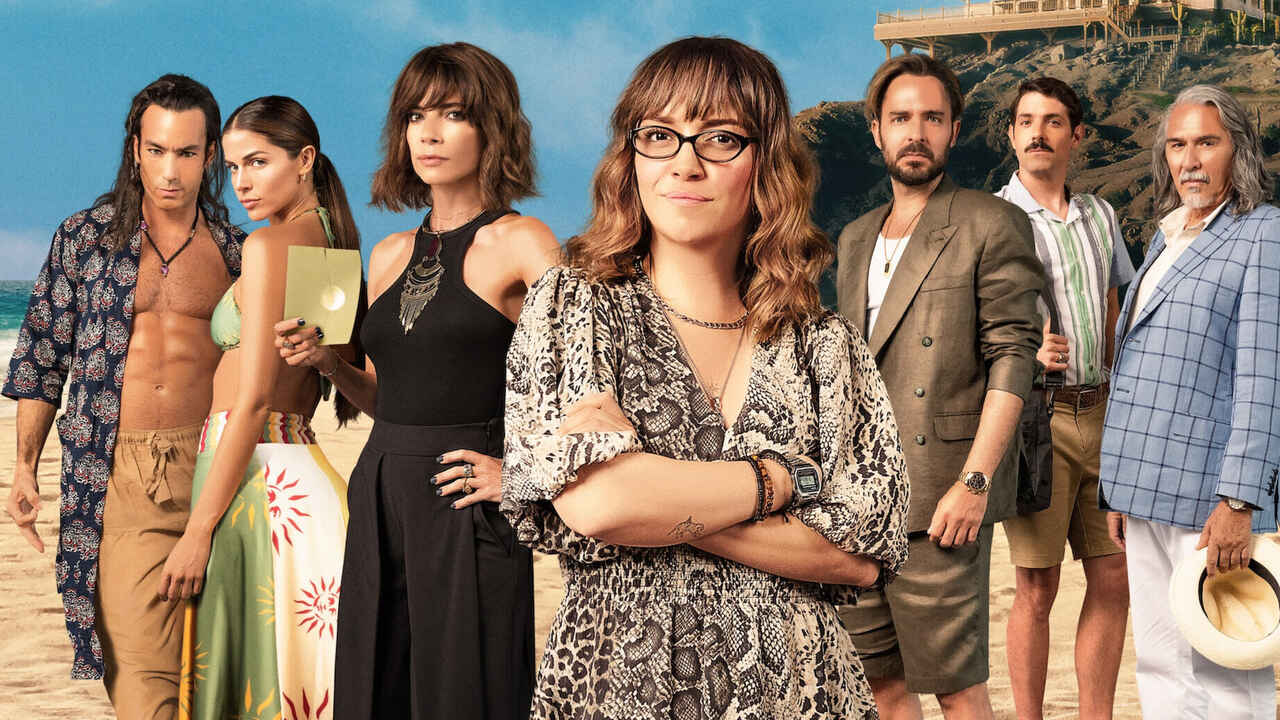 A Deadly Invitation is a 2023 Mexican thriller-comedy film directed by Manolo Caro. The film stars Maribel Verdú and Regina Blandón as two estranged sisters who are invited to a mysterious weekend getaway on a yacht. Once there, the guests are informed that they will be participating in a murder mystery game. However, when one of the guests is found dead, Agatha (Blandón), a true crime podcaster, must use her skills to solve the case.

The film opens with Olivia (Verdú), a wealthy and eccentric woman, sending out invitations to a group of her old acquaintances. The invitations are for a weekend getaway on her yacht, where the guests will be participating in a murder mystery game.

Among the guests are Agatha (Blandón), Olivia's estranged half-sister, Carlos (Manuel Balbi), Olivia's ex-husband, Cary (Luis Gnecco), a fading actor, Sonia (Ana Claudia Talancón), Olivia's former friend, Doña Cristina (Verónica Castro), Olivia's housekeeper, Figue (José María Yazpik), Olivia's doctor, and Naram (Ricardo Abarca), Olivia's yoga instructor. When the guests arrive on the yacht, they are greeted by Olivia and her staff. Olivia explains the rules of the game: each guest will be assigned a role, and they must work together to solve the mystery of who killed the victim. A Deadly Invitation is a refreshing take on the murder mystery genre. The film is full of wit, charm, and suspense.

A Deadly Invitation is a fun and entertaining film that cleverly combines comedy and mystery. The film pays homage to classic whodunnits like Agatha Christie's novels and Clue but also adds its own twists and surprises. The film has a fast-paced and engaging plot that keeps the viewers guessing until the end. The film also balances humor and suspense well, creating moments of laughter and tension throughout. The film does not take itself too seriously but also does not shy away from exploring darker themes like betrayal, greed, revenge, and guilt.

The film also benefits from its colorful and charismatic cast, who deliver great performances and chemistry. Regina Blandón is charming and witty as Agatha, the amateur sleuth who uses her podcasting skills and curiosity to solve the case. She also shows vulnerability and emotion as she deals with her sister's death and their complicated relationship. Manolo Cardona, José María de Tavira, Maribel Verdú, Aarón Díaz, Pedro Damián, and Frank Maldonado are also excellent as the other guests on the yacht, who each have their own personalities, quirks, secrets, and motives.

The film also has a beautiful setting and cinematography, capturing the scenic views of Los Cabos and the luxurious yacht. The film also has a catchy soundtrack that matches the tone and mood of the scenes. The film also has some references and nods to other films and shows in the genre, such as Knives Out, Murder on the Orient Express, Sherlock Holmes, Columbo, and even Scooby-Doo.

Another thing that makes A Deadly Invitation so enjoyable is its plot. The film is full of twists and turns, and it is difficult to predict who the killer is until the very end. The film also does a good job of balancing suspense with humor.

A Deadly Invitation is a delightful and enjoyable film that offers a fresh and funny take on the whodunnit genre. The film has a smart and intriguing plot, a talented and charismatic cast, a gorgeous setting, and a lively soundtrack. The film is a perfect choice for fans of comedy murder mysteries who are looking for something new and different on Netflix.

Final Score – [7/10]
Reviewed by - Arpita Mondal
Follow @ArpitaMond33387 on Twitter
Publisher at Midgard Times