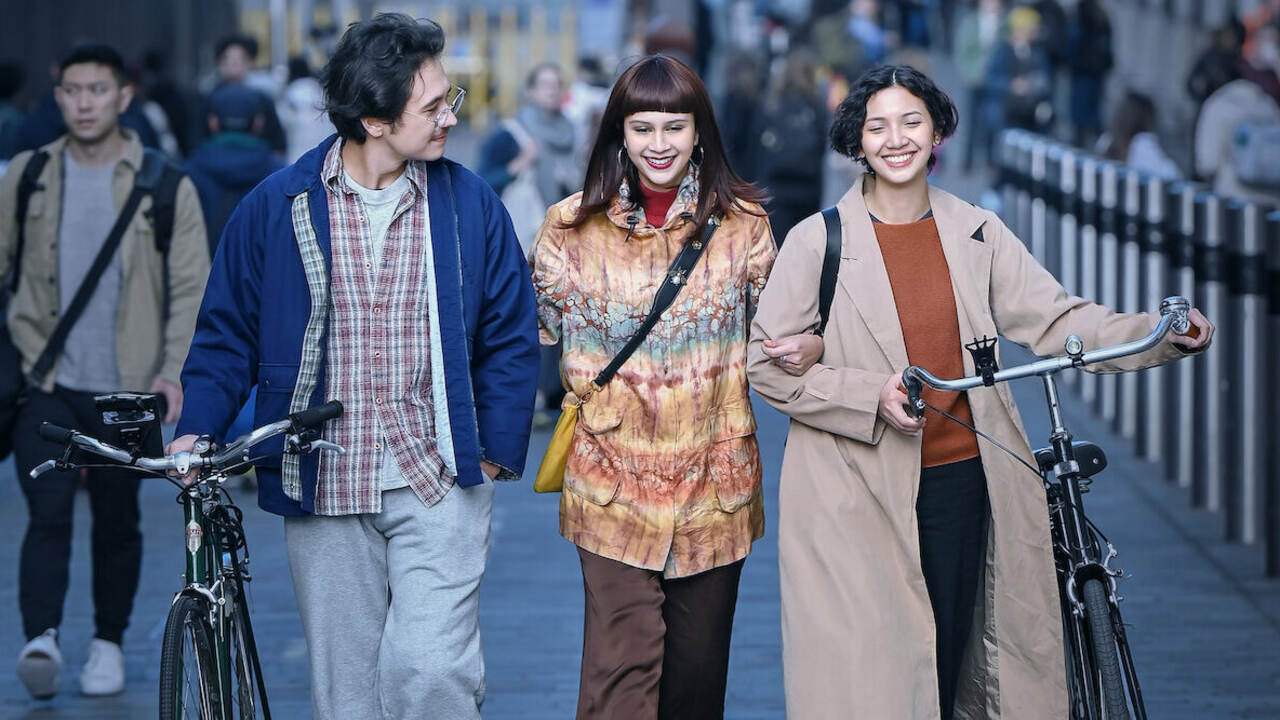 A Long Way To Come Home starts with the views of Aurora Borealis, the name of the main character Aurora. There's an exhibition going on and the owner failed at selling his art. Jem, the owner vented out his anger at his girlfriend Aurora. This is what people do when they don't have control over things in their life. Aurora didn't say anything to a certain level, but when he broke her cell phone, she couldn't take it anymore and moved out of the house. The space was rented by both Jem and Aurora, with the latter paying the majority of the rent. Jem used her in many ways, she was helping her with financial terms as well, but he decided to throw everything as he was a toxic boyfriend or as Gen Z says these days, a "red flag".

Aurora's siblings get worried and they come to visit her in London from Jakarta. After learning that she doesn't live at the same address, they got concerned and searched for her. They finally found her and she told them everything. A scene in which her siblings tell her that their Dad sent his pension to her for her expenses was heartbreaking as this depicts how the parents are ready to sacrifice everything for their child's welfare and here she was busy giving all that amount to her toxic boyfriend. As Aurora left her apartment, she moved in with her friend Honey who used to babysit Indonesian babies apart from her other jobs.

The makers wanted to show something meaningful through A Long Way Home but failed at certain levels like not moving ahead with the story. In the whole film except the last twenty minutes or so, the main focus was to show how Aurora (the main character) was disturbed. I was sick of watching repeatedly about her misery and felt like a lot more could have been included. They showed the real reason behind the fight at the end of the film which could have been included at a better time. The makers had a lot of potential with a plot like this, but it was wasted.

The film started with the main character saying a lot of things which I initially liked, but at a certain point you feel tired of her philosophical ways of saying things, The casting was good, but they too have a limited role when the script doesn't do justice to them. A Long Way To Come Home has to be summarized in a few words then it is basically about an Indonesian girl who lives in London. One day she met a boy in her college and they gradually fell in love. Jem (the boy) was toxic and she didn't realize that until it was too long.

The movie lasts 110 minutes and has been divided into various chapters with the first being Hello and Goodbye, It Comes and Goes. In her journey, Aurora met with certain strangers who were good with her as compared to her toxic boyfriend. Those going through a rough relationship might like the film, but it is not for everyone. One message the movie delivers is that you can find love in unexpected places. The shooting locations in the film are pretty, but again, these fancy locations aren't useful until you have good content. Aurora's pain can be felt at certain moments. This girl teaches you that you need to step back when things get too toxic.

Final Score – [5.5/10]
Reviewed by - Riya Singh
Follow @_riyasinghhh_ on Twitter
Publisher at Midgard Times