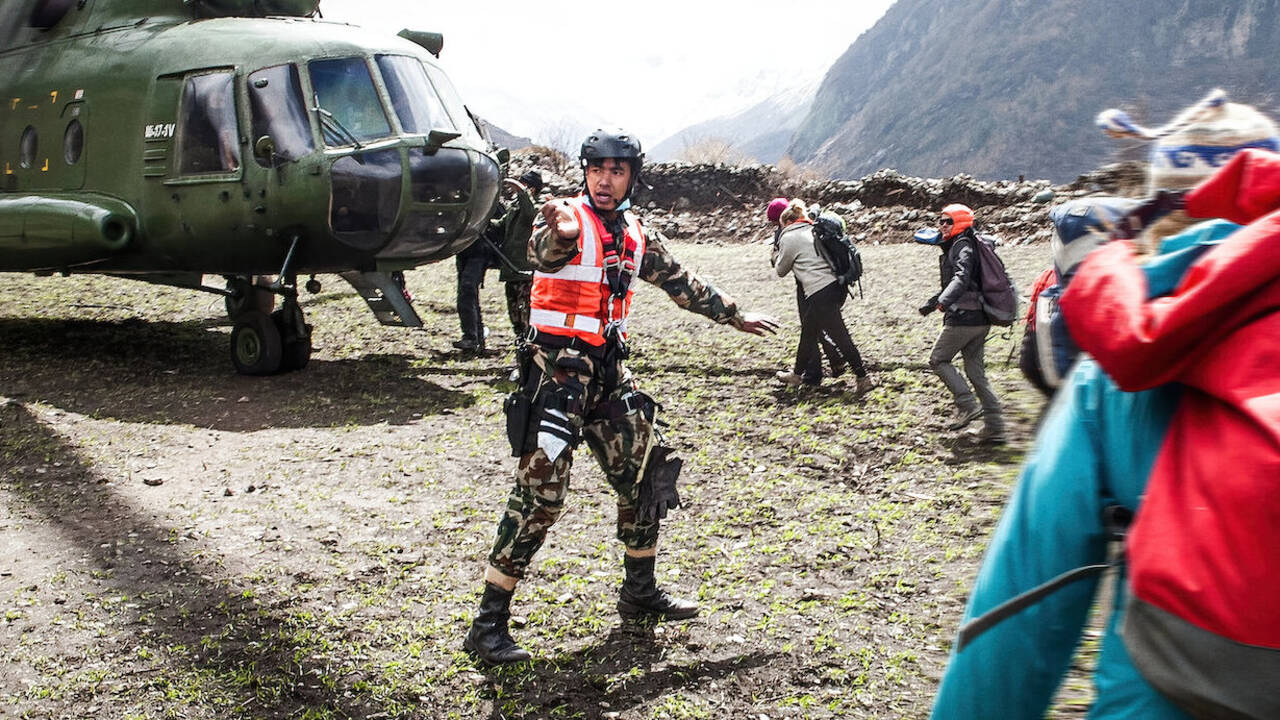 As the title suggests, Aftershock: Everest and the Nepal Earthquake revisits the 2015 earthquake that shook Nepal and Mount Everest. The quake was followed by aftershocks, leaving everyone scared and worried. Taking into account other shows like High Water and Thai Cave Rescue, it seems as if I have had my fill of real-life disaster series'. One thing they have all made absolutely clear to me is that humans are courageous and overcome any obstacle with their determination. Of course, we knew that, though that doesn't stop us from being awed by tales of the human spirit amid grave despondency.

Like any other documentary, Aftershock assembles a bunch of people and asks them to narrate their experiences. We are first familiarized with geography. A Google Earth-type animation is used to move between Kathmandu, Everest, and the Langtang Valley. The documentary picks up survivors from these three places and offers us their points of view. Here are the names of three of them: There is Arjun, a hotel owner; Yuval, a tourist; and Sara, a first-time climber. We are told that the Everest Base Camp consists of a diverse group of people. Unsurprisingly then, Aftershock, too, interviews a diverse group of people. There are not just Nepalis but Iranian tourists. You hear people speaking English, Hebrew, and Nepali.

Whenever you hear about a disastrous event, the speaker often mentions how everything seemed normal, and then they were hit by a tribulation out of nowhere. In Aftershock, a man says how he had watched a village swinging with life during the morning. But after the earthquake, it became a ghost town. In fact, the area looks so deserted that no one could believe there was even a village at that particular spot. Under such stressful situations, we ask several questions about our fate and our lives. A man accuses God of being selfish as he takes away good people rather than eradicating the bad ones. Another one of them remarks how they didn't have the privilege to mourn as they left a corpse of a woman behind.

The 2015 Nepal earthquake is seen as an unpredictable phenomenon. It just came suddenly and destroyed the calm. The way the Aftershock hits us with the visuals of the earthquake reminds you of the lines "calm before the storm." You notice Sara slowly climbing a ladder while the camera observes her steadily from a distance. As soon as she screams, "Clear!" the screen goes black, and the images we get afterward show the damage being done by the quake. Aftershock understands how to build drama out of pictures and conversations. An example depicting the latter can be noticed when a man is corrected regarding the state of a box found in a ruined village. Is he telling the truth? Can this man be trusted? An Israeli and a Nepali tell different stories about their conflict. One says something about payback, while the other says he merely told Israelis to go last on the chopper as they were healthier than the people around them. As a viewer, you anticipate violence to erupt between the two groups at any moment.

This difference in perspective is another feature of Aftershock. Not everyone thinks alike, not even during a disaster, it seems. No one would want to climb Everest after earthquakes and avalanches. Yet, a man says he wanted to reach the summit because he didn't want to die an ordinary death. Another person sees this man as someone who is detached from reality. We understand both viewpoints without being judgmental. For some, the earthquake was a total shock. Some, like a deputy police officer, knew that Kathmandu's buildings were poorly constructed, so there could be a major problem during a calamity. And then, we learn about a porter who warned the tourists by saying he is getting a bad feeling. Aftershock is fascinating because it gives us the pleasure of listening to various perspectives. As you survey the damage, you realize it doesn't take much time for a beautiful sight to convert into something macabre. At one moment, you might be going through a fairy tale, while you might be traveling through hell in the next instant.

Final Score – [7.5/10]
Reviewed by - Vikas Yadav
Follow @vikasonorous on Twitter