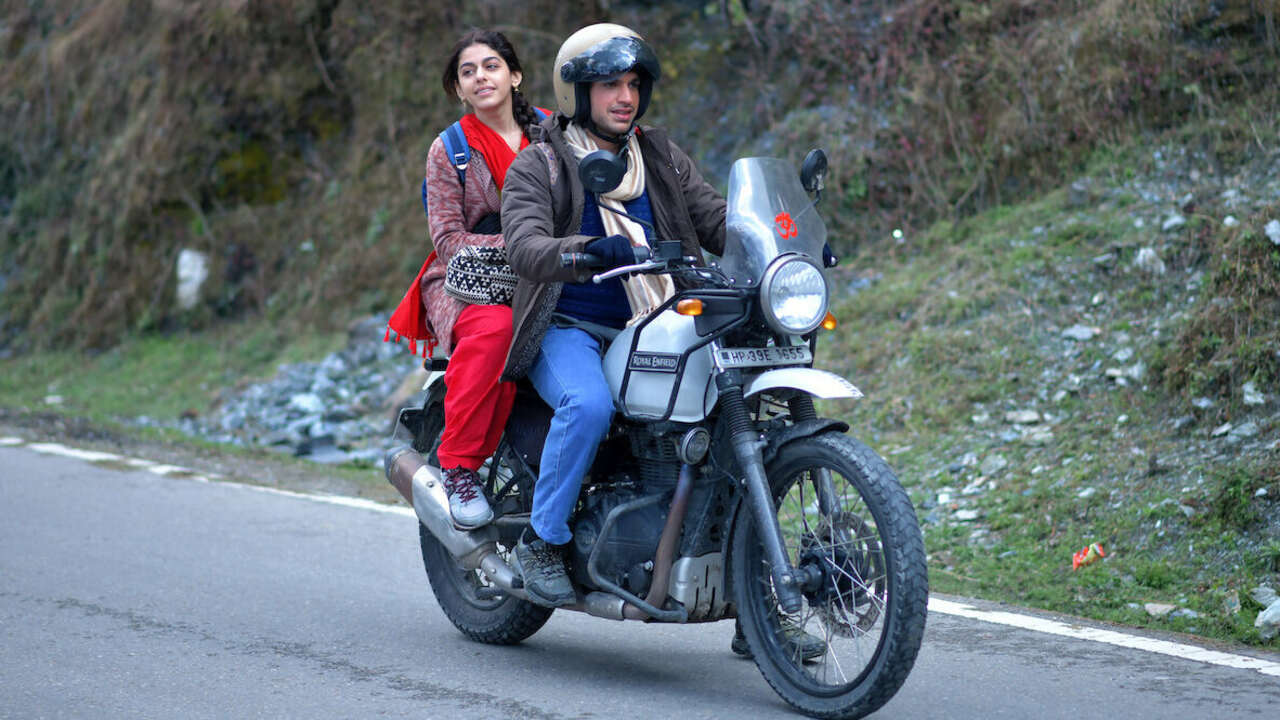 Almost Pyaar With DJ Mohabbat starts with a man in a recording studio. He is none other than Vicky Kaushal who is playing the part of DJ Mohabbat. He says "Pyaar k pehlu nhi hote, ye yoh kambhaqt ho jata h" and goes on about the relationship between love and vulnerability. The way he speaks those lines, it first wants you to fall in love, but as soon as he relates manhood and vulnerability, that's a turn-off point. DJ Mohabbat announces that he'll do a concert in Manali, but the location is secret as they've not got permission from the authority.

We're then taken to Dalhousie where Amrita (played by Alaya) is seen enjoying this DJ's talks. She's his huge fan and wants to attend the concert. Coming from a strict family, she has a lot of restrictions on her despite the fact, she's a free bird. Yaqub is her out from these and with his help, she's also seen making Ting Tongs. In these videos, she dresses up in a burqa so that her identity isn't revealed. Yaqub and Amrita elope and the name of this incident is given as Love Jihad. The Suri family (Amrita's family) is after Yaqub. Things end up in chaos. There's a scene where Amrita gets all stressed up after talking about her family with Yaqub and after this, she says "Chal yaar sharaab peete hai", this scene will made the audience laugh as just 5 minutes earlier she was saying "Yaar log ye pi kaise lete hai".

We're then taken to London alternatively where the love story between Ayesha and Harmeet is shown. They're not in love as per se but, still, we are forced to think that it is. Harmeet doesn't give attention to Ayesha initially as he wants to focus on his music. She still follows him everywhere because now she is obsessed with this guy and desperately wants him. Ayesha is seen standing in rain waiting for Harmeet to accept her, this scene makes the audience believe that the girl truly likes him when in reality she was the starting point of destruction in Harmeet's life. When Harmeet reciprocates her love, he ends up in jail where unimaginable things are seen happening.

The soundtracks used in the movie are good. We also see Arjun Kanungo and Sapna Pabbi in the London scenes where they're seen as singers. There are a lot of unrelated things that happen in the film. Many rash decisions are taken about the plot twists which could have been better.

In my opinion, the film is a disappointment. How it started, I had high expectations and thought that we have got another good movie. However, the film quickly shifted its themes and ended up being a disaster. The themes it chose for the movie form a khichdi. They were talking about being fearless and then suddenly there comes a topic of Love Jihad, homosexuality, raping a minor, and various others. They were trying to explore so many areas and ended up making a mixture which doesn't feel suitable to watch.

The title of the 2-hour-long movie is also a misfit. The movie is no less than chaos, and it would be better if the audience chose something else to watch. The actors have put in their all, it is just that the writer could have written a better story.

Alaya Furniturewala put in a lot of effort in playing both the roles of Amrita and Ayesha however, her hard work didn't pay off as the audience will not be able to differentiate between these two characters. It felt as if the same story is being played with just the geographical locations being different. Karan Mehta however delivered an astonishing performance as both Yaqub and Harmeet. The boy has put in his all and needs to be appreciated. Vicky Kaushal has given a special appearance as DJ Mohabbat. His role though thought to be of significance ends up creating more chaos as his sayings about love don't seem to match with what was happening in the movie. His character is just a hopeless romantic, and sometimes his words can be spotted going off track as well.

Final Score – [4/10]
Reviewed by - Riya Singh
Follow @_riyasinghhh_ on Twitter
Publisher at Midgard Times