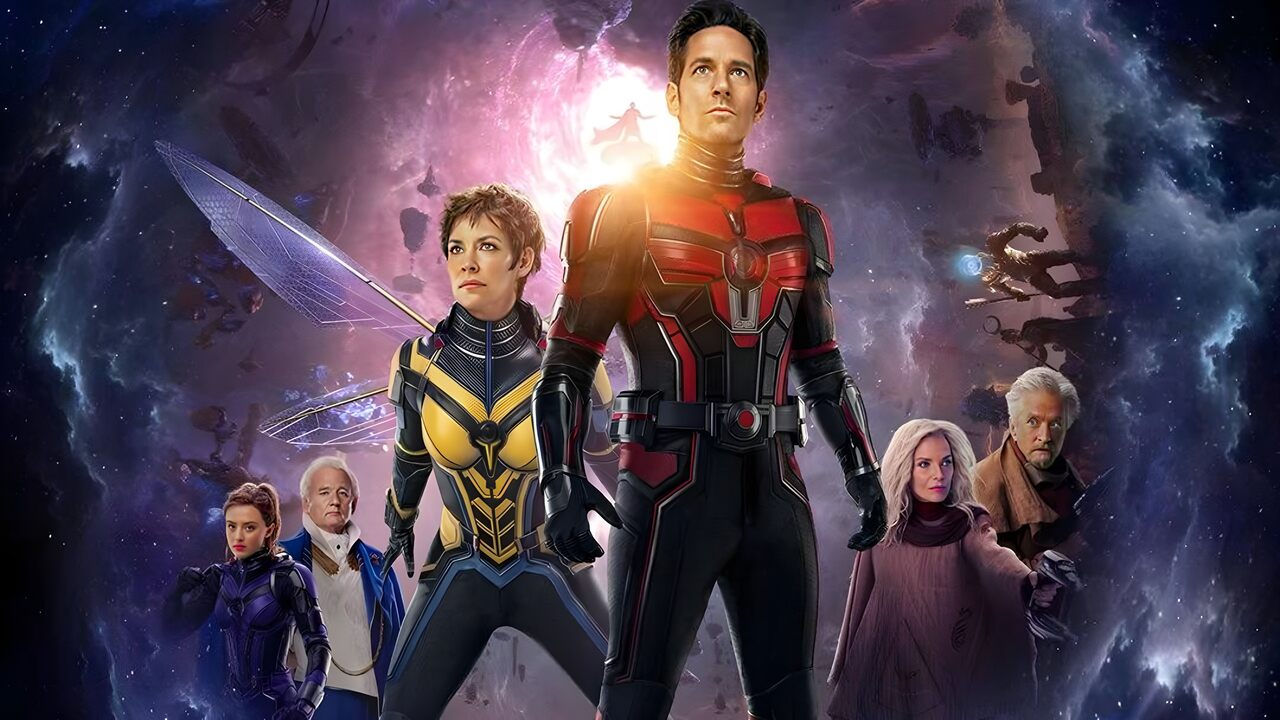 The problem with spectacle is that it's not the appropriate tool to bewitch the audience. It can enhance the experience to an extent. But when a movie begins to overly rely on computer graphics, you can take it as a sign that the Maker of Magic has turned into a Maker of Mechanical Products. The glossy green screen effects sore your eyes, and you desperately start searching for something worthwhile. If you are lucky, you might find pleasure in someone's acting or a small gesture. These minor reliefs don't make the movie better, though they certainly give you something positive to talk about.

In Ant-Man and the Wasp: Quantumania, those "minor pleasures" are found in the performances of the actors. Director Peyton Reed knows how to direct his cast, which is why they seem to be actually interacting with the plastic world. Look at Scott Lang/Ant-Man (Paul Rudd) staring at a "living house" or Hank Pym's (Michael Douglas) confused reaction after seeing the jelly-like controls of a ship. Another amusing moment comes when Cassie (Kathryn Newton) poses in front of Scott after revealing her suit in the Quantum Realm.

Speaking of that Quantum Realm, Quantumania doesn't waste much time in throwing Scott and his family inside this dimension. How does the movie foreshadow this moment? By making characters utter, "We are not going to the Quantum Realm" until the incident happens. Writer Jeff Loveness' screenplay is puerile. It makes fun of its laziness, hoping that would automatically make the movie convivial. When a bad guy thinks he is dying like a hero, Quantumania winks at us and says, "See, I am hilarious!" Someone should have told Loveness that you can mock your own failures, but that wouldn't make the script devoid of, well, failures.

Loveness inputs the first four letters of his name into his screenplay. Quantumania conveys that love is the ultimate weapon, possessing the power to destroy evil and overcome hurdles. When Ant-Man is surrounded and trapped by "multiple possibilities," his daughter's voice helps him scale the difficulty. And when he touches Hope van Dyne/Wasp (Evangeline Lilly), all "possibilities" disappear from sight. Moreover, the battle is won because a character comes back for someone. The movie's notions about love are facile and merely help the story move to its bland destination. Of course, one should not expect "complexities" from a Marvel movie. However, is it a crime to expect decent entertainment from a superhero movie?

Quantumania is so boring that it cannot even be considered a "theme park ride." Rides are supposed to provide enjoyment, not ennui. The Ant-Man series peaked in 2015 because its sequels were majorly underwhelming. The second part was a mediocre filler, and this third part failed to even reach the level of mediocrity. The Quantum Realm looks dazzling at first, but that spell wears off within 5–10 minutes. The CGI can all blur together after a while. The phantasmagoria appears more like a computer wallpaper than an illustration of a magical dimension. The action scenes are far from invigorating, and the mood becomes duller when the characters talk with each other. You will be forgiven if you don't remember the name of a telepath or a freedom fighter (Katy O'Brian).

Quantumania is the opposite of entertainment. It's a shiny corporate product designed to release tedium. It's the kind of film that names its villain Kang the Conqueror, shows his formidable superpowers, and then sends him out with a whimper. During the final battle, Kang watches from a distance so that the action scene can be extended. Given his mighty strength, he could have easily defeated his opponents. But Quantumania reduces him into an impotent figure. This is Kang's second appearance, and he still comes across as inconsequential. He is hyped as the next big baddie after Thanos but looks empty-headed. The post-credit scenes promise thrills in the future, but given the recent batch of Marvel products, consider the promise with skepticism.

Final Score- [3.5/10]
Reviewed by - Vikas Yadav
Follow @vikasonorous on Twitter
Publisher at Midgard Times