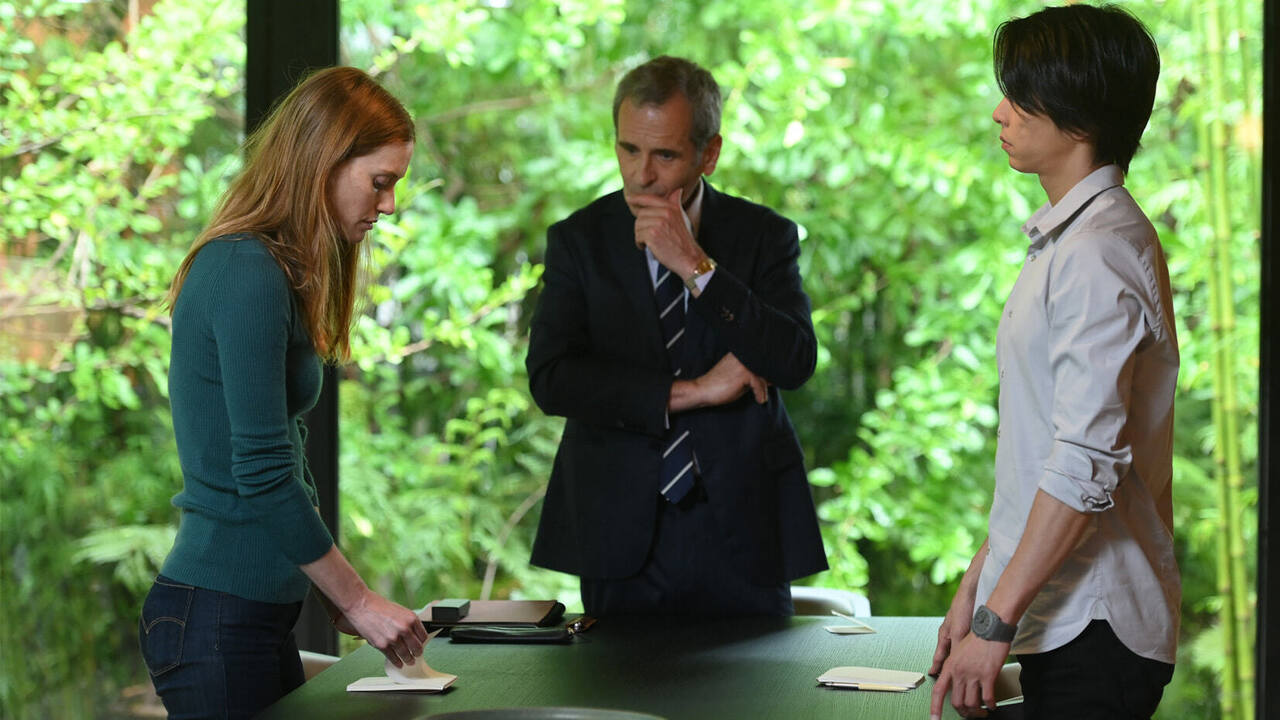 The highly anticipated finale of 'Drops of God' arrives with Episode 8 titled 'All or Nothing.' This remarkable conclusion weaves a seamless tapestry of emotions, drawing us into a world where love, loss, and laughter intertwine.

The episode opens with a long-awaited union, as Thomas musters the courage to break off his engagement, finally uniting with Camille in a heartwarming scene that exudes adorable-ity. Their silence, imposed by the contest rules, becomes a symbol of their unspoken connection, compelling us to root for their love.

Simultaneously, Yurika, the ever-determined searcher, uncovers the whereabouts of Tomine's long-lost father. He toils at a construction site, burdened by the fear of being labeled an imposter in Issei's life. Yurika conveys the depth of Tomine's longing and reconciles the father with the son. It is in these tender moments that we witness the true power of familial bonds, transcending the confines of blood ties.

Amidst the contest's climax, Camille and Issei engage in a riveting quest to unlock the perfect blend of wine. Issei's theoretical prowess and Camille's mystical visions guide them on their separate journeys, their paths converging in brief moments of small talk and casual camaraderie. These interludes serve as lighthearted respites, infusing the episode with a delightful balance between seriousness and laughter.

As the final tasks draw to a close, the characters can finally break their silence, leading to a shared outdoor dinner that exudes familial warmth. In a remarkable display of maturity and growth, Issei chooses this moment to reveal to Camille their shared parentage. Their ensuing conversation showcases the depth of their characters, highlighting their resilience and capacity for understanding.

With the contest concluded, it is time for the long-awaited results. To the surprise of all, the inheritance ends in a tie. Camille's initial excitement is short-lived as her late father, Alexander Leger, leaves one last challenge in the form of the 'Drops of God' test. Camile finally realizes that her father was just using his own children to build his own legacy, without a care for their feelings and relationships.

Yet, even amidst this turmoil, the bond between Issei and Camille grows stronger. United in their grievances, they embark on a drunken adventure to find the Drops of God together. In this journey of intoxication and hilarity, their shared experiences deepen their connection, evoking both laughter and empathy from the audience.

In a bittersweet twist, Camille discovers that her father had subtly favored her in the past, sharing the answer with her in her childhood. The revelation strikes a chord within her, as she realizes the complexity of her victory.

Ultimately, the legacy of Alexander Leger takes an unexpected turn. Camille, refusing to be confined by her father's shadow, auctions off his wine collection. In a defiant act, she appoints Lorenzo and Miyabi as the new editors of the Leger guide, freeing herself from the burden of his legacy. The division of the wine collection, with Issei receiving his rightful share, becomes a symbolic gesture, breaking Alexander's manipulative hold and revealing Camille's strength of character.

The episode's brilliant and satisfying epilogue shines a light on the characters' personal growth. Tomine's call to his mother signifies his unwavering loyalty to the man he considers his true father. Issei's tearful reunion with his estranged father showcases the power of forgiveness and reconciliation. Meanwhile, Camille's actions reflect her defiance of her father's intentions and a reclaiming of her own agency.

In its entirety, Episode 8 of 'Drops of God' presents the perfect finale, expertly blending tension, emotion, and a hint of lightheartedness. The episode's impeccable pacing engages viewers from start to finish, captivating them with a mesmerizing rhythm. Through the consequences faced by the characters, particularly the flawed actions of their parents, the series explores the depths of human connection, leaving a lasting impression on both heart and mind.

As the final curtain falls, 'Drops of God' leaves behind a legacy of passion, growth, and the enduring power of love in the face of adversity.

Final Score- [9/10]