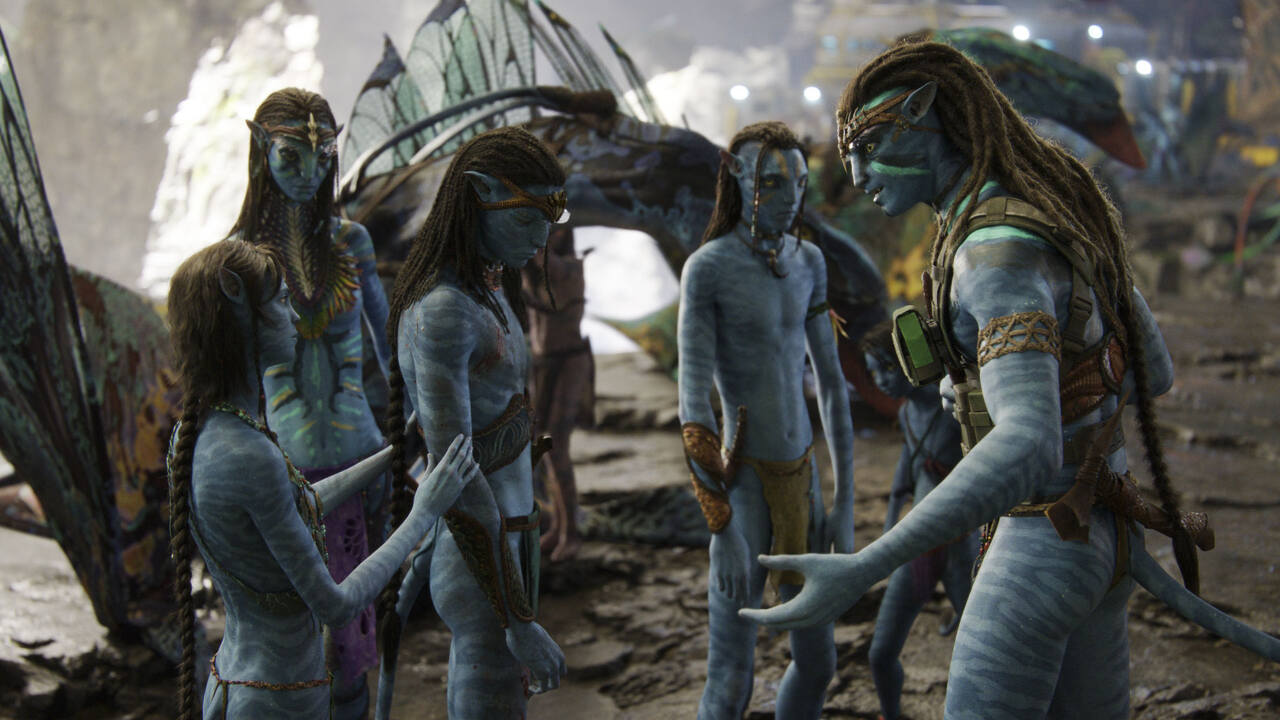 There is nothing surprising about a film being leaked online after its release, but it is surely unprecedented if it leaks more than 24 hrs before its global release. The most anticipated movie of the year, 'Avatar: The Way of Water' has been leaked online soon after its limited release and premiere in a few European countries and ahead of its global theatrical release.

Avatar 2 is currently available on almost every pirate download website, including major Torrent portals and illegal streaming apps. 'Avatar: The Way of Water' has been made available in two 1080p prints, one with Spanish subtitles, and the other one is clean without any language subtitles, however, both the prints are watchable with not-so-good audio quality which has a lot of noise disturbance. The video is clearly recorded in a semi-filled theatre and has been cleaned using various video ripping software.

The quality of both the leaks is almost the same, only the camrip v2 has a little better video quality, while there is a huge difference in the audio quality of both leaks. The first leaked print, which is 4GB in size for 1080p has poor quality audio and can be rated as 3/10 for audio and 5/10 for video. The second leaked 1080p print 5.5GB in size has the good audio quality and can be rated 7/10 for audio and 6/10 for video.

It is unlikely that Disney would be bothered by this leak as the giant studio has made this film to be experienced in big 3D theaters including IMAX. And to be honest, the audience is also eagerly waiting to watch this film on the big screen, and it will be a very rare occasion that a big film such as this won't become popular on pirated websites this early. On similar notes, the early reviews of the films have called it visually spectacular while having an average story, which is again made up of stunning and beautiful scenes.

House of the Dragon also suffered regular leaks including the first season's finale, which leaked two days before the premiere. The finale ultimately became the most downloaded single episode of any series on Torrents in 2022. However, HBO still had a decent amount of viewership during the episode when it officially aired on the channel. In the case of 'Avatar: The Way of Water,' the movie leaked more than 12hrs ago, and till now it is not trending in the top 10 downloads, which may be a sign that the fans and moviegoers are unlikely to touch a poor but free print of the film. Avatar 2 has less than 500 active downloads, which is very low compared to the HOTD finale, which saw more than 50K active downloads for 3-4days in a row.

Despite being leaked, Avatar 2 is on its way to grossing more than $500 million on its debut at the film's worldwide box office. The highly anticipated film has already made more than $15 million internationally on its limited release this Wednesday.

Avatar: The Way of Water is set more than a decade after the events of the first film, and it tells the story of the Sully family (Jake, Neytiri, and their kids), the trouble that follows them, the lengths they go to keep each other safe, the battles they fight to stay alive, and the tragedies they endure. Avatar: The Way of Water will release on December 16, 2022, in theaters across the globe.

Directed by James Cameron and produced by Cameron and Jon Landau, the Lightstorm Entertainment Production stars Sam Worthington, Zoe Saldaña, CCH Pounder, Cliff Curtis, Jamie Flatters, Trinity Bliss, Sigourney Weaver, Jemaine Clement, Giovanni Ribisi, Joel David Moore, Bailey Bass, Britain Dalton, Dileep Rao, Michelle Yeoh, Stephen Lang, Vin Diesel, Brendan Cowell, Duane Evans Jr., and Kate Winslet. Screenplay by James Cameron & Rick Jaffa & Amanda Silver. Story by James Cameron & Rick Jaffa & Amanda Silver & Josh Friedman & Shane Salerno. David Valdes and Richard Baneham serve as the film's executive producers. Cameron and Jon Landau are the producers with 20th Century Studios and Lightstorm Entertainment production companies behind the film. Walt Disney Studios is the distributor.

Avatar 3 has completed production and is currently set to release on December 20, 2024. The film will be followed by two more sequels on December 18, 2026, and December 22, 2028, respectively.