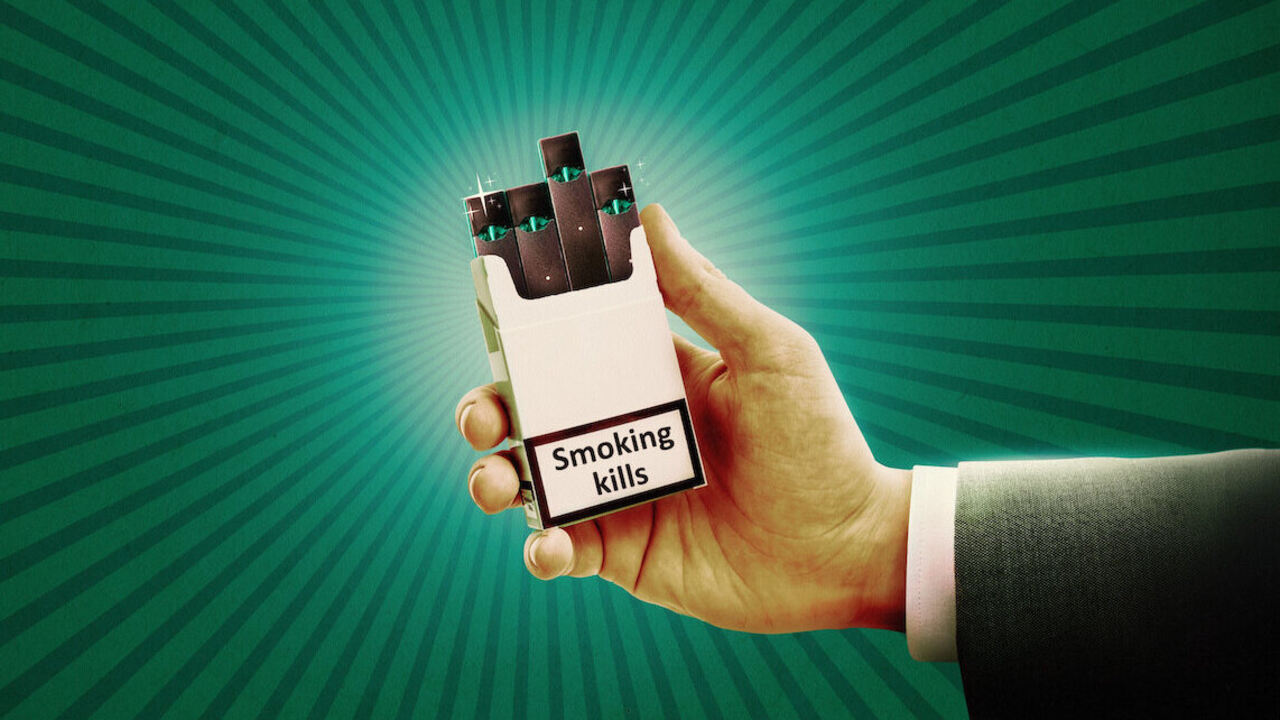 In the world of documentary storytelling, it's rare to find a narrative as electric, controversial, and illuminating as "Big Vape: The Rise and Fall of JUUL." Directed by the Emmy-winner R.J. Cutler and inspired by Jamie Ducharme's gripping book "Big Vape: The Incendiary Rise of JUUL," this four-part docuseries delves headfirst into the tumultuous journey of a scrappy e-cigarette startup that skyrocketed to a jaw-dropping $38 billion valuation, only to plummet into the fiery depths of controversy and public health crisis. Let's embark on a rollercoaster ride that blends intrigue, insight, and revelation in a tantalizing 80/20 concoction.

This docuseries masterfully dissects the meteoric ascent and catastrophic descent of JUUL, painting an all-encompassing portrait of one of the most explosive corporate tales in recent history. The intricate storytelling, coupled with a visual narrative, takes us on a mesmerizing journey through the inception, rise, and ultimate fall of JUUL.

The heart of "Big Vape" is undoubtedly the interviews with former and current JUUL employees. Their revelations pull back the curtain on the enigmatic company culture, the inscrutable decision-making processes, and the underlying motivations that fueled JUUL's remarkable journey. It's an eye-opener into the minds of those who crafted a cultural phenomenon.

The series leaves no stone unturned when dissecting how JUUL managed to ensnare young adults and ascend to an astronomical $38 billion valuation. It's a case study in marketing and addiction that should be on the curriculum of every business school. But, as the title suggests, it doesn't stop there. The catastrophic fallout is explored, with a spotlight on the public health crisis that ensnared young adults.

Journeying beyond the corporate boardrooms, the docuseries peels back the layers to chronicle the collateral damage. Hospitalizations linked to e-cigarettes, the repercussions of lawsuits, settlements, and bans, and the relentless pursuit of anti-vaping activists are all vividly showcased. It's a stark reminder of the real-world consequences of corporate actions.

The fact that "Big Vape" is based on Jamie Ducharme's incendiary book and helmed by R.J. Cutler only adds to its credibility and allure. Ducharme's journalistic excellence and Cutler's directorial prowess blend seamlessly to create an intense, information-rich viewing experience.

However, like the tantalizing yet elusive flavors of an e-cigarette, there's a hint of bitterness in this otherwise exhilarating journey. Some former JUUL employees and young users, still ensnared by the pods, might find their loyalty to the brand betrayed by the revelations presented here. The series doesn't hold back, and this candid exposure may hurt some sensibilities.

Moreover, "Big Vape" does seem to lean in one direction, lacking the balanced view often expected in documentary filmmaking. While JUUL's fall from grace is well-documented, a more nuanced exploration of the e-cigarette industry as a whole might have offered a richer and more holistic perspective.

For those seeking definitive solutions to the public health crisis fueled by e-cigarettes, "Big Vape" might leave them craving more. The series excels in dissecting the problem but stops short of providing a roadmap for resolving it. It's a significant omission in a narrative that is otherwise razor-sharp.

In conclusion, "Big Vape: The Rise and Fall of JUUL" is a gripping plunge into a story of ambition, addiction, and corporate calamity. It's an electrifying exploration of how a start-up went from obscurity to notoriety. With insightful interviews, a riveting narrative, and an unflinching look at the consequences of corporate choices, it's a compelling watch for anyone intrigued by the intersection of business and public health. While it may leave some cravings unfulfilled and the taste of bitterness for a few, it's an explosive journey that will leave you with more questions than answers - and that's precisely what makes it a standout in the world of documentary storytelling.

Final Score- [8/10]
Reviewed by - Anjali Sharma
Follow @AnjaliS54769166 on Twitter
Publisher at Midgard Times