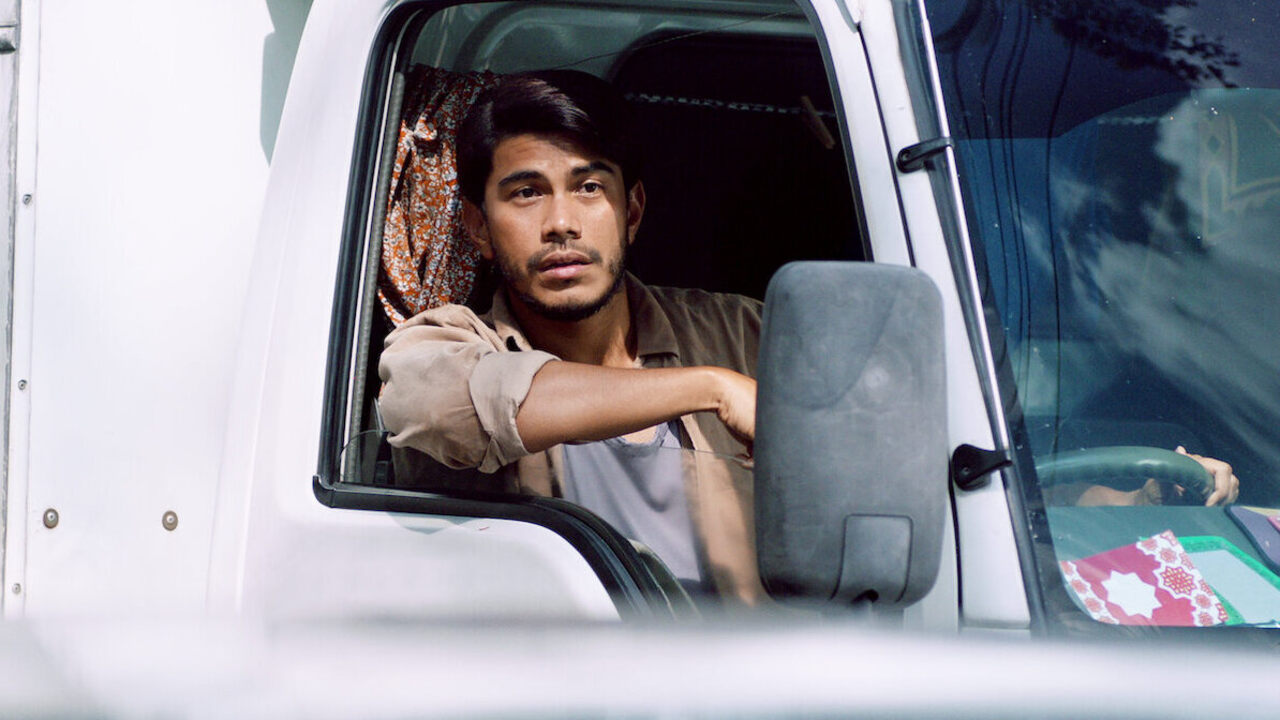 Biko (originally called Pulang) is a Malaysian drama film that was directed by Teng Bee, written by Tommy Loh and Puovin Sandera, and stars Azrel Ismail, Baby Shima, and Syed Irfan in the leading roles. The film has a runtime of just around 1 hour and 37 minutes and is currently streaming on Netflix.

This film is a very typical and overdone story revolving around a single father (Izwan) and his son (Biko). Izwan is a truck driver who is struggling to make ends meet. The film begins with him being evicted from his home and forced to spend the night in a truck with his son. The scenes that follow are melodramatic but still real to some extent. A specific scene has Izwan packing his lunch from work to save it for his son. When his son inquires about where his mother is and Izwan tries to deflect, Biko smashes the food packet onto the cabin's floor. Izwan picks it up and pretends to throw it away, but is later seen eating that same food. Scenes like this do elicit sympathy and a sense of sadness in response to the characters' situations, but they don't feel particularly effective.

In the first act, Izwan and Biko's relationship felt somewhat wholesome, where the father, despite being in a bad place, does everything he can to make sure his son is happy and well. However, things change when Izwan's friend Sherry takes Biko for a music video audition. This music video stars a famous pop artist, Sara. The secrets that are uncovered about the relationship that Izwan and Sara share form the main plot line of the film.

Initially, it is a film that feels like it comes from a place of sympathy and emotion. It reminds me of similarly themed films in Indian cinema, specifically 'Lootcase,' starring Kunal Khemu. Unlike the Indian film, though, this film doesn't manage to make you laugh or cry but instead just leaves you bored and regretful for having spent time on it. I genuinely thought it would be a wholesome drama about family and how, despite trying times, families can make it through if they can support one another. But instead, the film decides to dive into the most cliche and overdone plot threads involving misunderstandings and "shocking" revelations, among other things.

The acting is cardboard and feels pretty uninteresting; the only somewhat decent acting was exhibited by this character named Sherry. The rest of the cast just does mediocre jobs at acting out their lines. The pace of the film is quite fast; scenes take place abruptly, and there isn't much space given for character development or organic emotions to build up.

My biggest gripe with the film has to be how dumb the ending is. It is purposely cheesy in an attempt to get the audience to cry but just comes off as distasteful. It reminds me of the Indian soap operas that do something shocking to create a fake sense of empathy for the characters. There is a life-threatening illness, an unnecessary flashback story (which is so generic and predictable that if they didn't show it, the audience would've easily understood it), and other cliches in the mix.

It is a bland, undesirable film that makes me wonder what the point of writing stories like this is and who would enjoy watching stories like this. The only positive I could take from the film was that it was short and wouldn't live in my memory long enough.

Final Score – [4/10]
Reviewed by - Aayush Chaurasia
Follow @AayushChaur44 on Twitter
Publisher at Midgard Times