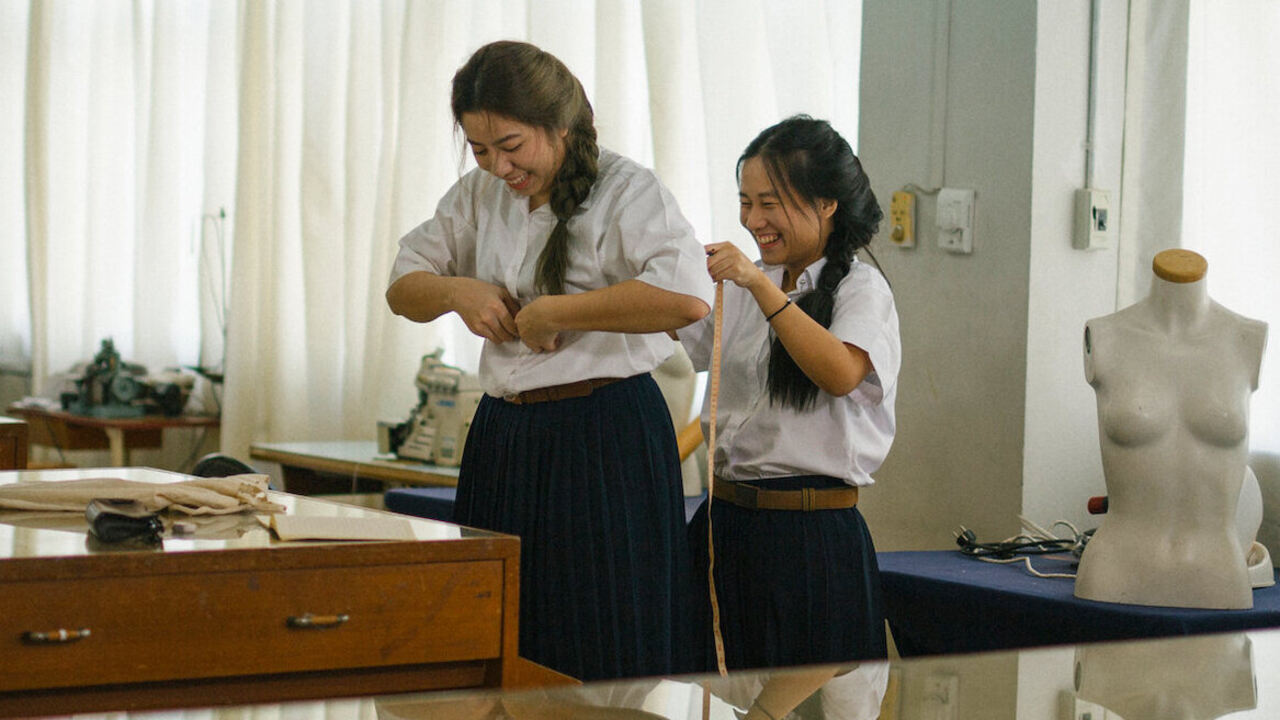 Do you like movies that show you the beauty and diversity of Thailand? Do you like movies that feature indigo, the most awesome color in the world? If you answered yes to any of these questions, then you should watch Blue Again, a 2022 Thai drama film directed by Thapanee Loosuwan. If you answered no to any of these questions, then you should still watch Blue Again, because it will change your mind and your life.

The film spans four years of Ay's life, from her freshman year to her graduation. Ay is a biracial child of a Thai mother and a white father, who left them when she was young. She has always felt different from others because of her appearance and her background. She dreams of becoming a successful fashion designer and uses her family's indigo dye as her signature color.

Ay enrolls in a fashion school in Bangkok, where she meets Pair, a bubbly and outgoing girl who becomes her best friend. They bond over their shared passion for fashion and their dislike for the seniors who bully them. However, as they progress in their studies, they face different challenges and conflicts that test their friendship and their individuality.

Ay is determined to pursue her own vision and style, even if it means going against the norms and expectations of the school and the industry. She often clashes with her teachers and classmates, who criticize her for being too stubborn and arrogant. She also has to deal with the pressure of maintaining her family's indigo business, which is threatened by modernization and competition. She travels back and forth between Bangkok and Sakon Nakhon, where she learns the traditional methods of indigo dyeing from her mother and grandmother.

Pair, on the other hand, tries to fit in and please everyone. She adapts to the trends and demands of the market, hoping to gain recognition and fame. She also falls in love with Sumeth, a handsome and popular senior who helps her with her projects. However, she soon realizes that he is not as sincere as he seems and that he has ulterior motives for being with her.

As Ay and Pair grow apart, they also grow as individuals. They face their own struggles and successes, their own joys and sorrows, and their own hopes and fears. They learn to appreciate the value of their friendship, their family, and their identity. They learn to embrace the color blue in all its shades and meanings.

Blue Again is a film that explores the themes of identity, culture, art, and friendship through the lens of fashion and indigo. The film is rich in visual and symbolic elements that convey the emotions and messages of the story. The color blue is used as a motif that represents Ay's heritage, personality, creativity, and destiny. The film also showcases the beauty and diversity of Thailand's landscapes, cultures, and traditions.

The film's strength lies in its realistic and nuanced portrayal of its characters and their relationships. The film does not shy away from showing the flaws and complexities of its protagonists, who are neither heroes nor villains, but human beings with dreams and dilemmas. The film also avoids clichés and stereotypes that often plague films about fashion or biraciality. The film does not glamorize or demonize either aspect but rather shows them as part of the characters' lives.

The only whining I can do for this film will be for its excessive length and slow pace. The film runs for three hours and ten minutes, which is too long for a drama that does not have much action or suspense. The film could have been edited more tightly to focus on the essential scenes and events that move the plot forward.

Overall, Blue Again is a film that offers a colorful journey of self-discovery for its characters and its viewers. It is a film that celebrates the diversity and beauty of Thailand's culture and people. It is a film that challenges the viewers to think about their own identity, values, and goals. It is a film that reminds the viewers that blue is not just a color, but a state of mind.

Final Score – [8.5/10]
Reviewed by - Arpita Mondal
Follow @ArpitaMond33387 on Twitter
Publisher at Midgard Times