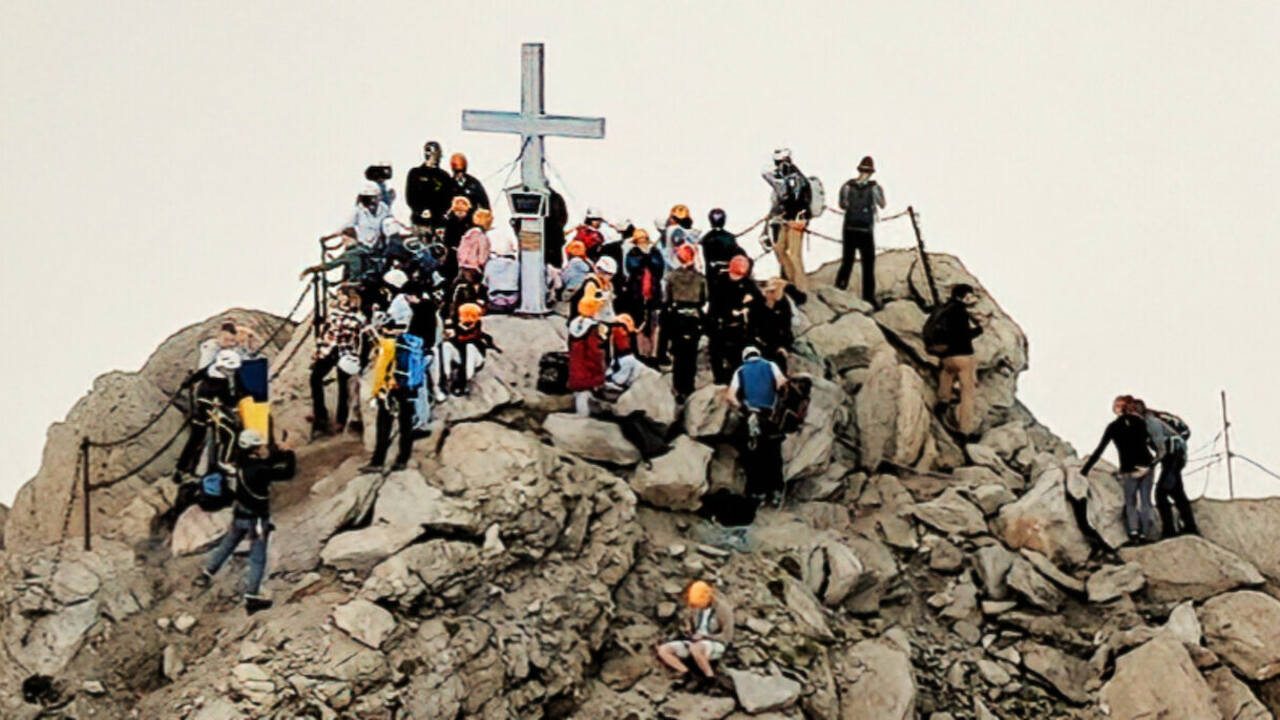 Six months after the Russian invasion of Ukraine, we see a little girl, Milana, and her grandmother, Olga, go to a week-long camp in the Austrian Alps. Like many other victims, Milana was displaced from her home due to the war and lost her mother. On that fatal day, Milana's mother took the little girl to her office and then died in front of her daughter. This devastating event must have scarred Milana from within. Moreover, she gets physical wounds because of the horrific incident. Her leg is seriously injured, so she now wears a prosthetic leg. At one point in the documentary, Milana mentions that the prosthetic sometimes presses on her leg, but she tries to adjust.

Given the situation, we automatically interpret the line as something more than just about the pain caused by the prosthetic. Milana has suffered difficulties in her life, but she is still adjusting to her new surroundings. As far as Olga is concerned, she is also adapting to Milana's recent behavior, which comes with sudden bursts of rudeness, as is evident from the scene where the little girl tells her grandmother to mind her own business. One of the best things about Camp Courage is the way Milana makes a tiny bouquet and says that she will apologize to Olga and how much she means to her. Milana looks so innocent while making this confession that you think you can forgive her for any amount of impudence. The audience also experiences a bittersweet sentiment when Milana mentions that she feels tickles when Olga applies cream on her leg, and at that moment, she forgets the pain.

Milana initially cries just before climbing a mountain and often complains that she wants to return to her home. We immediately predict that the documentary will end with her climbing a mountain, which is precisely what happens here. You see, the mountain, too, is more than merely a large elevation here. It stands for hardship and obstacles, and when the people successfully reach the top of the mountain, they, in a way, overcome their physical and mental tribulations. They emerge victorious in more ways than one.

It's fascinating to consider all this subtext, though one wishes the text, too, had been a bit more polished. Milana's struggles related to climbing the mountain are used for dispensing a message, and it would have been nice if it had been treated better as a storytelling device. Sure, we know Milana will scale the mountain in the end, but Camp Courage seems to take a leap to reach this point. Given how Milana threw tantrums earlier, the documentary should have shown us what exactly makes her say, "Okay, I will complete the activity now," instead of letting it all feel like, "We have reached near the finish line so let's get this girl to the top of the mountain." Still, the message Camp Courage carries with it (war is harmful and futile) will deeply resonate with the audience, and one cannot deny that the documentary is quite inspirational.

Final Score- [7.5/10]
Reviewed by - Vikas Yadav
Follow @vikasonorous on Twitter
Publisher at Midgard Times