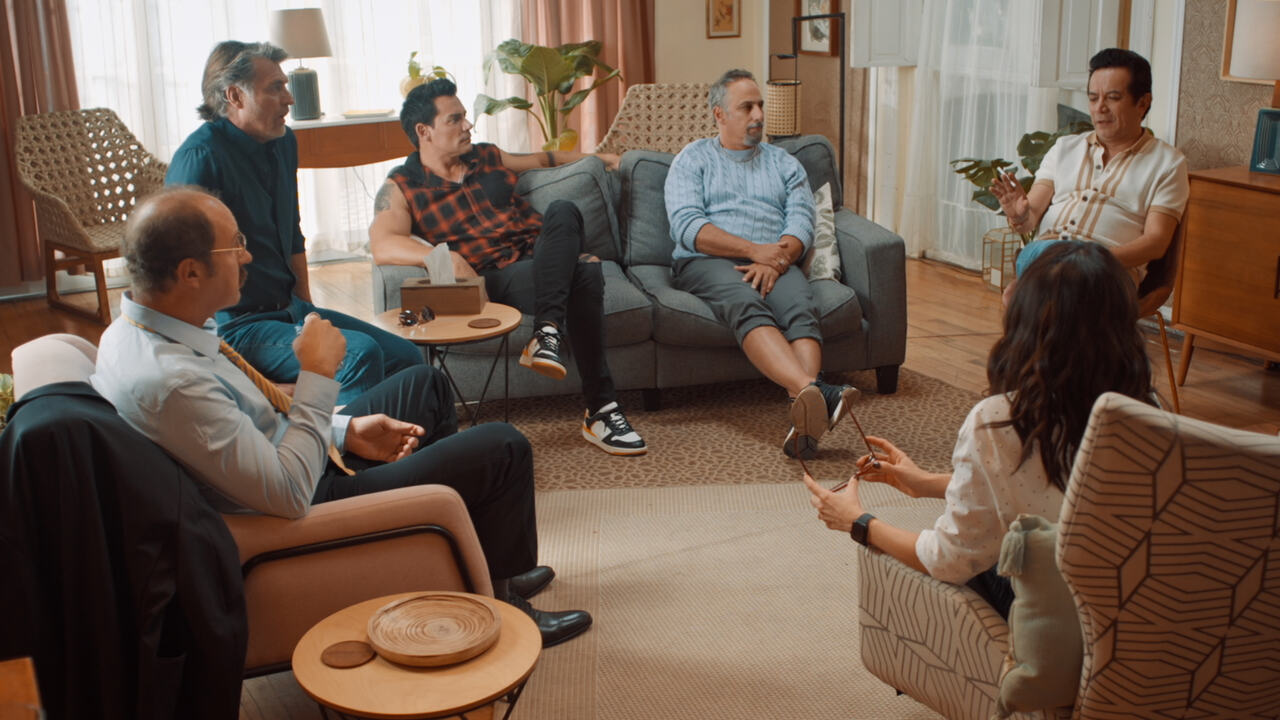 Chavorrucos is a Spanish-language comedy series with eight episodes that takes viewers on a hilarious and touching journey alongside Regina, a psychologist who unwittingly forms a bond with five unique and eccentric individuals known as the "Chavorrucos." Through eight delightful episodes, this heartwarming series explores the complexities of friendship, personal growth, and overcoming life's challenges.

Led by the talented and versatile Dalilah Polanco as Regina, the series introduces us to a diverse group of men, each with their own quirks and struggles. Juan Soler portrays Víctor, also known as "El Ruco Rico," a charming and carefree individual who finds himself in financial distress. Cristián de la Fuente embodies Aldo, or "La Estrella Caída," a former music sensation longing for a chance to reclaim his fame. Freddy Ortega portrays Tony, also known as "La Leyenda," a man grappling with the idea of fatherhood. Rodrigo Murray embodies Roberto, affectionately called "El Sugar Daddy," a man facing the unexpected news of his ex-boyfriend's impending marriage. Julio Bracho portrays Andrés, or "El Camino Recto," a disciplined and straight-laced individual seeking a purpose in life.

The series kicks off with Regina's ambitious plan to write a book about the different personalities of men. Little did she know that her research would transform into a profound journey of self-discovery for both herself and the Chavorrucos. As the episodes unfold, the characters face various crises and personal challenges, serving as catalysts for growth, resilience, and lasting friendships.

One of the standout storylines revolves around Aldo, whose manager offers him the opportunity to reunite with his former music group, Uranio 21. Driven by Regina's encouragement, Aldo grapples with the decision that could potentially change his life. The series masterfully captures his inner conflict and the emotional journey he embarks on, demonstrating the importance of pursuing dreams and finding personal fulfillment.

Another engaging storyline follows Tony, who receives surprising news of fatherhood. As he grapples with the idea of starting a family, he seeks support from Aldo and Víctor. This heartfelt narrative explores the themes of responsibility, maturity, and the complexity of navigating fatherhood at different stages of life.

Roberto's storyline provides a perfect blend of comedy and poignant moments. When he discovers that his ex-boyfriend is getting married and expects him to be the best man, chaos ensues. The series artfully showcases Roberto's journey of acceptance and self-reflection, highlighting the transformative power of embracing change and finding happiness within oneself.

Regina, the driving force behind the Chavorrucos' transformation, faces her own personal challenges. Struggling with stress and inadvertently falling into a deep depression, she shuts out her friends and denies them therapy. However, as the Chavorrucos rally around her, Regina realizes the importance of friendship and support, ultimately rediscovering her purpose as a psychologist and friend.

Throughout the series, the talented ensemble cast delivers exceptional performances, bringing depth, humor, and relatability to their respective characters. The chemistry among the Chavorrucos is palpable, allowing the audience to effortlessly connect with their journey. The writing is sharp, witty, and often infused with a nostalgic sense of humor that resonates with viewers of all ages.

Chavorrucos is visually captivating, with vibrant cinematography and engaging storytelling that keeps audiences eagerly anticipating each new episode. The series seamlessly balances light-hearted moments with poignant and thought-provoking scenes, offering a well-rounded viewing experience.

In conclusion, Chavorrucos is a delightful and heartwarming series that captures the essence of friendship, personal growth, and overcoming life's challenges. With its engaging characters, exceptional performances, and skillful storytelling, the series leaves a lasting impression. Viewers are sure to be entertained, moved, and inspired by this remarkable journey of self-discovery and the enduring power of friendship.

Final Score- [8/10]
Reviewed by – Neha Krishna
Follow @Neha25Krishna on Twitter
Publisher at Midgard Times