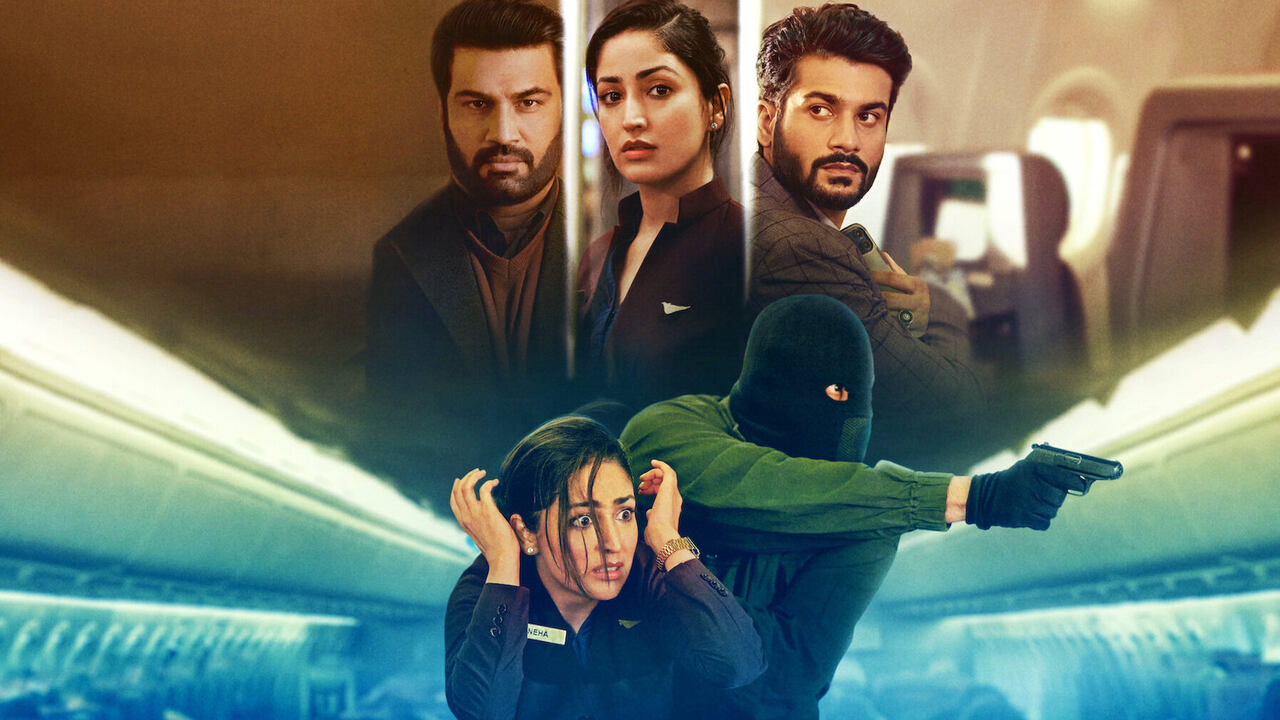 Chor Nikal ke Bhaga is a Netflix film that stars Yami Gautam, Sunny Kaushal, and Sharad Kelkar in the lead roles. It is supposedly a thriller film but I'd categorize it in a genre that I've started to notice within thrillers called the plot twist affairs. Films like Badla and Ittefaq are some examples of films that fall in this category. It has a runtime of around 1 hour and 50 minutes.

The film revolves around a plane and a hijack that takes place on the plane. It initially starts by showing the story of Neha (Yami) and Ankit (Sunny). Neha is a flight attendant and is wooed by Ankit, a passenger she happens to meet multiple times coincidentally. Neha gets pregnant and they're about to start their family when Neha discovers that Ankit is hiding something from her. He has taken a loan and doesn't have the money to pay it off. After constant harassment by the money lenders' goons, Neha decides to help Ankit in pulling a heist that will help him obtain the money.

While they're pulling the heist mid-flight (for reasons that are explained in the film), the plane is hijacked by a group of terrorists. What unfolds after is what the film is about.

I have to say that as much as I felt like the film didn't have too much going for it, it still was able to hold my attention quite a bit. The plot does have minor loopholes, but the plot twists still feel quite satisfying when they pay off. There are a lot of fun sequences in the film, not in terms of visual quality but just in terms of plot.

It reminded me quite a bit of the Tapasee Pannu and Amitabh Bachchan film Badla. Mainly because of how the narrative unfolded. The editing was a bit choppy, and it did feel like the film didn't have that much weight, but then it wasn't too awful.

There is nothing extraordinary about the film, Vicky Kaushal's brother Sunny Kaushal is in the lead role as Ankit and he just comes off as a poor man's Varun Dhawan. Yami does as she usually does, well enough. There's Sharad Kelker who has a decent presence in the film but again, nothing worth noting.

The way the plot moves forward it constantly feels like it has the urge to set up things really quickly. That's why the editing is quite choppy too. They don't want to exposition dump but they do it anyway visually by showing the plot points. Everyone's trying to double-cross one another, and there are a lot of logical loopholes in the film. It still, however, feels clever in the end.

I'd say one complaint I have other than how technically plain the film is that it has the most one-dimensional characters. None of the characters have even a slight sliver of personality. Neha's past is a really convenient plot device that isn't even explored well enough for it to feel paid off. Ankit has nothing going for him other than his chic suits. Sharad Kelkar is there but doesn't do much. It just feels like this film could've been a way tighter and a way more well-made thriller. Here it comes off as a passable fun thriller that you might waste away 2 hours with.

I'd recommend it to you if you liked Badla or Ittefaq, just don't have too many high hopes, and you'll probably even enjoy it.

Final Score – [6.5/10]
Reviewed by - Aayush Chaurasia
Follow @AayushC44 on Twitter
Publisher at Midgard Times