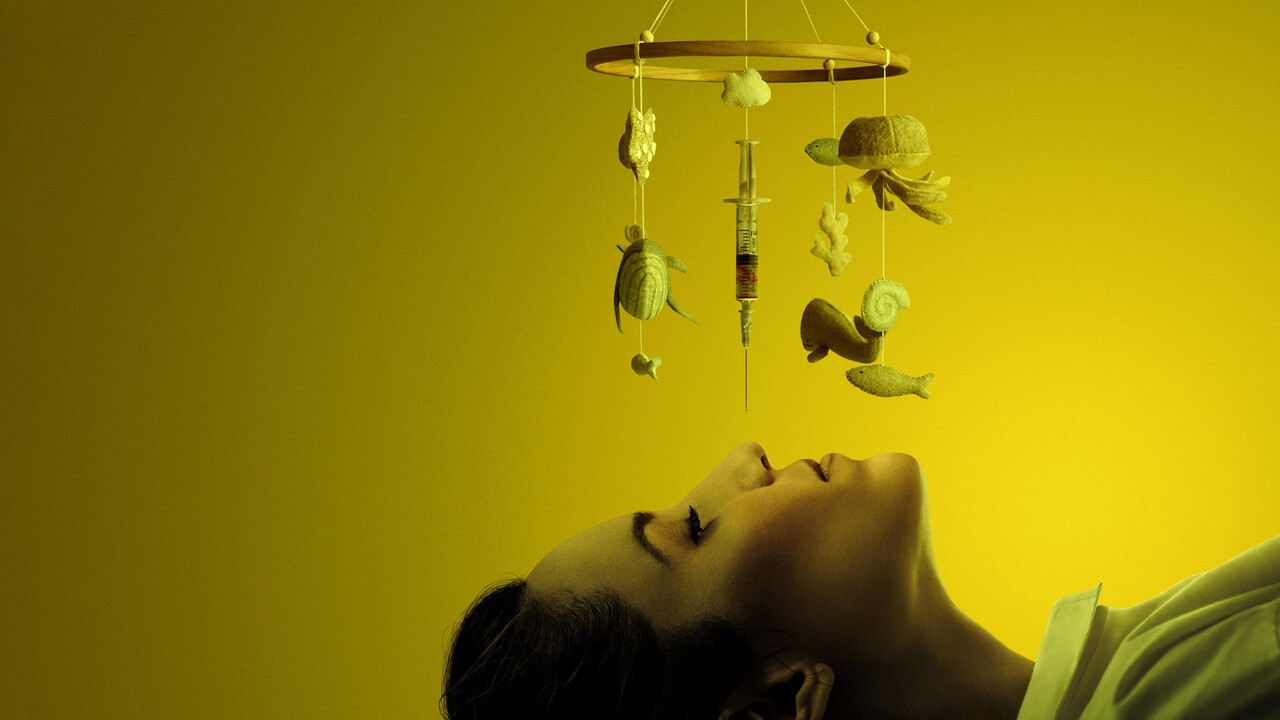 Written and Directed by Alexis Jacknow with Dianna Agron in the lead role, the sci-fi horror film Clock begins with a woman in a white hospital gown swinging in a park. Her foot is soaked in blood, and she's crying while looking at the blood. This would have formed a good horror scene with all the scary sounds being played in the background. She kills herself, and shortly after that we see a device that's soaked in blood, and it looks like a clock. Questions start arising in our mind immediately like why would she kill herself and what was that device that fell.

After this introductory scene, we're made familiar with the character of Ella Patel, a 37-year-old female who has been married for ten years to Aiden but has no kids. She doesn't want kids and is seen living a fine life without them. She was attending the baby shower of her friend when she notices the impression of the baby's foot in her friend's abdomen. While her friend was telling her how children are the best thing that'll happen to her, we see a boy falling from the tree in the background, it was a hilarious scene.

Ella has a fear of pregnancy i.e., tocophobia. On her husband's recommendation, she visits a gynecology clinic to get her breasts checked because her mother died of breast cancer when she was her age. The doctor performed various examinations on her and finds that she was perfectly well. Ella tells the doctor that she's waiting for her clock to start ticking and thinks that she doesn't have one. The doctor tells her that maybe she has a broken clock and recommends she go on a clinical trial. Despite telling everyone that she doesn't want kids, it is clear that Ella wants kids and she is sad because she isn't able to conceive. The truth is that she wasn't even trying to because every time they'd use condoms. There was nothing wrong with her clock, but it was her fear of pregnancy that was taking the front seat.

Ella goes to the research facility without telling her husband. Dr. Simons was conducting the research, and she put Ella on artificial hormones and Cognitive Behavioural Therapy just like every other woman at the facility. After consuming these, the woman forgets the difference between reality and imagination. This is where the main story of Clock starts. Those choosing to watch Clock, consider yourself to be a part of a wonderful journey as this film is one of a kind.

In my opinion, Clock is successful in delivering the message that never be so much desperate for something that you destroy your normal life. Ella Patel wanted things to go in her favor, but the results were horrifying. There are some disturbing scenes included in this 91-minute film. The second half of Clock might not be suitable for everyone to watch as it contains some sensitive scenes. For me, the most horrifying scene will be the one in which Ella removes her uterine implant by using pliers. I wonder how can one get the courage to do that.

Dianna Agron in the role of Ella Patel didn't leave any stone unturned and I applaud her for the tremendous efforts she has put in. The desperation one can see in her eyes and all the insane things she does makes the story appear real. The plot of the movie is good till you don't want to apply any logic to it. The research shown in the film tells us how many side effects of the administered drugs are sometimes hidden from the volunteers.

This psychological thriller will keep the audience guessing how it's gonna end. The first scene of the movie prepares you for what is coming next. The pain women feel when they are unable to have children, and the pressure their relatives put on them has been shown beautifully by the creator. Ella was a successful architect, but people around her kept on saying things that indicate that they want her to have kids. The movie has horror scenes, but they're nothing in comparison to Conjuring, so for the ones who don't like to watch horror films, it's safe to watch this.

The difference between reality and what Ella perceived will serve as a huge blow to the audience. There's a particular scene in which Ella thought that there's a spider on her friend's baby bump when in reality it was nothing. If it wasn't for her husband, the woman would have smashed the abdomen. The constant comparison between reality and what Ella was seeing is shown. The untrustworthy version from Ella's side and then the reality serve as an eye-opener, and I was constantly waiting to see what is happening in reality. These scenes form the core of the film and there are many. All those scenes can't be mentioned as they'll spoil the fun of the film. I am quite happy that the film met the expectations I had and I'd recommend people to watch it.

Final Score – [7.5/10]
Reviewed by - Riya Singh
Follow @_riyasinghhh_ on Twitter
Publisher at Midgard Times
Release Date: April 28, 2023, on Hulu