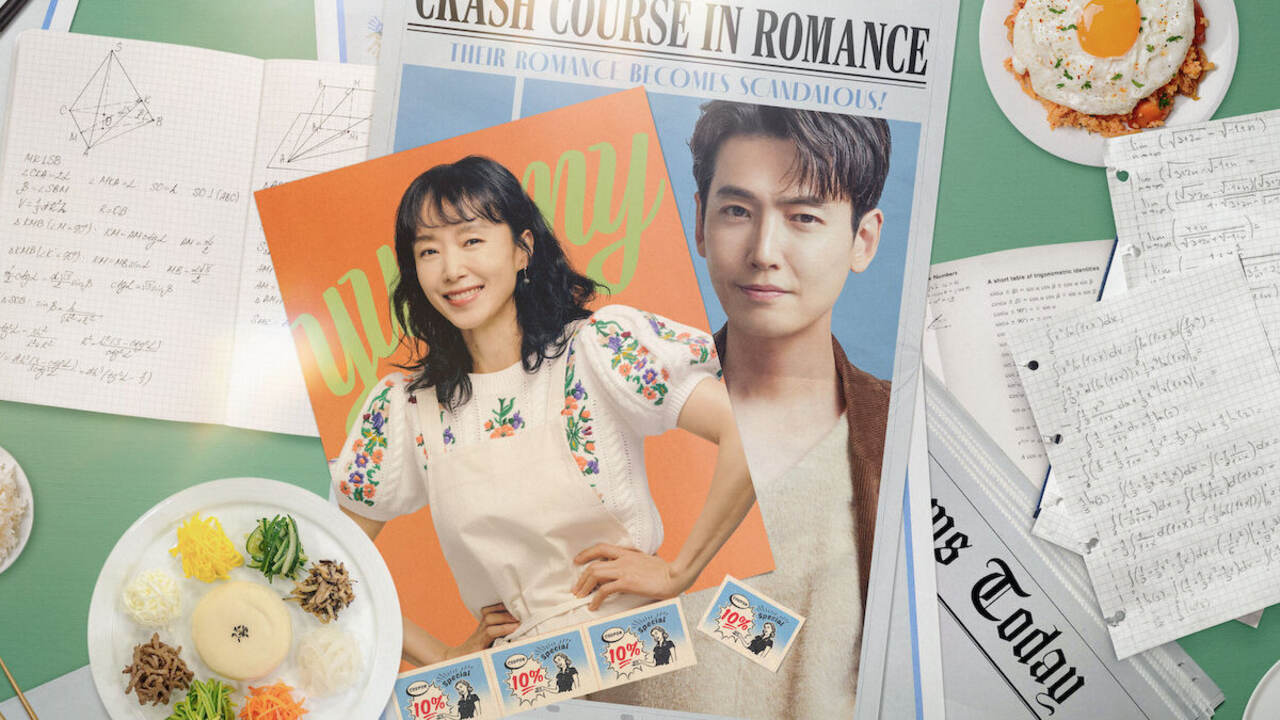 Crash Course in Romance made me a bit nostalgic. I remember running from school to tuition and getting really exhausted in the process. The coaching institutes in my area were built like expensive malls. There were security guards, CCTV cameras, expensive smart boards, and air-conditioned classrooms. Every student and parent knew the name of the tuition teachers. They were revered by almost everyone.

Choi Chi-yeol (Jung Kyoung-ho) is similarly respected by all the parents and students in Crash Course in Romance. He is a star teacher (no, there are no moon teachers), and people line up outside his coaching institute for the sake of their children's admission. Chi-yeol is so famous that he even shoots for advertisements, in which he is seen dancing with an umbrella in his hand and fighting mathematical equations. He also attends a press conference-type meeting where kids and parents ask study-related questions. That or they would request him to perform his signature move: An air kick.

Chi-yeol is the BTS of private education, and he teaches with humor and passion. His students love his method of teaching math, and some female students have a crush on him (one of them is a stalker). That stalker thread could have made matters serious, but Crash Course in Romance is imbued with levity. It exposes the current state of the academic landscape without boring us with an overly serious attitude (at least, that has not happened yet). The sight of parents waking up early and running to secure a seat for their children in Chi-yeol's class is played for laughs.

Even Chi-yeol's eating and sleeping disorder do not drown the mood into a schmaltzy pool. We get glimpses of a girl from Chi-yeol's past, meaning things could get too sentimental in the future. But then, the opening scenes of the second episode are very touching, and they do not become mawkish to do their job. Also, there might be a killer on the loose, and I don't know if this subplot will enhance the series or sink it (for now, it comes across as jarring). Still, the tone of the first two episodes is mostly perfectly balanced, and there is not even a single dull moment.

The camera observes everything with excitement. Every gesture, either big or small, is charged with fervor. The characters might be chasing someone or simply picking up food from a store, and the series would regard them with affection. No wonder you enjoy the company of these people. This is the kind of series where lights blink like magic. A chase scene is converted into something unusual through the application of science and mathematics. Chi-yeol mentions that he pours every fiber of his soul into his work and teaches with great enthusiasm. One can say that the creators, too, have put a lot of love into this series. For now, they have passed with flying colors.

Final Score- [8/10]
Reviewed by - Vikas Yadav
Follow @vikasonorous on Twitter
Publisher at Midgard Times