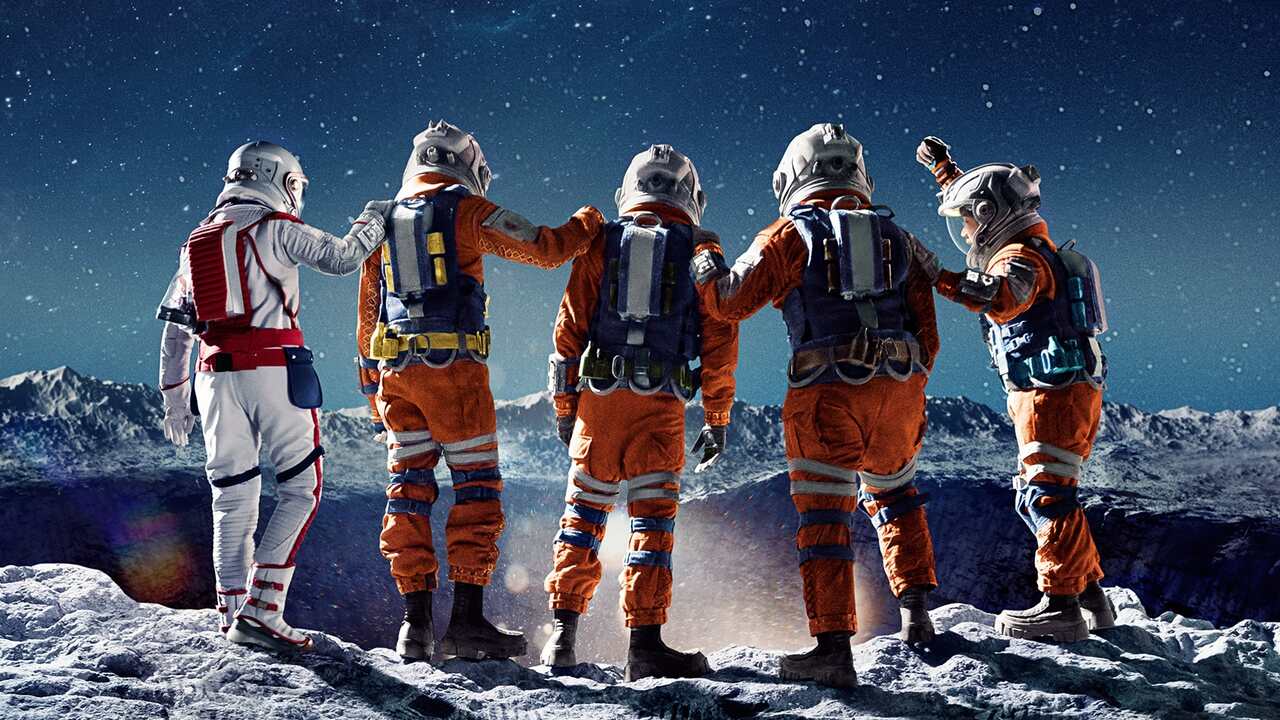 A film that takes viewers on a lunar adventure with a group of five young friends. Set in the year 2257, the story revolves around Caleb, who is about to leave the moon forever due to the passing of his father, a miner on the lunar colony. As part of the "death benefits," Caleb is destined for Omega, a distant colony that takes 75 years to reach. In an attempt to create lasting memories and pay tribute to his father, Caleb, and his friends hijack a rover to visit a mysterious crater. This sci-fi tale is infused with a Gen-Z sensibility, focusing on the outlook of Zoomers who struggle to envision a bright future on Earth.

The teenagers in the film, despite living in 2257, resemble the dress and speech of present-day youth. This could be attributed to their upbringing in a lunar colony that lacks a distinct culture of its own. Among the group, Caleb, who has recently lost his parents, forms a tight bond with Dylan, Borney, Marcus, and Addison, a new arrival from Earth. The film showcases the group's lack of optimism but highlights their resigned acceptance of their circumstances. Although they feel powerless to change the situation on the moon, they cherish the time they spend together.

Caleb's plan to visit the crater stems from his father's curiosity about it. However, tensions arise between the members born on the lunar colony and Addison, who hails from Earth. The clash of different ways of life becomes a central theme of the film. Earth inhabitants are enticed to move to the moon with the promise of a coveted spot on Omega for themselves and their loved ones after 20 years of mining helium. Unbeknownst to them, the fine print in their contracts extends their labor for years or even decades. The children born on the moon, having only learned about mining, are curious about life on Earth and seek answers from Addison. They inquire about things like the blue sky and the appeal of baseball. Mckenna Grace, a talented young actress known for her roles in films like "I, Tonya" and "Captain Marvel," delivers a standout performance in "Crater." She proves her ability to lead a film, building on her previous experiences playing younger versions of the main characters. While "Crater" maintains a light-hearted tone, it briefly loses momentum during a narrative detour where the friends search for additional oxygen after depleting their supply. These moments seem to elongate the story to achieve feature length.

Ultimately, the true tension in the film lies not in space colonies or oxygen canisters but in the despair and anger unique to adolescents with a bleak future. Although not as dark or profound as "Never Let Me Go," the film echoes the notion of hopelessness and resentment. It gives a quiet voice to the characters' challenging circumstances, although it doesn't reach the level of Greta Thunberg's passionate criticism of world leaders.

In summary, "Crater" is a Disney+ original film that combines sci-fi elements with a Gen-Z perspective. It follows a group of young friends on a lunar adventure as they confront their impending separation and the limitations of their existence. The film explores the clash between lunar-born individuals and newcomers from Earth, shedding light on the struggles and questions faced by those who grow up in a mining-dominated lunar colony. While "Crater" may not be a groundbreaking drama, it offers a compelling portrayal of its characters' desperate situation and features a standout performance by Mckenna Grace.

Final Score- [6/10]
Reviewed by – Neha Krishna
Follow @Neha25Krishna on Twitter
Publisher at Midgard Times