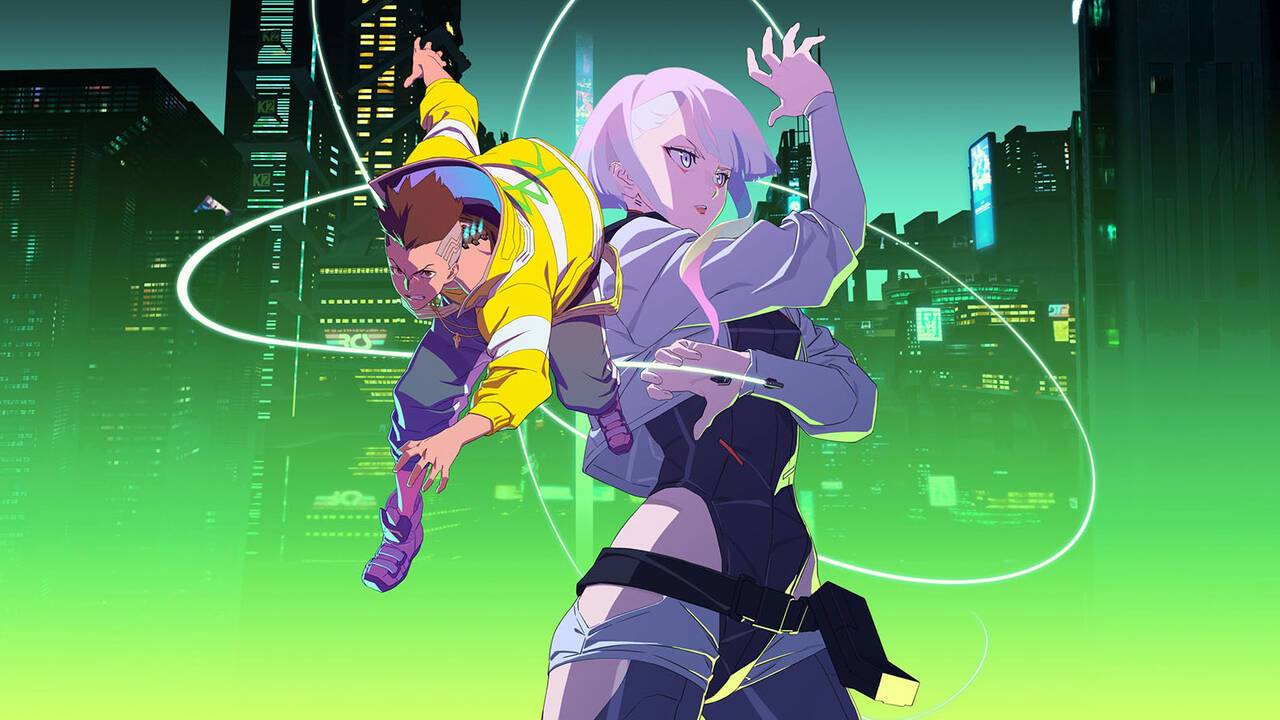 The dystopian world of Cyberpunk: Edgerunners looks impressive in anime form. The dramatic lights, shadows, and splash of colors make it visually pleasing to the senses. Yet, something doesn't feel right. The images are bright but not evocative. Sometimes, the sights become too much to handle, resulting in overkill. The action scenes especially border on being indecipherable. Bodies blow up left and right, and it takes seconds to register who has the upper hand in the scene. Forget action; there were moments when I almost didn't recognize characters standing in front of me as they tend to blend with the environment, which strains your eyes to figure out their outline. Yes, Cyberpunk: Edgerunners is visually eye-catching, but the spell wears off after a while.

It's challenging to get into Cyberpunk: Edgerunners. Nothing interests you to engage with this ten-episode series. The gadgets look fun, but I guess you will enjoy them more in Cyberpunk 2077, the game on which this universe is based. I have not played the game, and if you are like me, don't expect much explanation on the workings and capabilities of these gadgets (the show assumes you are familiar with all the tech jargon).

The world of Cyberpunk: Edgerunners is bleak, materialistic, and run by big corporates (Arasaka is one of them). If you get into an accident, don't expect the Trauma Team to help you if you are not a client. Children are provided with education so they can one day turn into corporate slaves and have a luxurious lifestyle. Hence, you don't see any movie theaters because there are no artists here. In one scene, David stays up late at night and watches the news on television (it's possible no TV shows are being made in this particular future).

This futuristic fantasy is undermined by an ancient and lackadaisical plot. David's tragedy, his meet-cute, acceptance in a group, and rise through the ranks are all tinted with a been-there-done-better sensibility. With a limited time on its hands, Cyberpunk: Edgerunners puts the bare minimum effort into its story and rushes through significant developments. David's teammates are not adequately fleshed out. So when one of them dies, you don't feel anything. In the next episode, David is seen as a tough guy, but this change does nothing for you as a viewer. You sense that the show is simply checking the boxes. Someone took a flesh and blood narrative and replaced it with robotic parts. That's why Cyberpunk: Edgerunners is only able to mimic human emotions, not evoke them in any manner. A character is revealed to be a backstabber, so the show can shock us. You don't see it coming because it's not an organic development.

The audience could have ruminated on the philosophy of the Ship of Theseus. However, the show does not demand such weighty considerations. The razzmatazz of the violence tricks you into thinking the show is moving forward with fervor. David performs insane stunts frequently and for so long that we feel we have seen it all before when he puts on a new armor towards the end and unleashes chaos. Characters often remark that David is special, but we are never told how or why he is special. The scene where Lucy and David navigate the road on a hospital bed should have been much better.

It's not like Cyberpunk: Edgerunners is a total downer. I liked how it initially revealed just Lucy's hair to show David's eagerness to catch a glimpse of her. Lucy and David's conversation on the roof, where they admire the moon, provides a rare moment of calm and affection. But the most striking scene has to be the one where the two of them watch Night City from a distance, and Lucy interprets the city as a cage filled with lights. For a moment, you think these characters have thoughts and insights to share with others. But the effect doesn't last long, as the show soon gets occupied with the next loud action sequence. Cyberpunk: Edgerunners, alas, has no edge.

Final Score – [4/10]
Reviewed by - Vikas Yadav
Follow @vikasonorous on Twitter