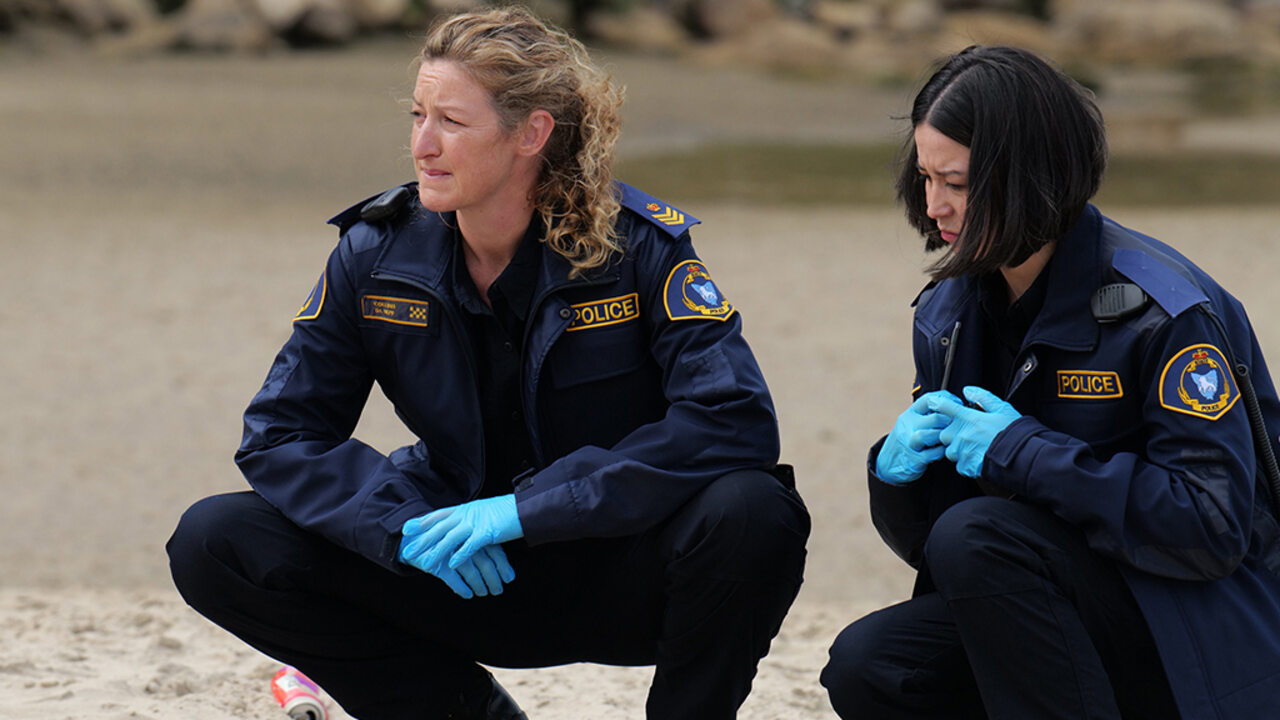 Two girls come across a naked dead body. A cigarette accidentally falls on the corpse's penis, and one of the girls screams, "Dick on fire!" Inside a house, two women engage in a make-out session, and their dog earnestly watches them as if wanting to join in on the fun. A police officer arrives at a crime scene without wearing his uniform because he thinks he can make it to yoga. A forensic pathologist refuses to do his job because he goes for a bike ride. A girl tells the cops that their cars are moving in the wrong direction. Finally, two seagulls copulate in front of a CCTV camera.

There are other such funny moments in Deadloch, but I will leave them for you to find out. I started the review by listing some amusing instances because the series largely runs on humor. The characters talk rapidly, the events unfold quickly, and the audience tries to keep up with everything. This is a show that doesn't pause to hear your laughs. It just keeps on dispensing jokes like the deuce. Perhaps the directors - Ben Chessell, Gracie Otto, and Beck Cole - are confident they can always stick the landing. That they can make every joke work. I have watched the first three episodes of Deadloch, and based on that, I can only say that the directors overestimated themselves. The jests land with a thud. Only two or three gags make you chuckle.

Deadloch thinks fast delivery is equal to wittiness. Initially, you try to take in as much detail as possible. However, this hasty pace becomes hectic pretty soon, and your senses become numb. What kept me going was the committed performances. As Detective Eddie Redcliffe, Madeleine Sami almost always looks sour and lights up the scenes through small gestures like putting one leg on the table. Deadloch seems to be deriving its energy and fuel from Sami, and she is a gift that keeps on giving. Kate Box elevates what could have been a very dour character by staying in the moment and actively responding to the surrounding events through seemingly spontaneous actions. Notice how she mentions a slippery floor while chasing someone on a boat. You feel as if the actor has just discovered this slipperiness. Nina Oyama nails that cliché of a smart but shy person. As the pathologist, Nick Simpson-Deeks likes to show how intelligent he is compared to others. Notice his patronizing attitude when he shows Dulcie (Box) and Eddie a picture. When they ask him what they are looking at, he says something along the lines of, "I forgot who I was talking to."

The people of Deadloch follow their own routines and rules. For instance, it's perfectly normal for Cath (Alicia Gardiner), Dulcie's lover, to come unannounced to the police station or deliver the news of someone's demise to the family members. But things start to change due to the murders, and Dulcie's work-life balance gets disrupted. The series nicely depicts this change, but such things get submerged under a monotonous tone. After watching the first three episodes, all you remember is that Deadloch strenuously tries to make you laugh. The comedy should have been delivered breezily. Not with so much effort. It becomes difficult to relax and giggle when you see all the sweat and the hard work. Deadloch so firmly presents itself as a rib-tickling experience that it forgets to be tense or suspenseful. Unfortunately, then, for something that's supposed to be rib-tickling, Deadloch is (predominantly) no laughing matter.

Final Score- [5.5/10]
Reviewed by - Vikas Yadav
Follow @vikasonorous on Twitter
Publisher at Midgard Times