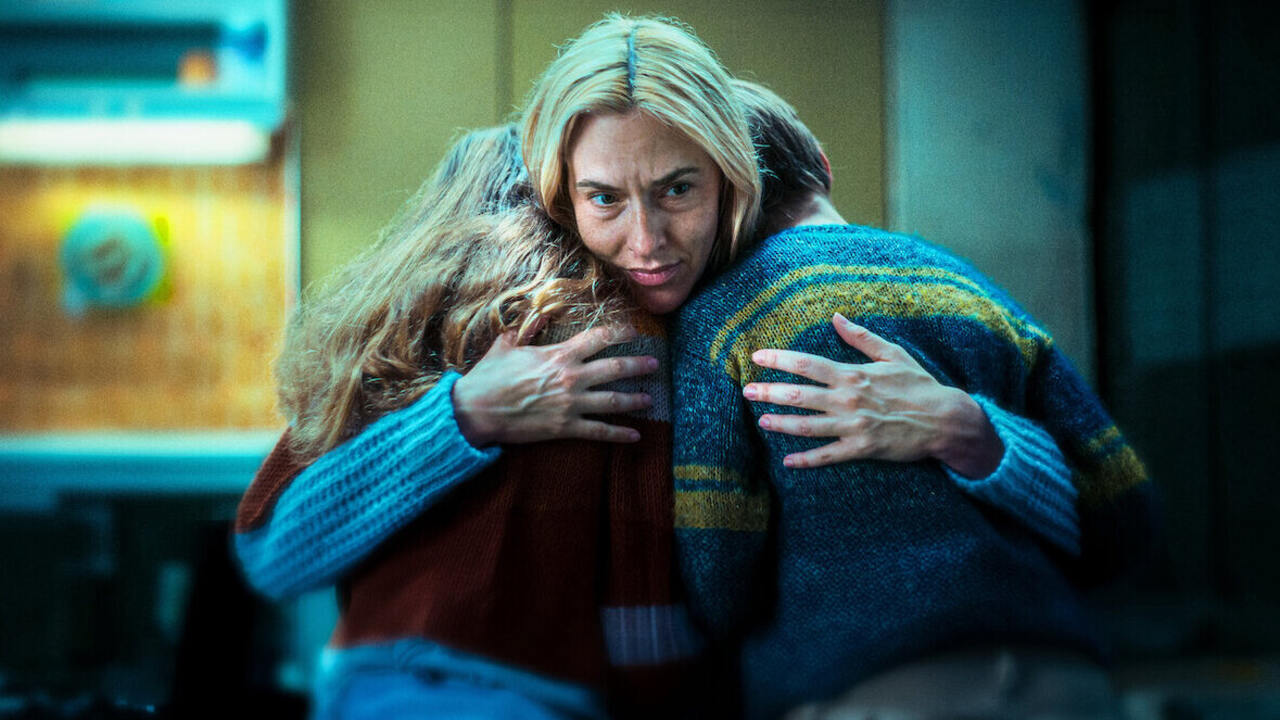 A mother, Lena (Kim Riedle), and her daughter, Hannah (Naila Schuberth), escape captivity and get admitted to a hospital. The mother is weak, mostly unconscious, and traumatized, which is why she isn't able to disclose details regarding her situation immediately. The daughter, on the other hand, is calm and composed and reveals certain facts, like they were kept in a house with no windows and a ventilation system. Then, we have Karin (Julika Jenkins) and her husband Matthias (Justus von Dohnányi), who rush to the hospital to see whether this Lena is their daughter who disappeared long ago. This Lena doesn't turn out to be their daughter, but Hannah closely resembles a young Lena. Is Hannah Lena's daughter? Who's this woman in the hospital who claims to be Lena? Where is the real Lena? Is she alive or dead? Also, who's responsible for putting Hannah and fake Lena into a home-cum-prison?

Dear Child, based on Romy Hausmann's book of the same name, wants to be intriguing. It promises to take you on suspenseful paths while also giving emphasis to psychological elements. Dear Child intends to show how manipulative behavior can leave deep scars on the minds of individuals and that mental trauma can be more dangerous than physical assaults. Whenever Lena attempts to tell the truth, a voice inside her head stops her from making the right choices. And then there is Hannah, who keeps repeating to herself that she is taking the correct steps and dutifully following her father's orders. The perpetrator had confined Lena, Hannah, and Jonathan (Sammy Schrein) in an isolated location and forced them to abide by some strict instructions. For instance, you can only use the bathroom at a specific time, say, 12 p.m.

All of this sounds disturbing, scary, and horrible, but the series is devoid of any menace. Every scene has the same solemn tone, which Dear Child confuses for drama and depth. The series feels so static that when a "mother" and "her children" go to Paradise Island, the dreamy movements pull you out of the narrative. The characters are present to simply fulfill the requirements of the plot. Their personal lives come across as trivial. Infidelity gives rise to one angry line, and a woman's past - a job interview - is displayed like her CV. We don't care about any of these people (they are a cliché, like an officer taking heavy doses of antidepressants and a smart kid who rapidly delivers dictionary definitions). Even the series uses them as "suspense generators." This is why they are either seen as victims or potential suspects. That's the only role they are required to inhabit.

In Dear Child, everybody is grieving while a deranged kidnapper is on the loose. This grief, this pain, however, is solely used to conceal the identity of the perpetrator. Lena, Hannah, and Jonathan have been so oppressed that they refrain from recognizing the actual culprit (Lena, after looking at a photograph, chooses to put the blame on an innocent man). Dear Child saves the kidnapper's identity for the climax because it has nothing else that it can utilize to keep you engaged. But the revelation doesn't make you go, "Aha!" Instead, you merely shrug your shoulders and say, "meh."

Dear Child is a puzzle box waiting to be solved by the story it tells. You don't experience it. You just wait for the missing pieces to fall in their places. The performances remain on the surface, but for Schuberth, Dear Child doubles up as a resume that can open doors for her to the realms of horror (she is already present in Bird Box: Barcelona and can be that creepy, precocious girl in the future). Anyway, if you want to see a good show about missing children, grieving parents, and psychological manipulations, watch The Snow Girl.

Final Score- [4.5/10]
Reviewed by - Vikas Yadav
Follow @vikasonorous on Twitter
Publisher at Midgard Times