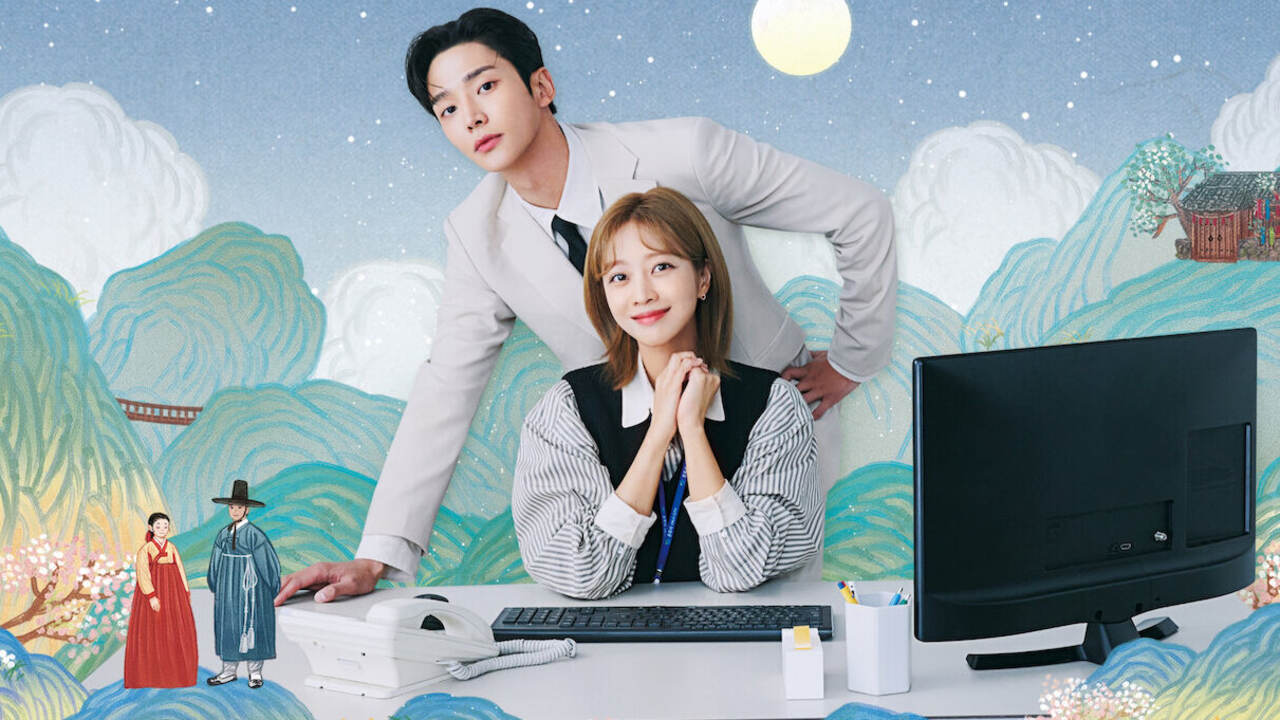 Horror-comedy is a genre that you cannot execute very easily. The filmmaker aims to make you laugh as well as scare the living daylights out of you. The problem arises when one tone starts to dominate the other one. You might come out with either horror or comedy (in the worst case, neither). While shifting between various moods, the film or show needs to be light on its feet to make the tonal jump successful and not jarring. Destined With You is one of those shows that illustrate how one can pull off this shift as smoothly as possible. Forget horror-comedy. The series even finds room to include drama and romance into it. And the first episode displays how all these ingredients are well managed. Destined With You, like Crash Course in Romance and Behind Your Touch (to name a few), can indeed emerge as another addictive Korean show.

Destined With You opens with a woman, Lee Hong-jo (Jo Bo-ah), lying on the floor thinking she is dead. A man, Jang Sin-yu (Rowoon), comes near her, and she considers him to be a grim reaper. No, make that a handsome grim reaper. She asks him whether he will take her to heaven or first have a cup of tea with her. Romance prevails over death, and I guess, ultimately, love will defeat all curses.

Anyway, Hong-jo is a dutiful civil servant. She not only cleans the mess but also suggests looking at CCTV footage to see who made the mess in the first place. When one of her co-workers requests that she wouldn't like to do her tasks with Hong-jo, she, as well as Hong-jo (and the audience), is informed that this hard-working civil servant has been promoted. But the joy lasts for mere seconds as Hong-jo finds out she is being transferred to the Park Maintenance Team, where her team leader would be Mr. Gong (Hyeon Bong-sik). They share a not-so-smooth history, and from the first day itself, Hong-jo tries her best to impress her City Hall co-workers. An opportunity arises in the form of grieving parents, who protest that a haunted house where their son died while filming a video be demolished by the Environment and Greenery Department.

Hong-jo goes to Sin-yu's office to fulfill her mission and realizes he's the aforementioned "grim reaper." In the first episode, Sin-yu and Kwon Jae-kyung (Ha Jun) wear solemn, cool expressions. They are calm and composed men who don't care how many people - girls in Jae-kyung's case - are watching them. Hong-jo has a crush on Jae-kyung, and at one point, when he briefly looks in her direction, she hides her face into her plate. As a result, her nose gets covered with food, and she looks like a cute little bairn. Bo-ah gets to express a variety of emotions. She smiles, screams, cries, and blushes. Like the tone of this show, she quickly and effortlessly moves from one expression to another. Hong-jo turns out to be the most lively and charming character.

There is definitely something supernatural going on here. There is a hand covered in blood, and it's unimaginatively referred to as "Red Hand." What does it do? It seems to give Sin-yu pleasure by touching his face. When you watch this act, you feel as if Sin-yu is experiencing sexual pleasure. The color red and blood can be found in other places, like when a construction worker commits suicide or when a character notices that the moon is, well, red. Can the lovers find romance amidst such gruesome and unusual events? Perhaps we all know the answer to this question.

Final Score- [8/10]
Reviewed by - Vikas Yadav
Follow @vikasonorous on Twitter
Publisher at Midgard Times