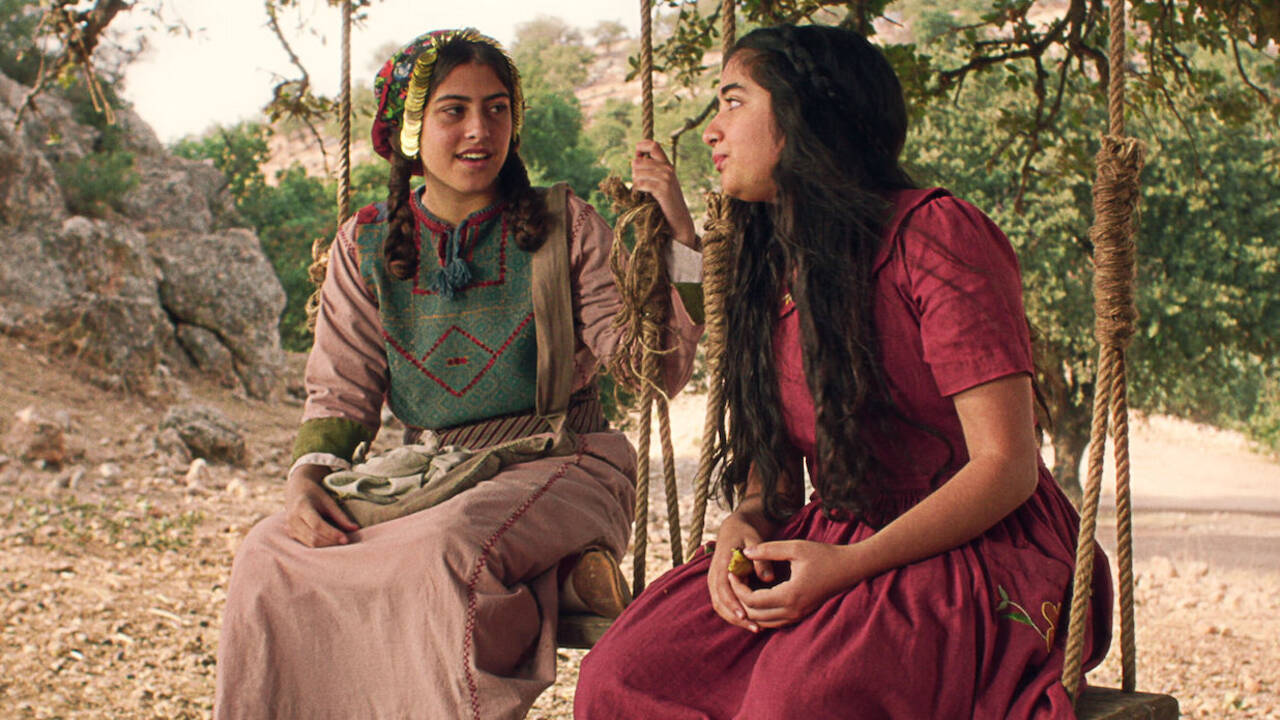 Farha (Karam Taher) is a feisty young girl who dreams of going to school for education. The other girls her age don't go beyond religious texts, but Farha wants to learn subjects like History, Geography, and English. She has a best friend named Farida (Tala Gammoh), a city girl with whom she plans to live together after enrolling in a school. Farha's father (Ashraf Barhom) is not enthusiastic about sending her daughter to the city for education. A character mentions, "The situation is volatile. At a time like this, you cannot live without your daughter." A storm is coming all right, and soon education won't be a priority anymore. What matters is survival, and Farha has to stay alive in a single room. Thank god, that room is a kitchen. It does make things a little more bearable.

Hang on. Why is Farha hiding in a room? Farha, the movie, is set in the year 1948 and takes place in Palestine. Farha's village is invaded by soldiers from the Israeli Defense Forces. There is total chaos as bombs explode and people run on the streets in confusion. Farha could escape in Farida's car, but she chooses to stay back with her father. Since soldiers are brutally murdering people in the village, the father decides to lock Farha in a room until the situation becomes peaceful. He promises he will return for her. We briefly get a Dutch angle shot, accentuating that things won't go smoothly and in a straightforward manner.

Before the arrival of Israeli soldiers, Farha's plight is foreshadowed in the scene where her father gives her the enrollment form. She climbs the stairs and shouts how her father is the best. Her joyous screams are interrupted by a knock on the door. When she looks down, she notices a group of soldiers. Immediately, the atmosphere turns serious, and you feel that something terrible will soon descend on this location. That badness is accompanied by a shot where a soldier tries to stamp his foot on a just-born baby. Did we need this visual? I am aware that war in real life can be ugly. But when a film presents us with these shots, the filmmaker more or less attempts to push the audience's buttons, which takes us out of the material. And writer-director Darin J. Sallam can go a little overboard with her images. For instance, when Farha comes out of her confinement, she looks up and notices birds flying in the air. Those birds signify Farha's liberation from an enclosure. These scenes are not as effective as that sad and horrifying shot where we see Farha's village in ruins from a distance. With minimal effort, this image affects us and speaks a thousand words.

When soldiers pass by Farha and Farida, the former uses her hand as a gun and shoots them. Little did she know that real bullets would soon upend her existence. That's the ugliness of violence. Dreams and happiness get drowned in blood, and a cheery and lively environment is permeated with silence.

Final Score- [7.5/10]
Reviewed by - Vikas Yadav
Follow @vikasonorous on Twitter
Publisher at Midgard Times