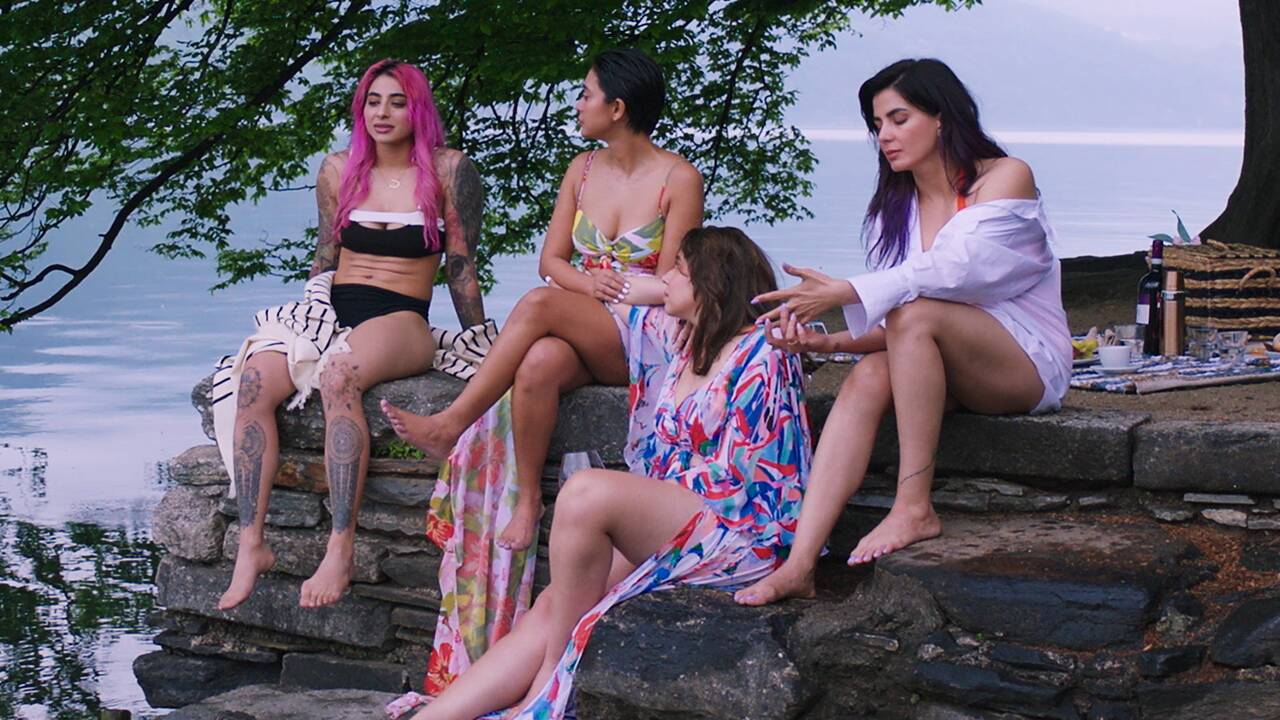 There are ten episodes with an average duration of 35 minutes in the third season of Four More Shots Please! Sayani Gupta, Maanvi Gagroo, Kirti Kulhari, and Gurbani have reprised their roles as Damini Rizvi Roy, Sidhi Patel, Anjana Menon, and Umang Singh respectively. The group of these four is equal to an energy bomb, and they're present for each other no matter what the situation is.

The characters have suffered equally in this season. The things done by Damini were not at all expected, given her reputation. She is always seen as a clear-headed woman who is aware of the things she does. The way she plays with Jeh's (played by Prateik Babbar) feelings is unacceptable. He was like a rebound to her after the miscarriage and well, she made the most out of him. Bringing him close when she needed attention and then, discarding him.

Sidhi Patel was suffering from body image issues since the first season. It was expected of her that she would rather have an open mindset, keeping in mind her past. But, after her father died, she wasn't the bubbly Sidhi we saw in the first two seasons. The standard of her jokes went down, and she was rude to her friends. Sidhi was expected to be the most open-minded individual in the gang. When her mother started growing close to Rajan just six months after Viju's death, it became problematic for her as she couldn't watch her Mom being happy with someone else.

Anjana Menon since the first season has been confused about her dynamics with Varun, and nothing could ever change for her. As clear-headed as she is in her professional life, she's the opposite in her personal life. With Varun back in her life, things are again unclear. This character has been a bit overshadowed this season with little emphasis on her story. Anjana somewhat faded in the background of the third season.

Umang Singh is trying her best to move on, and with Sidhi's help, she even opened her fitness studio. The way a family doesn't accept their kid if they come to know that she/he is from the LGBTQ+ community is shown in the first episode itself. In front of her fitness studio, she meets Meher, a divorcee, and mother to an 18-year-old daughter. Things progressed very fast between them, and the crashing had a similar speed. Constantly abused by Samara's fans, Umang lives in fear. It was Sean Lobo (the yoga instructor in her studio) who pulled her out of this mess. She is also unclear about her love life.

In between, there are rifts between the gang members, but the friendship is back by the end of the season. This series also highlights many important issues that are otherwise neglected like the taboo surrounding a mother dating after her husband's demise or divorce.

In case of the husband's death, the woman is often seen as a husband-snatcher. Sneha Patel in the series got judged by her friends after Viju's death. Even Viju's friends came and hit on her. It was like her shield of protection has gone, she is vulnerable, and anyone can misbehave with her at any time. When she recovered from these things, she met Rajan. They both were "non-dating," but still liked each other. Things didn't go well with Sidhi because just six months after her father's death, Sneha was with someone else and it made her feel like her dad meant nothing to her mom. In this case, Sidhi's perception was wrong. Anjana's daughter got bullied by her classmate because she was a divorcee. The parents of Arya's classmates called her a "slut," and the children learned the same and spoke it in front of Arya. These situations aren't imaginary and happen in the real world as well. Women are ridiculed by society if they are a widow or a divorcee.

The impact of divorce on two families has been shown through Anjana's story. Arya was mentally disturbed and at a point considered Kavya's family her own. The child gets very confused in situations like these as they don't understand what went wrong between their parents. "To be alone and to be lonely are different" is my favorite line in the show. In my opinion, Four More Shots Please! isn't only a pure entertainment show, it also highlights the lesser-known and dealt with facts.

Final Score – [8/10]
Reviewed by - Riya Singh
Follow @_riyasinghhh_ on Twitter
Publisher at Midgard Times