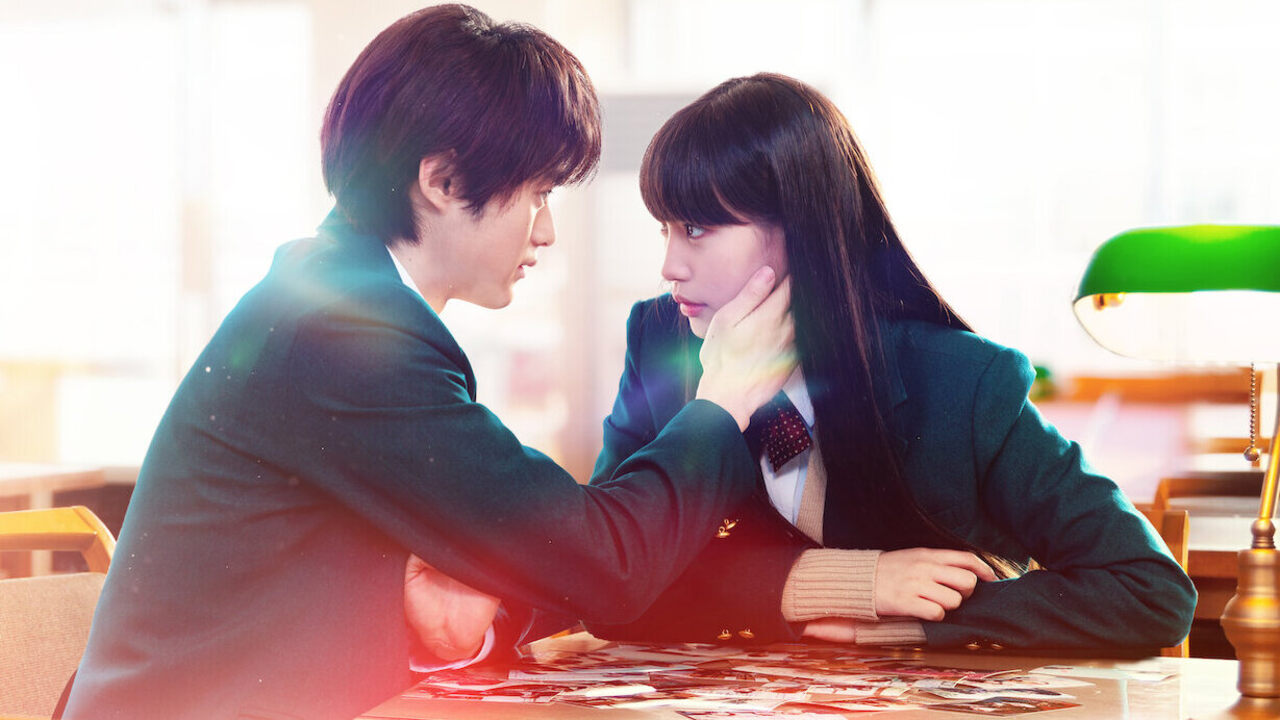 Poor Sawako (Sara Minami). She just wants everybody to be nice to her. To be clear, no one actually bullies her, though all the other students call her Sadako (the name will be familiar to all those people who are aware of the Ring movies). And yes, they are also scared of this innocent soul. When Sawako picks up a handkerchief and tries to return it to its owner, the girl trembles and runs away with her friend. Sawako doesn't mind being called Sadako. All she wants is to blend in with the crowd. She is so starved of affection that when she gets some friends and a boyfriend, she constantly thanks them. Initially, she even cries when someone talks to her.

Since Sawako is meek and reserved, she gives the writers a chance to sometimes stretch out a problem. All those problems are such that they could be solved if the characters would just sit down and talk. It's quite evident - not only to us but even to some characters - that Sawako and Kazehaya (Oji Suzuka) love one another. It's one of those romances that even a blind person could sense from a distance. So much time is spent on the will-they-won't-they aspect that it quickly becomes wearisome. It won't be a spoiler to say that Sawako and Kazehaya eventually declare themselves a couple. No surprise there. What gets on your nerves is the tiresome contrivances deployed to keep this couple (temporarily) apart.

The events are complicated through a love triangle. First, we get Kurumi (Kanon) obsessing over Kazehaya, and later, Kento (Jin Suzuki) comes in between Sawako and Kazehaya. The characters never clearly express what's going on in their minds, leading to more hitches. From Me to You: Kimi ni Todoke can make you impatient. The dramatis personae mostly perform the duties of the plot. Their motivation for behaving in a particular way or doing anything seems to be, "Um, because it's written in the screenplay." After a while, we are forced to scream, "Just confess your feelings already!" Hence, you are filled with joy when Yoshida (Riho Nakamura) chides Sawako for being clueless, and Kurumi calls her "thickheaded." You stop caring about the fact that these characters find it difficult to express themselves. Because this lack of communication seems artificially designed to fill up the runtime.

The leaves move like magic, and the score sounds pleasing when Sawako meets Kazehaya in the opening. We prepare ourselves for something dreamy, something beautifully romantic. But From Me to You, for the most part, bores us with run-of-the-mill scenarios. I couldn't have sat through this mushy show if the actors were not so good. They inject some life into this lovey-dovey material. Through their sincerity and commitment, they make everything look credible. As a result, you become invested in them. Selling melodrama is difficult, but these young actors are genuinely talented.

There are two lovely subplots in the show. One of them concerns Yoshida having a crush on Ryu's (Kaito Sakurai) brother, and another one is about Yano (Rinka Kumada) and her love for the schoolteacher (he is often out on blind dates with nurses or career women). Both these threads have a beautiful conclusion. It's amusing how Sawako nervously says "curse on you" for the first time during Test of Courage or the way she almost robotically takes Kazehaya's hand at one point. Even the scene where a son gives a massage to his father is extremely charming. One of the strengths of this show is that it contains such sweet little moments. And then, we arrive at a point where the students are asked to decide their future. These portions are the most effective and strong. Look out for two scenes set at a railway station. I am always moved by such "goodbye moments." They evoke one of my personal memories and fill my eyes with tears.

The final scene felt strange and rushed. It weakens the emotional response generated from within us. From Me to You is wildly imperfect, but its characters stay with you for a long time. I am still thinking about them and what kind of life they must be living. In my mind, Sawako, Yoshida, Yano, Kazehaya, and Ryu have settled and are now staying close to each other. A part of me has become so enchanted that it has justified the show's flaws as "necessary evil." Because we are kept in the company of the characters for as long as possible, the final scenes manage to hit us with an emotional punch. However, this other side of me wishes the series had been more consistently engaging and watchable.

Final Score- [5.5/10]
Reviewed by - Vikas Yadav
Follow @vikasonorous on Twitter
Publisher at Midgard Times