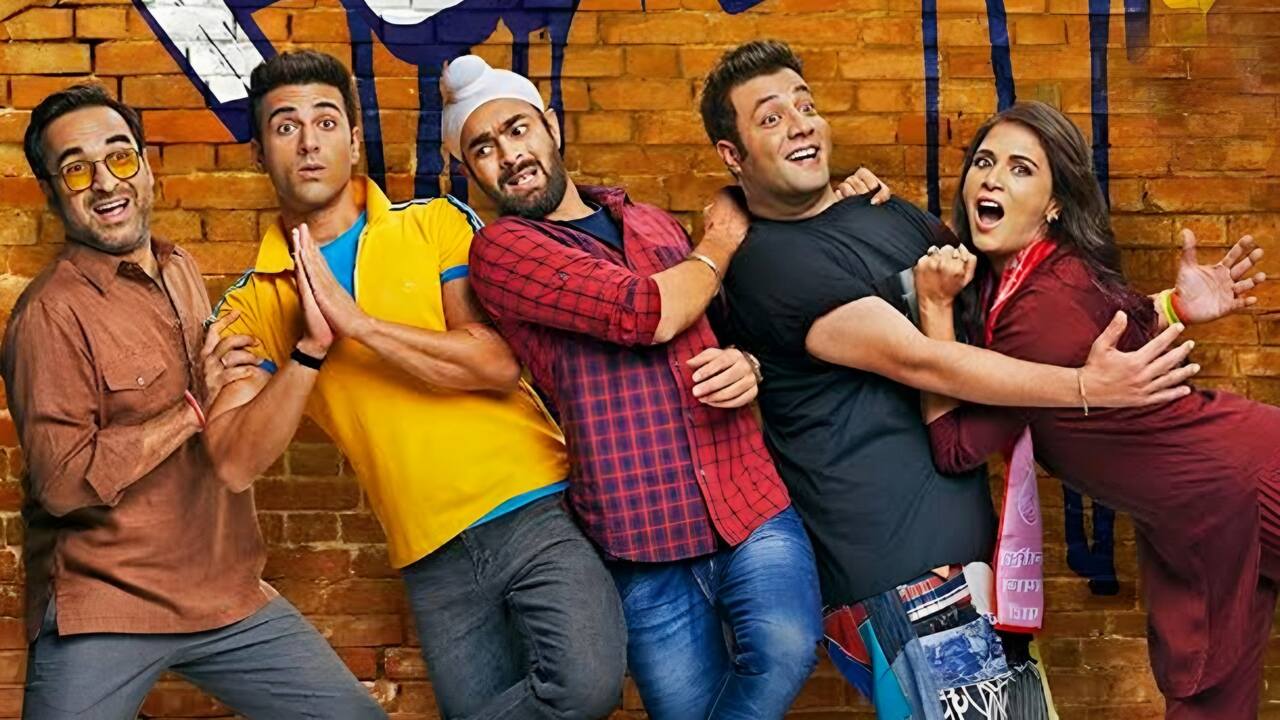 The opening credits of Mrighdeep Singh Lamba's Fukrey 3 come with a recap. We are given a quick reminder about the events that took place in the last two Fukrey films, and frankly, I still struggled to recollect what happened in the second movie. Memories of that 2017 comedy have been erased from my mind, but I still remember many things from the first film that came out in 2013. I have watched both Fukrey and Fukrey Returns not more than one time, but the former is somehow quite fresh in my mind. I guess the explanation here is simple.

Fukrey worked because it was rooted in its setting and gave us the wonderful Ambarsariya, along with strong male and female characters. The women - apart from Bholi Punjaban (Richa Chadha) - inexplicably disappear from the sequels, and the men continue to become dumber. In fact, the movie and their intelligence descend into new levels of idiocy together.

This, unfortunately, is not a compliment. Intelligence is the last thing you expect from a Fukrey sequel, but shouldn't these films be...hilarious? Lamba no longer integrates characters into the location. He merely moves from one joke to another. This is why Fukrey Returns didn't work well, and now Fukrey 3 also suffers due to the same reason. When your main focus is just on delivering jokes, you better hit us with a strong sense of humor. Fukrey 3, though, doesn't always make you laugh. Some good gags (like the ice cube one) are already spoiled in the trailer. There were moments where I chuckled, but the problem is that I no longer remember those rib-ticklers. Oh wait, there is an amusing scene involving echoes and...no, I can't recall anything else.

Fukrey 3 is all about finding diamonds from waste material, and the gags that work can be considered diamonds, while the story can be taken as detritus. There is a scene in Fukrey 3 where hydrogen and carbon are compared to Hunny (Pulkit Samrat) and Choochaa (Varun Sharma). There is another scene where Lali (Manjot Singh) sucks a pipe so that water from a toilet can once again start flowing from it. If you can sit through - and, most importantly, laugh at - these incidents, then you might enjoy Fukrey 3 more than this viewer (four people walked out during my screening). I kept thinking about that scene from Triangle of Sadness where bodily excretions from the toilet flowed like a tsunami on the ship.

If you are going to get your hands dirty, then it's better to dive into the dirt with confidence. Fukrey 3 hovers on shit and has a foul mouth. However, it's just not humorous. The jokes, like that hydrogen-carbon one, sound moronic and make you cringe. It's good that I watched the movie in a theater where most of the audience laughed at this dim-witted material. Believe it or not, their laughs made the movie more bearable. Still, even they began to yawn when Fukrey 3 became serious during some portions. The audience came looking for laughs, and the film provided them with a water crisis. Who needs social messaging (vote wisely) in a movie that's exceptionally dumb? Fukrey 3 only ends up peeing on itself.

Chadha and Sharma work so hard that you feel sorry for them because Fukrey 3 doesn't deserve their talents. Remove these two actors, and the movie - without good writing - will become unbearable. This third part assures (or warns) us that a fourth Fukrey film will arrive in the future. Well, let's hope Chadha and Sharma don't get reduced to cameo roles (like Ali Fazal here), or else many people will really walk out of the theater during the screening of the next sequel.

Final Score- [3.5/10]
Reviewed by - Vikas Yadav
Follow @vikasonorous on Twitter
Publisher at Midgard Times